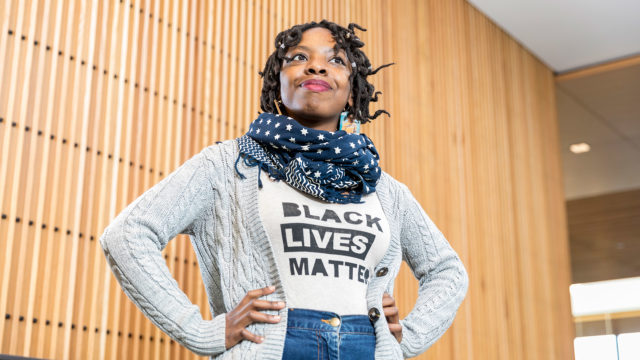 By Livvie Avrick '19
Ever since taking Intro to African American Studies with Professor Duchess Harris in her first year, Ayaan Natala '18 (St. Paul) has been engaged in research and activism related to African American human rights. 
Natala combines what she learns in her American studies and political science majors, and her human rights and humanitarianism concentration, with contemporary events. While studying mass incarceration and police shootings in her courses, she also attended solidarity rallies and marches organized by Black Lives Matter to protest the deaths of Mike Brown, Jamar Clark, and Philando Castile. "One thing that I am really passionate about is engaged scholarship," she says. "I don't read textbooks in class and have my scholarship or my questions relate only to the classroom setting." 
Attending Macalester has given Natala access to resources that she understands not everyone in the Twin Cities community can have. Because of this, she considers her participation in these movements as a duty. "I actually don't consider myself as an activist. . . . A lot of the work I do, I feel like I was born to do," she says.
Connecting community and classroom inspired her capstone project, which explores why police shootings in the United States aren't considered human rights violations.  Her work builds on research Natala published in the Human Rights Observer with Duchess Harris in 2015 in an article called "Addressing Torture in Our Own Backyard."
Natala, who has family in Zambia, had the chance to engage in public scholarship across national borders while studying abroad in South Africa. "It was beautiful to go to South Africa and meet the students who are protesting the lack of diversity in the universities," she says. Similar movements in the United States and South Africa are working to make universities and colleges more inclusive of black students. "I talked to the students about how to take our movements further and how to be in solidarity together across national borders," she says.
As a Mellon Mays Undergraduate Fellow, Natala's study abroad experience related to the objective of Mellon, which is "to train historically underrepresented populations to become professors, so we can literally change the face of academia in the years to come," she says.
After graduation, Natala plans on eventually entering a PhD program and carrying out the mission of the fellowship.