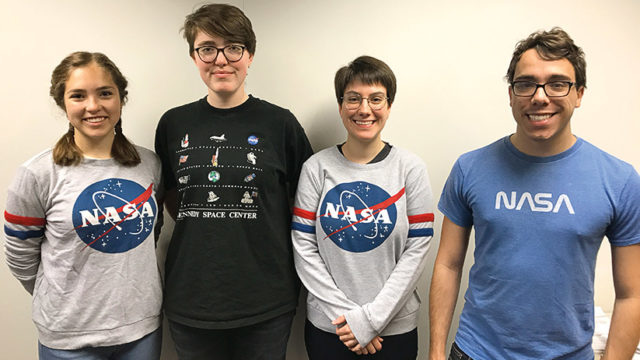 Lilly Bralts-Kelly '20 (Urbana, Ill.) tells people she was a Cosmos kid—a fan of both the book and the 1980s documentary series. Inspired by the late scientist Carl Sagan, she spent last summer investigating solar flare events as part of a research group at Montana State University–Bozeman.
Bralts-Kelly is one of four first-year astronomy students who received coveted Research Experiences for Undergraduates (REUs) last summer. "It is rare for a first-year student to secure an REU position," astronomy professor John Cannon says. "For four students from the same class to do so is remarkable."
The other first-year astronomy students selected for REUs were Alyssa Bulatek (Park Ridge, Ill.); Riley McGlasson (Eden Prairie, Minn.); and Andrew Mizener (Omaha, Neb.). "Astronomy is one of the only fields of science where scientists study real phenomena that aren't within our reach—with the exception of meteorites," says Bulatek. "We can't bring our objects of study into a laboratory to look at them. I feel incredibly lucky to have been given this REU experience."
On and off campus, more than 120 other Macalester students also conducted summer science research in areas of study ranging from Autism Spectrum Disorder in the Somali community to the fossils of the Upper Missouri River Breaks.