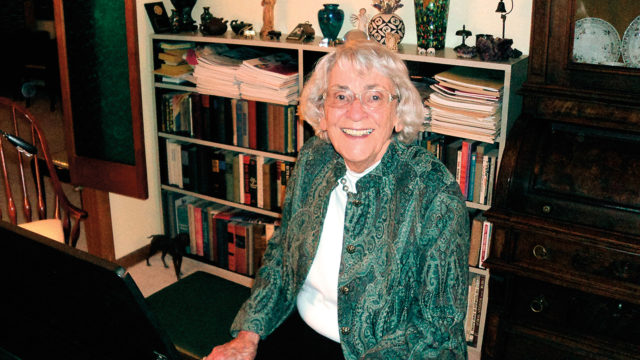 They knew Macalester during the Great Depression and World War II. Where did life take these alumni?
By Rebecca DeJarlais Ortiz '06
There are 30,000 Macalester alumni around the world today—and roughly 300 of them graduated in 1948 or earlier. That means it has been 70 years or more since they walked across the stage at Commencement and received their diplomas. How did Macalester College shape them, and what are they passionate about now? How is the world different from the years when they were students at 1600 Grand? We talked to five alumni ranging in age from 90 to 102 about what they've seen, what they've done, and what they remember.
Gail Kaufman Clark '48
Gail Kaufman Clark '48 majored in music at Macalester and earned a master's degree in piano performance at Northwestern University. She taught music in Faribault, Minn., and Casper, Wyo., having been recruited by a friend of her Macalester advisor, Hollis Johnson. After they married in 1954, she and her husband were transferred to the Denver suburbs for his Texaco career. "In 1959 we bought the house I'm living in now," she says. Clark, a Nationally Certified Teacher of Music, is a past president of the Colorado State Music Teachers Association and was named that organization's Teacher of the Year in 2012.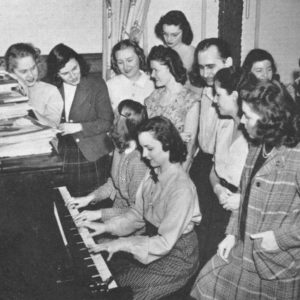 "I teach piano lessons every weekday. In the late afternoon, my dog, Lolly—my seventh standard poodle—knows it's teaching time.
We go into the studio, and Lolly lies on the bay window seat. I turned 90 in March, and I've cut back my teaching load. I only teach 20 students now. I don't take on new students unless they're current students' siblings. My youngest student is six, and his mother was one of my best students. I still have a soft spot in my heart for middle schoolers. They just need understanding; they need to know that you're interested in them. But I don't entertain my students. We work, even the six-year-olds.
I haven't kept a list of everyone I've taught over the years, and that's one of my regrets. I do stay in touch with some of my former students. When I hear from people I've taught, it's just the icing on the cake.
"We wore dresses and skirts. We only wore slacks when it was below zero, and nobody would have worn shorts. You had to be back in your dorm by 10:30 on weeknights and midnight on weekends. And there were no men allowed on the women's dorm floors. You'd hear someone yell 'Man on second!' if a man had to deliver something to the second floor." —Gail Kaufman Clark '48
I got talked into teaching again by another piano instructor when my youngest child was 18 months old. I had to get a babysitter, but I figured the kids could stand three lessons a day—I told her I'd start in the fall if she could find 15 students for me. I had never taught a beginner, so I spent the summer researching how to work with that level.
I've seen a lot of changes over the years. Because of my teaching, I see how busy kids are now, all the time. They're so scheduled, and getting them to all of their destinations is practically a fulltime job. They do tae kwon do, soccer, drama—the same kid does everything. A couple of years ago I taught a girl who got up for swimming at 5 a.m., and when she'd come to her piano lesson at 5 p.m. she hadn't been home yet. She'd just be exhausted. They're so terribly tired—and because their days are so divided, they can't be really good at what they like to do. A generation ago, my students had time to practice, time to excel in piano.
When my husband got ill, I said, 'I'm going to keep doing two things: teaching and playing bridge.' Besides spending time with friends, bridge is brain exercise for me. It's important to have friends and be with people—and it's also tremendously important to be able to enjoy being alone, which kids today have trouble with. The piano helps with that. I still play quite a bit.
If I weren't teaching, I'd be twiddling my thumbs. I feel so fortunate that I've been able to continue teaching as much as I want. I was married, I had three daughters, and my husband was wonderful— but teaching is my way of life."
Howard Gustafson '36
On a Sunday morning in South St. Paul, Minn., there's a din coming from Clark-Grace United Church of Christ's social hall, where the congregation gathers for refreshments after the morning service. Their most senior member, though, is late for fellowship: Howard Gustafson '36 is still in the sanctuary, finishing his ushering duties.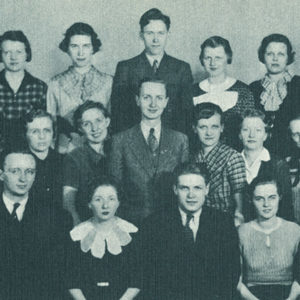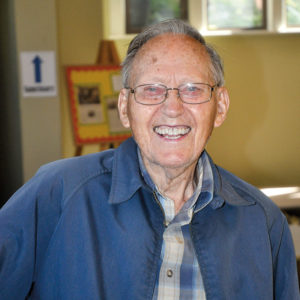 That's typical, say the people in what Gustafson calls his church family. "He's the first one here and the last one to leave," says church member Linda Grotto. Gustafson —who turned 102 in June—started volunteering as an usher after his wife, Norma Jean, died in 2004, and his friends encouraged him to maintain social connections at church. Nearly every week, he turns on the lights and sound system, lights the candles, and then extinguishes those candles and locks the doors before leaving.
"One winter my friends and I needed a car to drive to Rochester for a church service. [Former Macalester president] James Wallace lent us his car. I was driving, and in icy conditions, I slid off the road and into a fence. I never saw a bill." —Howard Gustafson '36
Gustafson grew up within walking distance of Macalester, which made attending Mac an easy choice for both him and his brother, Oscar '40. Gustafson studied science, led a campus lab, and graduated at age 20. His father worked as a mail carrier, so Gustafson followed him into that career, the U.S. Postal Service offering a rare steady job back in 1938. Howard worked as a postal clerk until retirement, except for three years working in hospital labs in Wales and England for the U.S. Army during World War II.
Back in St. Paul after the war, Gustafson met Norma Jean Bryan '49 at a folk dance class. The two married in 1951, bought a South St. Paul house, and raised two daughters there.
Gustafson still lives in that home today, having only recently stopped mowing his neighbors' lawns and clearing snow off their driveways. ("I had to set the example for the neighborhood," he says.) Gustafson remains active, though: Last spring's yardwork chores included spreading three dozen bags of mulch over his gardens. He's also passionate about woodworking and has produced nearly 300 pieces in his basement workshop.
And, of course, he attends nearly every Clark-Grace event. "Howard tells me stories about Macalester's people, some of which I typically associate with campus building names," says Mac staff member Suzanne Savanick Hansen, another Clark-Grace member. "He ushers every week and dances to the music in the back of the pews."
Gordon Deegan '46
Gordon Deegan '46 returned to campus last year for his 70th Reunion—and he's hoping to make it to his 75th, too. "I don't know how I'll get there, but I'm planning on coming," says Deegan, who also will return to Minnesota next year for his grandson's veterinary school graduation.
The avid traveler grew up in Minnesota, majored in political science, and moved to California for a job at Carlmont High School in Belmont, Calif., where he taught Spanish and German for nearly 30 years. Although the Bay Area has been his home for decades, his life journey also included two years in the Navy, jobs with the Senate and Veterans Administration in Washington, D.C., teaching stints in Minnesota and North Dakota, and work as a vice consul in the U.S. Foreign Service in Germany and Cuba.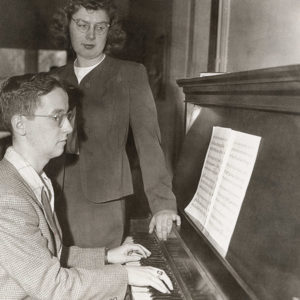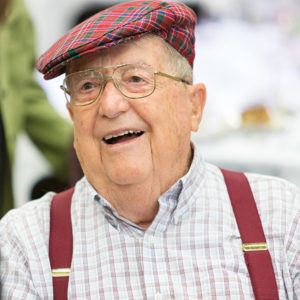 "In 1933, my father took us to the Chicago World's Fair. At the time, that was the farthest I'd ever been away from our farm outside North Mankato, Minnesota. I've always had an interest in travel and other people, though. Our farm didn't get electricity until 1938, and for laundry my mother used a washing machine that was powered by a large handle that had to be pushed back and forth manually. When I was home from school, that was my job. I thought that was boring, so while I did that chore, I'd get out my atlas and start 'traveling,' each load of laundry taking me, in my dreams, to distant places.
Macalester opened up the world to me. Though the college itself was still insular— most students were from Minnesota, North Dakota, or Iowa—that international spirit was a part of college life. My first trip out of the United States was to Winnipeg as a Mac student for the Canadian American Conference. When we were students, Macalester became an Army Air Corps training site, and we had to clear out of the dorms to make room for them. I moved into a house on Wheeler Avenue with my friend Felipe Garcia-Beraza '44. After I got out of the Navy, I visited Felipe in Mexico in 1948.
"My best friend was Margaret Johnson Kiriluk '46, and from sophomore year on, we took every course together. In American Government with Hubert Humphrey, we sat in the front row and gossiped. One day, he'd had enough, and he called us to order and to listen for a change." —Gordon Deegan '46
I've changed a lot in the 70 years since I graduated, and a great deal of that growth is due to my time at Macalester. I've spoken three languages and studied another five. I've traveled to three dozen countries and 45 states. There's still a lot on my list that I'm not going to see. If I could get up and go right now, I would travel to Argentina and Chile, or maybe to Australia. At this moment, I don't have anything to read—and I'm thinking, what am I going to do with myself? I'm trying to learn more, to be awakened.
I hope Macalester keeps that spirit, the idea that we're put on this earth to do something worthwhile and to make the world a little better than when we arrived. I'm so awed by that principle. Today's students are wonderful people—they're filled with the same feeling we had in the 1940s. They're looking forward in the same way.
There's no secret to a long life: just hang on. You can't do anything to control it. And I'm faced with thinking about it a lot. Maybe I've got five minutes left, maybe I have five or 10 years. Either way, it's limited. I'm trying to live the best way I can. Don't think that I'm an angel—I've had a lot of fun, and I'm glad for it. My whole life has been a learning process. And I think that's fine."
Frances Tripp Bell '39
Fran Bell's Macalester education may have taken up only 4 percent of her life, but that does not diminish its impact. Fran's family includes 25 Mac alumni—including Fran '39 and her late husband Art '40, all four of their children, and both sets of their parents.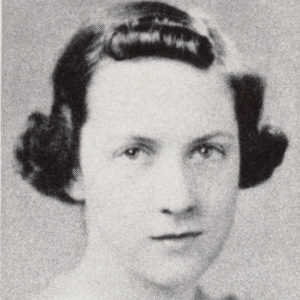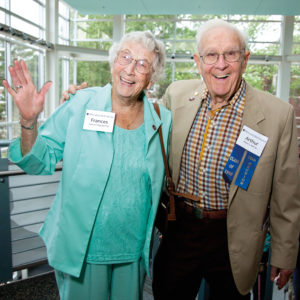 Long before Fran and Art started college, they met because of their parents' Mac friendships. The two began dating on campus, then worked together at a summer camp near Chicago. Fran majored in biology and psychology; Art studied psychology. While Art finished college, Fran studied social work at Northwestern University and worked in Chicago. In 1941 they married at Westminster Church in Minneapolis—and stayed married for 72 years, until Art's death four years ago.
Early in their marriage Art spent more than two years in Europe during World War II. While he was away, Fran and their son David '65 lived with her parents.
Art's work took the Bells to North Dakota and then back to the Twin Cities, where he was president of Ministers Life and Casualty Insurance. Their family grew: Rick '68 and Kathy '70 were born in North Dakota; Mary '76 was born in Minneapolis. Fran and Art loved walking around and swimming in nearby Lake Minnetonka as they raised their children. ("And we liked dancing," she says. "Even as old people, we liked to dance.") After their youngest child started junior high, Fran taught at a local nursery. Both Fran and Art were regular volunteers around the Twin Cities.
Today Fran remains active at her senior housing complex in the western suburbs of Minneapolis. Three times a week, she takes a morning fitness class at the complex, and twice a week she heads to The Marsh fitness center—she's a 32-year charter member—for a water exercise class and visits with friends. She also attends a weekly Bible study group and knits with friends—often joined by her daughter Kathy—using a needle Art made her. She donates afghans, socks, and finger puppets to Gillette children's hospital patients.
Last summer Fran celebrated her 100th birthday, surrounded by friends and family— and plenty of Macalester connections. "Mac means an awful lot to our family," she says. "We had a wonderful time there."
Lowell Gess '42
In August, Lowell Gess '42 returned from his fifth trip to Sierra Leone in two years. Gess has traveled to Africa nearly 200 times since beginning his work as a medical missionary in 1952. A philosophy major at Mac, Gess's education also included seminary, medical school, and an ophthalmology residency— as well as countless lessons in the Sierra Leone hospital he and his late wife, Ruth, founded, now a hub for Ebola virus research and treatment.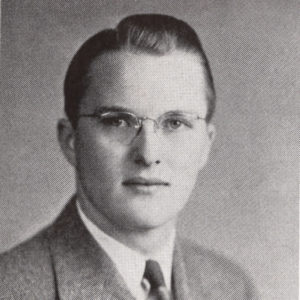 "I was only 11 when I felt called to be a medical missionary. That led to Macalester, then seminary, then back to medical school. In 1952, my family and I went to Nigeria, then we were sent to Sierra Leone so I could practice as a general surgeon. We saw so much blindness there that I asked an ophthalmologist friend to join us. He sent a book and a set of eye instruments. We began practicing on pig and cow eyes, and then began doing successful eye surgeries. I was the only person doing eye surgery in a country of six million.
I came home to do an ophthalmology residency, then went back and established the eye work. Our family spent 18 years in Africa, and for 33 years after that, my wife and I would return for three months a year to do eye work. We started the Kissy United Methodist Church Hospital in Sierra Leone in 1982, and when Ebola struck, our little church hospital became the center for treatment. When we weren't there, 40 board-certified ophthalmologists took turns keeping our hospital going. Now it's a place WHO and Doctors Without Borders look to for eye outreach.
In recent years, we've learned that after Ebola patients recover, they can still harbor the virus in their eyes. Eye problems are a common complication of the virus, but if active Ebola is still in the eye, no one can help survivors without putting the surgical team in danger. Our goal was to see how long the Ebola virus stayed in the eye.
The recent results are wonderful—exactly what we've been praying for. We found that after 18 months, there was no virus left in the eyes. That meant people who were blinded by complications could be operated on. In the past year, our team has been able to do cataract surgery. The people who had survived Ebola weren't the old people—they were children. With these eye operations, children have been able to return to school.
"When I was at Macalester, church services were mandatory. In my class, I was the one who had to record who attended and who didn't. I was bribed sometimes to list someone as present." —Lowell Gess '42
At Mac, I didn't want to be a medical doctor—I avoided anything pre-med! But I needed a science course to graduate, so I took geology with Professor Alexander, and that made an impact on me. When I was on my way to seminary in Chicago, I realized I wasn't sure I'd make much of a pastor. I did three years of seminary but also took all the [science] classes I had avoided at Macalester, then served two years as a pastor and went on to medical school at Washington University. Macalester students—now and back then—are prepared to go out into the world and have a base from which they can really move. I'm eternally grateful for what Macalester did for me.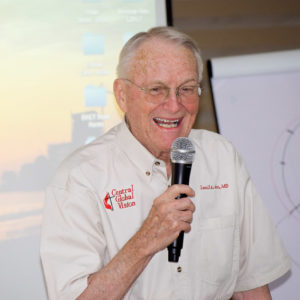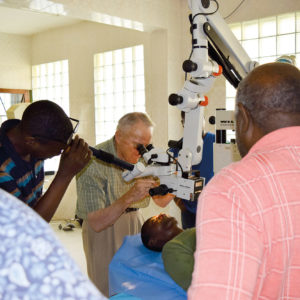 I was a hockey player in college, playing right wing. On December 7, 1941, I remember looking around the room, surrounded by the hockey team. We were seniors. One year later, our entire first line was gone. The goalie was gone, one of the defensemen was gone. And there I was, alive. I was told they needed me to go to seminary instead of serving in the war. While my friends had given their lives, I was alive. I don't think anyone now realizes what the conditions were like for us during those years. When I was a pastor, the war ended, but I could hardly walk a block without seeing gold stars on the windows.
Before one trip to Africa, my wife was ill, so my grandson (Christopher Boehlke '97) offered to come along. After awhile, he got interested in the clinic and staff, and then what I was doing in surgery. He went back to Minneapolis and ended up completing an eye residency. Three of my grandchildren are ophthalmologists now.
I'm in my 97th year. I have been in such good shape—I work on a computer, I walk and drive where I want to go. I drove down from Alexandria to Reunion in my own car. But when you're this age, you have to be a little sensible.
When I was in Sierra Leone recently, I fixed things up so they'd have operating microscopes and equipment with backups that should last a few years. Emory University Hospitals wants to invest in programs and equipment there. An organization is building a new pediatric eye hospital at Kissy UMC beginning in January, and we're reserving a place for Emory's equipment in the original building. Seeing what has happened there in my lifetime is hardly believable."
Rebecca DeJarlais Ortiz '06 is the editor of Macalester Today.