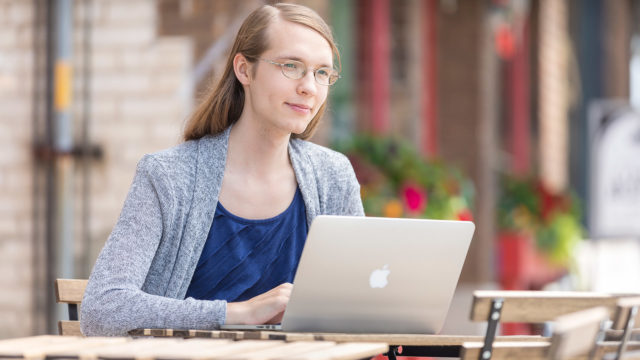 "Macalester's pedagogy has been profoundly helpful in every moment of my research. Mac's science curriculum does not focus on specifics as much as how to tackle a given problem."
—Ilse Dippenaar '18
Ilse Dippenaar '18
Seattle, Washington
Biology, Computer Science, Mathematics
I enjoy brains, or at least I enjoy studying them. To that end, I contacted a few professors about conducting summer research in their labs. I ended up working with Geoffrey Ghose at the University of Minnesota. He studies neural representation of visual information and how the brain learns to recognize particular shapes.
The team goes about understanding the neural encoding of visual information by training two macaque monkeys to fixate on a point on a computer screen and to move their eyes off the point when a shape is flashed elsewhere. With the monkeys sufficiently trained, the team implanted a tiny—4 x 4 mm (about 0.16 inches)—"electrode array" into a specific portion of the visual cortex. The hope is that by listening to the chatter of a local population of neurons, we can deduce the neural representation of shape information in the brain.
Though I technically worked in a neuroscience research center, much of my work dealt with the data that had already been recorded. Since I could copy some data to my laptop, I could work anywhere with internet access. Suffice to say, my familiarity with the local assortment of coffee shops increased markedly.
Macalester's pedagogy has been profoundly helpful in every moment of my research. Mac's science curriculum does not focus on specifics as much as how to tackle a given problem.
The software development class I took is incredibly helpful, teaching me everything from code readability and organization to the need for sometimes writing quick and dirty code in the interest of prototyping. The broad principles taught in the classroom, combined with my combination of majors and personal relationships with professors, allows me to integrate experience across academic disciplines in a way I could not if my classes focused on raw knowledge.
Ilse's research was funded in part by a grant to Macalester College from the Howard Hughes Medical Institute through the Precollege and Undergraduate Science Education Program.