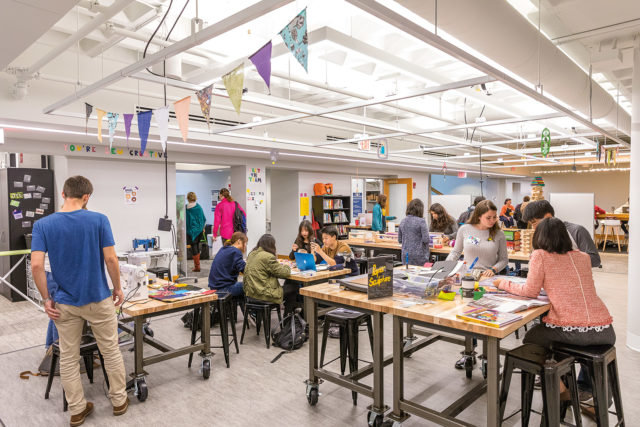 This year, when DeWitt Wallace Library director Terri Fishel arrives at her office, she's ready for the entire second floor to look wildly different from how it looked the day before.
That's intentional—and it's a big change from Fishel's previous environment, when her office looked out into rows of quiet stacks. Over the summer, the 10,000-square-foot second floor was transformed into a multipurpose active hub for student learning, collaborating, and tinkering.
More than 100,000 volumes were relocated to the library's other floors, replaced by whiteboards on wheels, abundant charging stations, and plenty of flexible collaborative workspaces. The library's second floor previously held 80 chairs; the new layout seats up to 190 students in booths, comfortable chairs, and a long counter-height table that seats more than 20 people. ("We're bolting down as little as possible," says administration/ finance vice president David Wheaton.)
One of the plan's highlights: the Idea Lab, which allows students to build, tinker, and learn by doing. Startup supplies include a sewing machine, spinning wheel, vinyl cutter, and 3D printer, but that list will evolve based on student use.
The second floor also features a 30-student active learning classroom and a space for students working with special collections and the archives. Four new group study rooms are equipped with technology to support virtual meetings and interviews, creating new opportunities for the Career Development Center. Each evening the entire floor is open for student use.
The project's vision stems from staff planning that coincided with the building's 25th anniversary in 2013. Many of the themes identified then also resonated this year with Macalester's expanding entrepreneurship program, which was looking for a new home and moved into the second floor as part of the renovation.
"Almost every academic library is transforming its spaces in some capacity," Fishel says. "Books aren't going away. They'll always remain an important part of the library and our services. But we are looking for different ways to showcase what we have and what we do for our community."