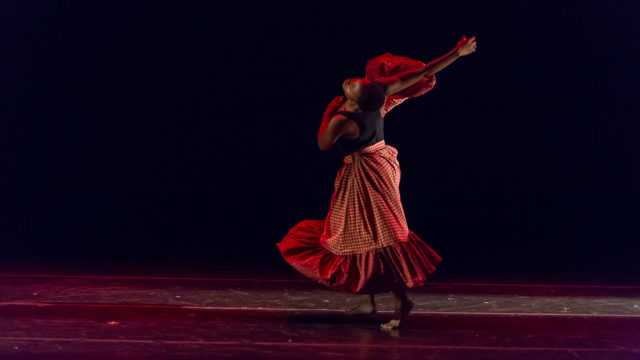 St. Paul, Minn. –  The Macalester Theatre and Dance Department presents its 2017 Fall Dance Concert, Ghost Light, featuring original choreography by students and faculty, 7:30 p.m., Friday, November 17, and 2 p.m. and 6 p.m. on Saturday, November 18, in the Main Stage Theater in the Janet Wallace Fine Arts Center, 1600 Grand Ave., St. Paul. For ticket information, call 651-696-6359 or go to macalester.edu/boxoffice.
Faculty member Patricia Brown pays homage to beauty in her African-based ensemble work, Beautiful, danced to Sowah Mensah's "2nd Bes." We were here, choreographed by Krista Langberg, is performed against a backdrop of unpolished amateur images of an unpolished space about to disappear. Brian J. Evans' The Fullness of Unraveled Selves is set in the space just behind the heart, where we seek to know ourselves through others. Just Her Time, choreographed by Wynn Fricke, reflects on grief as sacred space, inspired by the spare and elegant music of David Lang.
Student works include that of Midori Hasegawa '19, whose dance reflects on resolving internal conflicts.  Sagittal Slice, choreographed by Shaylene McCue '18, uses the vocabulary of contemporary ballet to frame the human side of the scientific process.  Yuri Smith's '18 dancers navigate trust and power, and empathy stripped away.  Oya Come Down, choreographed by Nteranya Arnold Sanginga '19, takes inspiration from Oya, Goddess of Storms, from the Yoruba tribe in Nigeria. Running on Empty, choreographed by Meghan Johnson '19, examines the relationship between women and body.