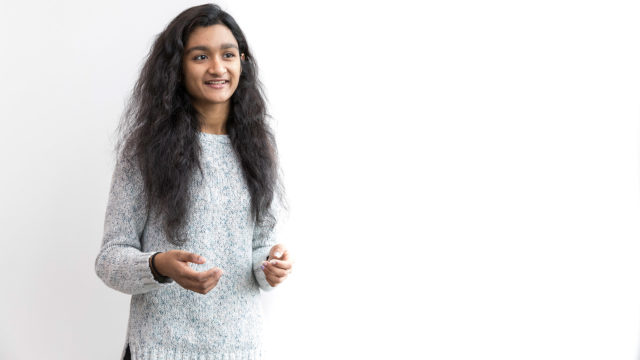 "Being an entrepreneur involves solving a problem or seeing an opportunity and taking advantage of it and that is possible for anyone." — Preeta Raghunathan '19
By Livvie Avrick '19
Economics and applied mathematics major Preeta Raghunathan '19 (Bangalore, India) has a full plate this semester, with on-campus jobs in both the Disability Services and Entrepreneurship Offices, an internship at a wealth management firm in Minneapolis, and serving as a board member of the Mac Consulting Group.
Yet what makes Raghunathan stand out is her Live It Fund project.
After an internship in summer 2016 with Selco, a company in India that provides solar energy to people living off the grid, Raghunathan got the idea for a Live It Fund project combining her interests in agriculture and women's entrepreneurship.
In conjunction with the Green Foundation, an organization that works with smallholder farmers, Raghunathan worked with a group of 25 women entrepreneurs who make papads, sun-dried thin rice crepes. Through training and marketing initiatives, Raghunathan helped the women improve their product and expand their market.
"The women found a niche market because the products are handmade and produced sustainably," she says. "The problem was inconsistent quality. The papads sometimes dried unevenly or had too much salt or pepper. You could never tell how the next batch would turn out."
Raghunathan provided a solar solution called a solar tunnel, "which is basically a tent structure which is mounted on the terrace and it traps heat," she says. "It allows the papads to dry really fast, which solves the problem of hygiene and uneven drying."
With parents in the agriculture and rural development field, Raghunathan grew up going to farms. "Agriculture is vital to many countries' economies and a lot of farming has now shifted to mass production farms," she says. "That has caused a lot of changes in the farming sphere. Suicide among India smallholder farmers is a really big issue when farmers can't pay their debts or have other monetary issues. That's something really sad that I saw happening around me."
Thanks to the solar tunnels, the women were producing more papads than before, but they lacked confidence in their products. So after putting up stalls and adding cold-pressed oil and millet to their menu, the women sought consumer feedback, which proved valuable.
By the end of the project, the women were more confident about planning for the future and making decisions for themselves. "It was really amazing to see these women with an entrepreneurial spirit that was quite different than before," she says.
"I don't think entrepreneurship has to be limited to people of a particular field or level of education," she says. "Being an entrepreneur involves solving a problem or seeing an opportunity and taking advantage of it and that is possible for anyone."