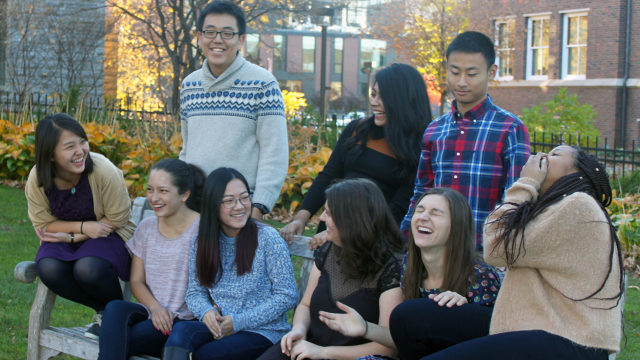 Within the Macalester community, a great deal happens in 12 months. In case you missed them, we've collected the most-viewed stories of 2017. Here are some of the tales that brought you delight and pride in what happens at 1600 Grand.
Who could resist stories of finding that special someone at Mac? In what was one of the most popular stories of the year, alumni from 1967 to 2011 shared their how-we-met stories and their best love advice.
How did cable TV change the news? How does target marketing change what we see online? How are news organizations responding to attacks on the media? Media and cultural studies professor Michael Griffin addressed these and other questions about the news we see and read.
It's the culmination of four years of hard work and intellectual exploration that results in treasured friendships. The Honorable Wilhelmina Wright, U.S. District Court Judge for the Minnesota District; Connor Valenti '17 (St. Louis, Missouri); and Senator Amy Klobuchar addressed the proud and happy grads.
There's your home, then there's your Mac home. A dozen students told us where they found their Mac homes—and, remarkably, no two were the same.
Tim O'Brien '68 and Marlon James in Conversation
Two literary lions of the Macalester community, Tim O'Brien '68, author of The Things They Carried, and Professor Marlon James, author of the Man Booker Prize-winning A Brief History of Seven Killings, discussed everything from the Vietnam War to how they write. Follow the link to watch the hour-long video.
What are new grads going to do? Our annual survey of their plans is a perennial favorite among students, prospective students, parents, and alumni. From Google to the U.S. Army; from Estee Lauder to the Peace Corps; and grad school from UC–Berkeley to the London School of Economics, in a world swirling with change, everyone is eager to see where Mac grads will begin to make their mark.
Whatever a student might be curious about, there was an opportunity to explore it in a scholarly way. Right wing populism, data science, environmental education, the Byzantine Empire, urban sustainability, vampires, and the American novel were just a few of hundreds of compelling subjects of various fall courses.
"Macalester will make it impossible not to care about the world," wrote senior Adrianna Jereb in a public letter to her first-year sister Jenna, adding, "There's so much I want to share with you, but I'll try to let you figure this place out on your own. We might be at the same school, but know you are not following in my footsteps. You'll find your own place here, and you'll fit right in."
Macalester Grants Tenure to Seven Faculty Members
Macalester affirmed its commitment to an ever more diverse faculty with the awarding of tenure to faculty members in the departments of Asian Languages and Cultures, English, Hispanic and Latin American Studies, History, International Studies, Music, and Religious Studies.
Macalester Names Executive Director of Alumni Engagement
The year began with the naming of a new leader of Alumni Engagement, Katie Ladas, who came to the college from the Greater Twin Cities United Way. "I was attracted to Macalester not only because of how I could utilize my experience in volunteer management," said Ladas, "but also because of how closely my personal values align with Macalester's mission."