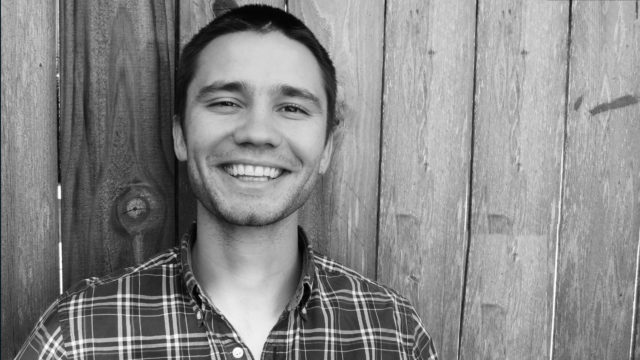 "One in three women will experience domestic assault or sexual violence in her lifetime. It impacts everyone. And we have to address it where it starts."
—Jesse Geary '12
When Minneapolis hosts the Super Bowl on February 4, it will be the focus of the world's attention, attracting 110 million viewers and hosting at least another million. Exciting, yes, but just the kind of major sporting event that brings with it its own set of problems, among them increased amounts of prostitution, exotic dancing, and other sexually exploitative activities.
To combat the rising demand for commercial sex—as well as to draw attention to this ongoing problem, which is by no means limited to large entertainment events—the group Men As Peacemakers (MAP) is running a six-month ad campaign called the Don't Buy It Project (dontbuyitproject.org).
One of the leaders of this project is MAP Director of Development Jesse Geary '12, who has worked for the organization regularly since graduating from Macalester. MAP and its projects, including the Super Bowl one, are critical parts of the ongoing fight against human sexual exploitation, says Geary. "MAP is one of the few organizations focused solely on preventing violence against women and children as opposed to intervening" in the problem, he says. "We nonprofits were missing a key part of the equation: Who is committing this violence?"
The answer according to many studies, including a recent University of Minnesota one, is that most buyers of commercial sex are white, married, middle-aged men with disposable incomes who hail from throughout the state. Very few commercial sex purchasers are low-income or people of color.
The Don't Buy it Project—using billboards, social media, and online radio and TV ads, as well as ads at bus and truck stops—fights some of the pervasive stereotypes about commercial sex work, including that it is a "victim-less crime," that women voluntarily choose this work, and that porn and exotic dancing are hurting no one.
MAP's chief partner in this Super Bowl initiative is the Women's Foundation of Minnesota, which is also sponsoring an ad campaign called I'm Priceless, aimed at youth vulnerable to sex trafficking. Both campaigns, says Geary, were fully vetted by people who were themselves exploited by the sex trade, to ensure that the messages are positive and not harmful to victims.
Meanwhile, Geary and others connected with the Super Bowl anti-trafficking campaign want to emphasize that despite the ad push, sporting events, conventions, concerts, and other large events are not the chief problem. "The reality is that sexual exploitation is happening on a daily basis," says Geary. "Yes, there are upticks with these big events, but people, mostly women, are being exploited every day in Minnesota and across the country."
To continue addressing the root of the problem, MAP also has growing programs working with colleges and universities on sexual assault prevention and with coaches and athletic teams on sexual assault and teen dating violence education. Geary, a former college soccer player, started his involvement with MAP by working with its sports program, called Impact.
"I have the privilege of being a man who has not experienced this kind of violence," says Geary. "But the reality is that I—along with every man—have women in my life who have lived it. One in three women will experience domestic assault or sexual violence in her lifetime. It impacts everyone. And we have to address it where it starts."