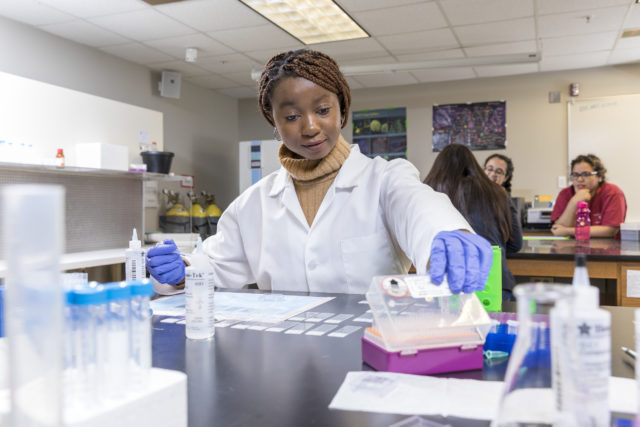 "I am beyond grateful that I was given the chance to learn to navigate my way around science labs."
—Melissa Kingue '20
Melissa Kingue '20
Far Rockaway, N.Y.
Neuroscience
Picture this: Here I am, a budding first-year student, enthralled with the college worlds of neuroscience, biology, and Japanese. Left and right, there is information to be absorbed. Day by day I meet amazing new people. Every week my college dorm room feels more like a second home. Of course, I missed my warm home and family in New York, so one would expect that as soon as summer break came around, I'd run back home. Well, I did, but I ran back to campus right away to spend most of my summer immersed in the world of research.
This summer I participated in research at Macalester through the HHMI Young Researchers program, working in the labs of two amazing professors in the Biology Department. One of the labs is a developmental biology lab. I stepped into this lab knowing very little about genetics, having not yet taken the class. Eight weeks and many lab hours later, I felt ready to take genetics the next semester, no turning back. I also learned a great deal about C. elegans, a worm commonly studied in developmental biology laboratories. One of our objectives in this lab was to determine whether a mutation we introduced using gene editing in the pgl-1 RNA in C. elegans would result in any significant changes in embryonic development. Due to the lack of significant changes, we concluded that this specific sequence in Pgl-1 was not important for its function.
The other lab I worked in is an immunology lab, where I extended my knowledge of cell biology and immunology working with live vertebrates. Our primary objective was to investigate vulvodynia, a disease characterized by chronic, unexplained pain in the vulvar area of a woman's body. We were looking at hapten used as a cosmetic preservative as a potential cause for the disease. In both labs, I had mentors who were always ready to answer any questions I had. They provided guidance that allowed my peers and me to properly fulfill the tasks at hand while learning a great deal.
Before this summer, I had had little lab experience. I am beyond grateful that I was given the chance to learn to navigate my way around science labs. One of the best perks is that my wonderful lab mates have become my great friends.
Melissa's research was supported by a grant from the Howard Hughes Medical Institute.