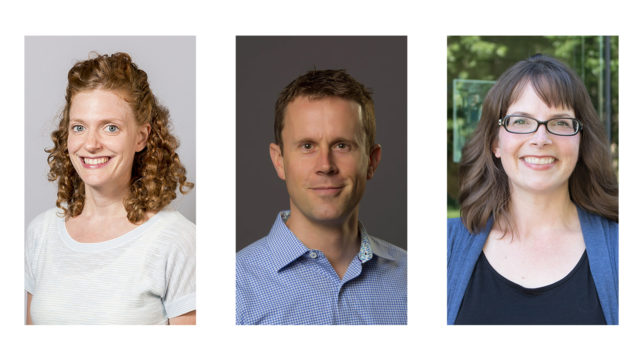 St. Paul, Minn. – Macalester College has granted tenure status to the following three faculty members: Lesley Lavery, Political Science,  Michael McGaghie, Music, and Kari Shepherdson-Scott, Art History. All three came to Macalester in 2012.
Lavery's interests include American politics, political behavior, civic engagement and public policy. Her scholarship focuses specifically on the intersection of American politics and public policy.  For example, in a series of single-authored studies she examines how parents' experiences with No Child Left Behind shapes their attitudes toward schools, education and government.  In collaborative work, she considers whether and how teachers' collective bargaining agreements affect the distribution of teacher talent, questions the relationship between open enrollment policies and families' schooling decisions, and advises a large urban district on the potential consequences of teacher hiring policies and practices.  She is currently working on a book manuscript on teachers' unions and education reform.  Her work appears in the Journal of Policy Analysis and Management, American Politics Research, Politics and Policy, Educational Evaluation and Policy Analysis and the Economics of Education Review.  Prior to coming to Macalester, Lavery worked to educate and inspire seven-year-olds as a "Teach for America" corps member in San Jose, Calif., and conducted research at the Center for Education Data and Research at the University of Washington.  She received her PhD and MA from the University of Wisconsin, Madison, and her BA from Willamette University.
As Director of Choral Activities, McGaghie conducts the Macalester Concert Choir and Chorale. Under his direction, the Concert Choir was chosen to perform at the American Choral Directors Association's 2016 North Central division conference, their such first invitation in over 40 years. He was one of seven American conductors selected for the ACDA (American Choral Directors Association) International Conductors Exchange Program in China, where he taught and conducted at the Shanghai Conservatory of Music and Fudan University. He was recently appointed the College/University Repertoire and Resources Chair for ACDA of Minnesota. McGaghie also directs the Isthmus Vocal Ensemble (Madison, Wis.) and the Harvard Glee Club Alumni Chorus (Cambridge, Mass.). His current research examines literary influences and style within the choral music of Minnesotan, composer Dominick Argento. McGaghie previously served on the conducting faculties of Harvard University and The Boston Conservatory. He remains active as a guest conductor and clinician throughout the United States. McGaghie received his DMA and MM from Boston University and his AB from Harvard.
Shepherdson-Scott specializes in Japanese visual culture from the 19th and 20th-centuries, focusing on the visual expression of national identity, empire, war, and memory. Her work on Japanese images of occupied Manchuria during the 1930s and early 1940s has been recognized by the Fulbright Japan-United States Educational Commission, the Social Science Research Council, and the Social Sciences and Humanities Research Council of Canada. These projects include research on the art photographer Fuchikami Hakuyō and his colleagues of the Manchuria Photographic Artists Association (Manshū shashin sakka kyōkai) as well as the Japanese Manchuria pavilion featured at the 1933 World's Fair in Chicago. Additionally, she has examined war media designed to ready Japanese civilians and spaces for incendiary bombing in the late 1930s. Building on an interest in war, media, and mobilization, she is currently researching battle panoramas constructed during the first years of the China-Japan War (1937-1945). While her research focuses on modern practices in Japan, she teaches more broadly in visual culture and all periods of Japanese and Chinese art. She received her PhD from Duke University, her MA from the University of British Columbia, and her BFA from Boise State University.