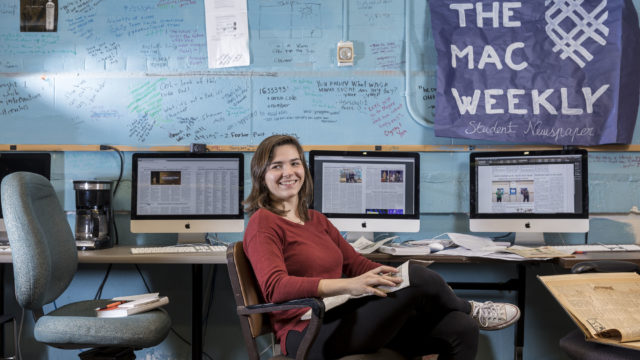 Even before she came to Macalester, Celia Heudebourg '18 (Villennes-sur-Seine, France) knew she wanted to join the newspaper, the Mac Weekly. "I actually wrote it in my application essay," she says.
The international studies major started off at the paper as a reporter her first year; by her senior year, she'd become editor-in-chief. As she sets her sights on life post-Mac and her goal of a full-time career in journalism, she shared some highlights from her time as a student journalist.
The New York Times
The summer after sophomore year, I got an internship at the International New York Times, in the Paris bureau. I was a newsroom intern, which essentially meant that I was hands-on with whatever they needed on a given day. Most of the time I was working on this thing called "Communications Center," which is a hub that deals with all administrative and between-bureau needs. So, we were working with copyeditors from Hong Kong and New York, and then Paris was the center of it.
Another thing that I would do is attend an editors' meeting every day at 4 p.m., where an editor from each section gathers, and they decide the four stories that go on the front page. I was there in a reporting capacity, recording their final decision and then distributing it to everyone in the office, and then Hong Kong and New York.
And I was there for the 2016 Summer Olympics in Rio de Janeiro. We did a lot of things like number crunching to make sure we had running stats of each country's number of gold medals, things like that.
Overall it was a really interesting experience. I learned a lot about newsroom management, working with copyeditors, and working with researchers.
Field Studies in Journalism and New Media Program, Morocco – School for International Training
After I finished at the Times, I went abroad straight away, to Morocco, for a field reporting program. The way the program was set up, you did school for two months, essentially, and then the last month and a half were spent doing an investigative story. So you had that time to really delve into a topic. They gave you a stipend, and we had editors—like our academic advisors doubled as editors, one of whom was a New York Times freelancer—but you were really on your own, pretty much working as a freelancer.
I ended up writing a story with a Moroccan journalist and a videographer from the University of St. Thomas, who was also on the program, and we collaborated on an intimate portrait of transgender Moroccan teens who were trying to gain refugee status in Canada.
Law Street Media
 Last summer, I got an internship in Washington, D.C., for a very small publication, Law Street Media. It's a web-based news organization, so it was definitely more digital-first, and I got to write an article pretty much every other day. They went up online, and I had free range of topics to pick from—they all had to be somewhat related to law and media, but it was pretty loose.
I was also in D.C. for a huge amount of news coverage. So even though I didn't cover them, necessarily, I was around for everything relating to former FBI Director James Comey, Attorney General Jeff Sessions' testimony, and the congressional baseball game shooting. I got to meet Anderson Cooper, too, which was cool.
The Mac Weekly
The Mac Weekly operates on a smaller scale than some of the publications I've worked at, but I think that the campus we cover is essentially a microcosm of any neighborhood, town, city, country—it's just a smaller scale. Ultimately we're still reporting on stories that are important to people in a given moment.
As for me, I've had a great time being involved in the newspaper. That group of people is some of my closest friends. And the skills that I first developed at the Mac Weekly are what helped me land some of the internships I got, and then do well at them. It's probably been the most formative experience for my professional development that I've had at Macalester.