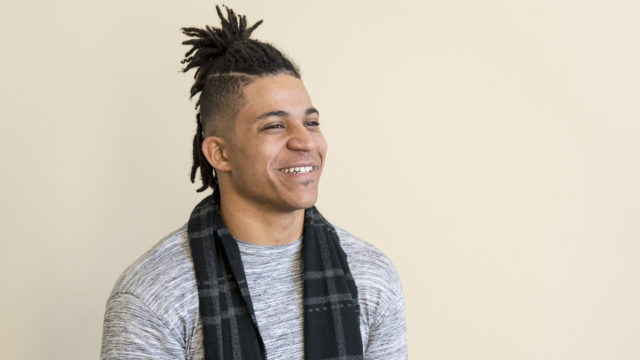 Kiante Miles '20 breaks the ice with poetry:
So what's there to know about me?
Besides the fact that I wear too long of t's and have holes in my jeans.
What's there to know about me?
Well I've been able to travel this country delivering my soul in the packing of poetry
All the way from OKC to DC yet somehow my roots are in a small country city
The 405
The town where every night is a different drive
Where you can hit those back roads and forget those speed limit signs
I remember walking through high school halls
Looking for a home, a purpose questioning if there was one at all
And yeah I use to ball
But look at me I'm a buck 80 and barely stand over 5 feet tall
But that's when I found poetry and learned how to tell my story
About a boy from the city who's now in the twin cities
So what's there to know about me
Better yet what's there to know about you
That's what I'm here to find out and yeah maybe do a little bit of poetry too
"I came to Macalester because it enabled me to pursue my academics, to pursue football, and not leave behind a piece of me, which is poetry," says Miles, a computer science major from Yukon, Oklahoma.
In his own life, Miles had found that poetry could communicate controversial topics in a way that encouraged a healthy dialogue. So when he applied for a Live It Fund entrepreneurship grant, he designed his project with that in mind. By helping high school students learn how to share their own stories through poetry, Miles hoped to target issues like racism, and bridge a gap between groups that "claim to be so different, but talk about each other in the same way."
During J-term, Miles returned to Mustang High School, his alma mater, with a three-step creative process: display, converse, and apply. He first displays his own work—kicking off the workshop with a funny or corny poem before diving in to serious topics. "The second part, always most important, is conversation," he says. "It was really inspiring to see the students talking about the big problem of racism. In the beginning, you could see on their faces that they didn't have any hope that it could be fixed. But after we really started digging to come up with ideas about how to combat it small scope—with friends, with family—I could see their faces change."
Finally, students apply what they've learned, taking their work outside the classroom. Miles emceed an open mic evening, hoping that at least five students would show up. Some 30 students, plus parents and the high school principal, attended. Most students had never shared their poetry with anyone, says Miles, and the connections made to the community were moving and powerful.
This summer, Miles plans to take his Live It project to public high schools in St. Paul. When the project is completed, he'll amplify those voices, publishing student poems from Oklahoma and Minnesota in a book to be titled Voices in the Wind. The book, he says, will help students realize that their voices matter, and their voices are being heard.
2017 Live It Participants:
January 2017
CUAUHTEMOC CRUZ HERRERA '19
MIN HEE CHO, CHANNELLE NDAGIRE '19
QUE NGUYEN '19
SHAONAN XI '18
JULIETTE MYERS '17
TASNEEM ISSA '18
PREETA RAGHUNATHAN '19
TOAN THANH DOAN '19
Summer 2017
KEVIN XIONG '18
PREETA RAGHUNATHAN '19
LILIAN VO '18
SHAONAN XI '18, XUEMENG YAO '19