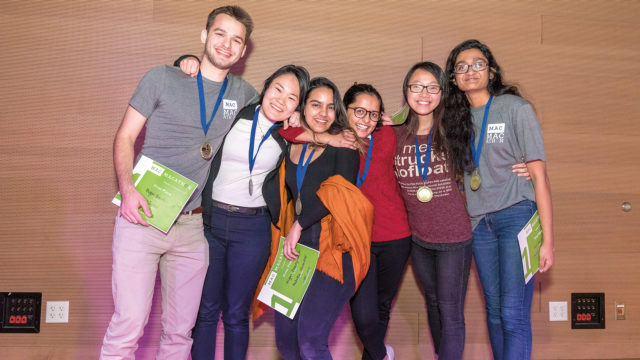 Mac's annual innovation contest challenges students to devise solutions to real-world problems.
It's 9 p.m. Friday, and John Garner '20 (St. Paul) and five other students are huddled in an Olin-Rice classroom, launching into what's shaping up to be a late night. By morning, they'll have built a solution to a real-world problem—but morning is far away.
With an electro-swing soundtrack in the background, Team Sciuridae's students pitch ideas for weather apps, laundry machines, and volunteer-matching databases. They also discuss their plans for sleep—or, if they hit snags with their eventual prototype, a lack thereof. That's not daunting right now, though. "We've all pulled all-nighters before," Garner says. "We're in college."
This is Macathon, the college's popular overnight innovation and creativity contest that challenges students to put their educations into action and invent an original service or product—in less than 24 hours. The competition is modeled after traditional technology hackathons, but the spirit extends far beyond computer programming. Successful teams need a mix of technical, business, design, communication, and creativity skills.
Like most groups, Garner's team reflects that academic balance, representing statistics, religious studies, neuroscience, and computer science. Even early on, Team Sciuridae is seeing firsthand why event organizers advise against building teams solely with coders. Says Garner, "We're all evaluating these ideas from different perspectives."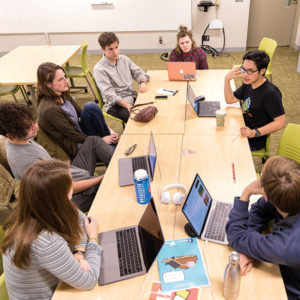 Those multifaceted conversations produce solutions that inspire the alumni judges, who return to campus from around the country to mentor students throughout the weekend. "Mac students are not afraid of tackling challenging problems," says venture investor Seth Levine '94, whose conversations with entrepreneur Per von Zelowitz '94 sparked the inaugural Macathon.
The competition has snowballed since then, growing from eight teams in 2013 to more than 100 students on 20 teams this year.
Each year, the ideas these teams manage to produce by Saturday afternoon is impressive. But what does the path look like from start to finish? What roadblocks stall teams; which breakthroughs drive them forward? And when does anyone sleep? To find out, we recently watched Macathon unfold.
Friday, 7 p.m. Macathon may be a competition with a $1,000 top prize, but Mac's entrepreneur-in-residence Kate Ryan Reiling '00 emphasizes its collaborative focus: "We encourage you to ask for help, from the judges and other teams." Thirteen alumni judges start circulating in Olin-Rice to meet with each team in its designated home base, stopping in the hallways for casual consultations between meetings. They're scheduled to be in the building until 10 p.m., but many are still there after midnight.
8 p.m. In the basement, Team Brudajocojula is seated around five laptops and water bottles. A whiteboard is jammed with ideas: climate farming, portable greenhouses, online clothes shopping, translating in doctors' offices. Because no advance preparation is allowed, this brainstorming scene is unfolding around the building as teams debate the directions their projects will take.
Two floors up, Team Bigori Beauty Brush has homed in on its plan—and is already on the move.
Driven by Bangalore, India, junior Preeta Raghunathan's unsuccessful searches for clothing that could securely and discreetly support the insulin pump she carries, the team has decided to design an easily attachable pocket for pumps. So instead of burrowing into their Olin-Rice base for the night, they scramble to get started on a prototype, using the library's Idea Lab sewing machine before the building closes at 10. Risa Shirai '19 (Tokyo, Japan) takes the lead at the sewing machine, surprising even herself: "Of all the skills I have, this wasn't the one I thought would come in handy for Macathon."
8:25 p.m. In room 189, Team Datababes is combatting climate change by designing an app that rewards consumers for making sustainable purchases. They're thinking about how to fund the app, musing whether ad content will generate the necessary revenue. "The judges always ask about investors," one teammate notes.
8:40 p.m. The Hacktivists—Jennifer Arnold '19 (Waukegan, Ill.), Fouad El Hamdouni '19 (Casablanca, Morocco), Min Hee Cho '19 (Vernon Hills, Ill.), and Lilian Vo '18 (Seattle)—are building a subscription box program to reuse toys. For the next few hours, they'll review coding tutorials, build a toy-box prototype, and conduct market research. Like Team Sciuridae and many others, though, they're first devoting time to another crucial topic: sleep.
The best teams take breaks for rest, Reiling told the students, but what that means varies among—and even within—the groups. Arnold often finds fresh inspiration when she's coding at 1 or 2 a.m. but needs short naps to power through; El Hamdouni warns his teammates that he rarely stays up past midnight. "Even with coffee, the energy is going to wane," he cautions his friends.
9:55 p.m. "I've only had one cup of coffee so far," Livvie Avrick '19 (Wilmette, Ill.) says. Even though semifinals won't be held until 1:15 p.m. on Saturday, Team Datababes is eager to start working on its final presentation. That's a recurring theme around Olin- Rice right now: Everyone wants to start building the pitch—and articulating their solution—before fatigue sets in.
10 p.m. For some teams, the initial momentum is slowing down. The Hacktivists, for instance, have stalled with their secondhand toy subscription concept. "We're feeling pretty stuck," says Vo. "We're still wrapping our head around the big picture—but we're stuck on the details."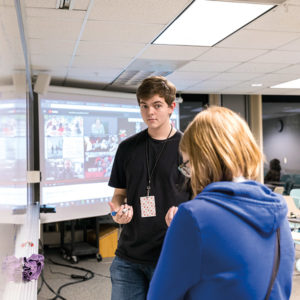 Over in room 356, Team Jollof Rice is similarly flummoxed. The students know they want to improve health care quality, but they're wading through wide-ranging conversations about internet access, health insurance, and the cloud. "I don't know if this is a technology problem we need to be solving right now," one teammate says, trying to steer the group back on track.
10:05 p.m. Break, then work: that's the consensus that Brudajocojula reaches after a productive meeting with the judges on their plan to build a national database linking trained translators to hospitals. "We've been narrowing this down since 6 p.m.—that's four hours of throwing out ideas," Joselyn Angeles Figueroa '21 (Winter Haven, Fla.) says. "Now that we have more direction, it's time to take a break and relish that we're going somewhere."
With that, the teammates put on their jackets and go outside, breathing in the cold air, light snow falling around them. "Things are looking up for us," says David Frye '21 (Federal Way, Wash.).
10:35 p.m. In Team Sciuridae's room, the six students have determined their focus (a volunteer-matching database) and split up into pairs: two are at the whiteboard, outlining how their user interface will function, two are seated at laptops writing the presentation, and two are napping, sprawled across giant beanbags.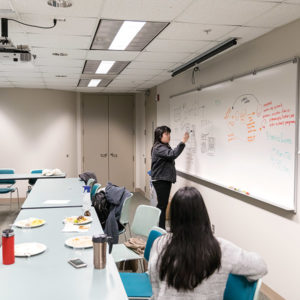 11:32 p.m. Fresh off a meeting with judges, the Hacktivists have moved forward—and the mood is noticeably lighter. "We were overanalyzing," Arnold says. "We were building it up in our heads. The judges put a lot of things in perspective. We were able to bounce ideas off them, and it felt collaborative. Our concept is more refined now. At 9, I wanted to nap—now I'm super hyped."
Just before midnight, Jollof Rice reaches its own breakthrough. The four students wanted to focus on health-care records systems in low-income countries, but after an hour of talking in circles, they decide to target middle-income regions in developing countries with existing infrastructures. Judges pointed out, though, that this solution wasn't breaking any new ground. "So we went in a new direction: incorporating community health program workers," says Nana Adom Mills-Robertson '18 (Accra, Ghana). "Instead of these workers just collecting data for the census, we want to collaborate with them to create a portable medical records system on a card. Then, instead of relying on paper records housed at one hospital, patients will have easy access to their complete medical histories, and the doctor doesn't have to start from scratch during a diagnosis.
"This was a goosebumps moment for us. Now we need to figure out what questions we need to solve for the tech product, then we'll work on the coding and presentation. We're starting from scratch with the coding. It's going to be a long night."
12:05 a.m. After a brief lull, the murmur around Olin-Rice picks up again: pizza has arrived in Smail Gallery, drawing students out for a break. Nearby, Brudajocojula teammates are talking with three judges about the next steps for their hospital translator database. "What are the next 10 languages you'd add in to maximize coverage?" asks Martha Danly '76. Frye considers her question: "We need to prove that demand in our presentation."
1:15 a.m. Teams are starting to divvy up the workload to make time for bursts of sleep. In Sciuridae's room, Garner is working on his team's website.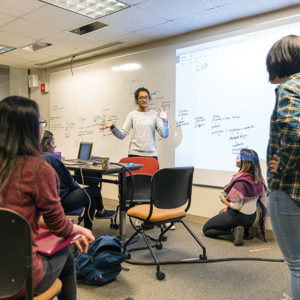 Upbeat music—including a karaoke break—provides a boost.
1:43 a.m. Earlier in the night, the Datababes had planned to crash on Olin-Rice couches, but they've decided to head home instead to get a few hours of quality sleep in their own beds.
7:37 a.m. The Datababes are back to work. "We feel ready to go!" reports Avrick. "It was really hard to wake up, though."
9:02 a.m. Cardboard scraps and tagboard—toy-box prototype remnants—are strewn across the Hacktivists' workspace. Arnold is slouched over a laptop, squeezing in a nap. The other teammates are crowded around three laptops, half-eaten bagels strewn around.
This early-morning crunch is focused on gearing up for the practice pitch session, a new Macathon component this year. You'd never know these sessions were optional—nearly every team signed up to get crucial input from judges before the afternoon's semi-finals.
9:07 a.m. Team Sciuridae's practice session is done, and they're grappling with new questions raised by the feedback. Two judges stop by to see how things are going. Fritos are spilled across the floor, two students are sleeping on beanbags, and the room is lit by the projector's blue glow.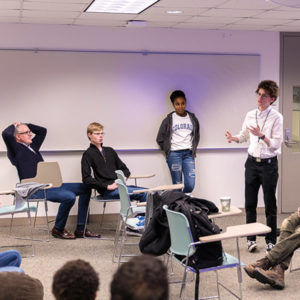 Elsewhere, Brudajocojula is presenting to Danly, and Angeles Figueroa takes the lead on the pitch for their hospital translator platform. "In health care, any language barrier can be life-threatening," she tells Danly. "We created Flare, a database in which hospitals can see if unmet translation needs can be filled in real time by staff at hospitals around the country. This is a more cost-effective way for hospitals to provide translation services—and make sure patients get the care they need."
Danly helps them refine their presentation, starting with developing a crisp problem statement that clarifies mission, problem, and solution. "Be bold: Come out and say 'We are Flare, and we want to solve this problem,'" says Danly, a strategy consultant for Bay Area tech startups. "You won't be perfect. You will be nervous. Just accept that."
1:15 p.m. The semi-finals are underway, marking the end of another frantic push to test prototypes, rehearse presentations, and clean up Olin-Rice workspaces. The Datababes finish writing their PowerPoint script just minutes before the semifinals. "We were rushed, but it's exciting to have presented," Avrick says. "Now we're wondering what the next step is."
4:30 p.m. All 20 teams gather in the John B. Davis Lecture Hall, while at the podium, Reiling holds a box containing the names of the six finalists. She announces the first team to advance: A Bug's Life, six first-year students who created a gaming app to incentivize young consumers to support independent businesses. The team hurries to the stage, launching into their nine-minute presentation once more. The students field questions from the judges, and then it's on to the remaining finalists, who outline projects focused on college access, diabetes, refugee migration, and the opioid crisis.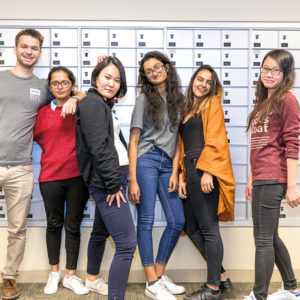 Just before 6, the last team called is Jollof Rice, the group whose breakthrough about portable medical records didn't come until midnight. Mills-Robertson and teammate Ayoub Belemlih '18(Fes, Morocco) describe their solution. "This will advance the quality of health care back home," Belemlih says. "We want to be the bridge among the providers, community health program workers, and patients."
7 p.m. After an hour of deliberation, the judges have decided. Jollof Rice takes third place ($500), with second place ($750) going to My Fantastic Roommates.
And the winning team? That's Bigori Beauty Brush, the group that scrambled to the library nearly 24 hours ago to use the sewing machine. Early Friday evening, market research confirmed that their idea to design an attachable pocket for insulin pumps had serious potential. "It was like a lightbulb," Nikita Naik Mood '19 (Bangalore, India) says. "There was such a gap [in product solutions]. It was astounding."
At Macathon and year-round, Reiling aims to draw out more of these revelations. "We want to equip you to find those moments and figure out what to do next," she told the 20 teams gathered in the lecture hall. "This is about hope, about bending the arc of the future, the framework to build a world you want to live in."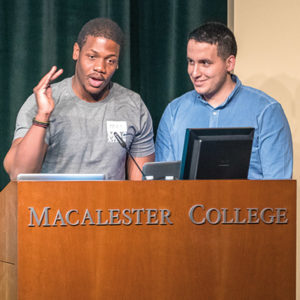 FIRST PLACE ($1,000): Bigori Beauty Brush, for designing an easily attachable pocket to hold insulin pumps securely and discreetly in a wide range of garments
TEAM MEMBERS: Benjamin Sydel '18 (New York), Giang Duong '19 (Hanoi, Vietnam), Risa Shirai '19 (Tokyo, Japan), Nikita Naik Mood '19 (Bangalore, India), Preeta Raghunathan '19 (Bangalore, India), and Malvika Shankar '19 (Bangalore, India)
SECOND PLACE ($750): My Fantastic Roommates, for creating a platform through which donors support refugees by funding debit cards to make the migration journey safer
TEAM MEMBERS: Joseph Trier '18 (Madison, Wis.), Tejas Singh '18(Kolkata, India), Nathan DaSilva '19 (Portland, Ore.), Timothy Lipman '19 (Chicago), and Daijiro Yokota '20 (Tokyo, Japan)
THIRD PLACE ($500): Jollof Rice, for building a card-based portable medical records system to improve access to a patient's health history during a diagnosis
TEAM MEMBERS: Ayoub Belemlih '18 (Fes, Morocco), Mack Hartley '18 (Northfield, Minn.), Nana Adom Mills-Robertson '18 (Accra, Ghana), and Thao Hoang '18 (Hanoi, Vietnam)