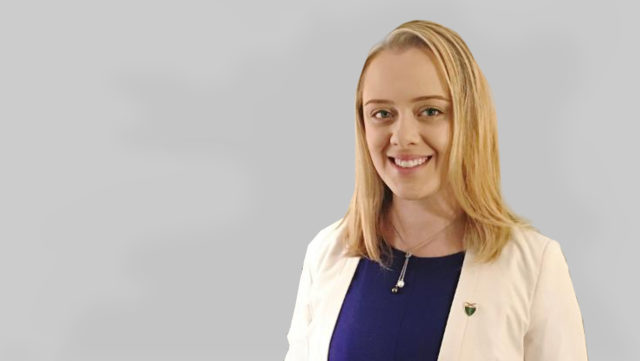 Cheryl Zogg '11 may lead a busy life—she keeps a full schedule as a dual-degree MD/PhD candidate at the Yale School of Medicine, even before factoring in her current research fellowships with Yale Law and Harvard Medicine—but even so, there's one email she received last year that she recalls with some clarity.
"It was late last summer or early fall," she says, "that I got an email from Forbes that I had been nominated to the 30 Under 30 for 2018."
She replied with the background information they requested, then again when she became a finalist; a few months later, she got the official notice: she was in.
"It was so humbling," she says of the award, which cited her latest research at Yale, a statistical analysis of the Affordable Care Act's impact on health care for young adults who've suffered traumatic injuries. "Even besides the award itself, it's been an amazing opportunity to reconnect with people from across my life—my dance teacher from when I was four could understand what I was doing. That was really special."
Zogg has wanted to work in medicine since childhood—her father is a physician and her mother is a nurse, and she recalls tagging along on the weekends to follow her dad through his hospital rounds—but it was at Macalester that she first began to imagine her career might encompass more than clinical practice.
After her freshman year, she jumped into the world of research as a summer researcher in chemistry professor Keith Kuwata's lab. Over the next few summers there, she learned about computational modeling and how to code, and built a body of work that would turn into her chemistry honors thesis. "Then my junior year, I had just come back from a January study abroad program in Bangladesh," she says, when she sat down with biology professor Devavani Chatterjea, who, upon learning how many health classes Zogg had already taken, informed her that Mac was starting a Community and Global Health concentration. "I remember laughing and realizing that there was a name for all these things I had been studying: public health."
With that spark, she decided "on a whim" to put off med school temporarily and apply to master's programs in public health, ultimately accepting an offer to attend Johns Hopkins. "My first year was doing global health research—access to care and medical infrastructure in Africa and the Saudi peninsula," she says. "Then I left for a year to go back to Bangladesh, where I was doing research in clinical trials and a lot of work with respiratory infections in pediatric intensive care units."
After completing her master's degree in 2014, she stayed on for several years at Johns Hopkins as a clinical research fellow before moving with her P.I. to Harvard Medical School. She then started her current degree program at Yale in 2016, with the eventual goal of becoming a surgeon at an academic medical research institution, where she can practice clinical medicine, continue her research, and teach.
"When I work at the hospital, it's about my patients as individuals. But as a researcher, we look at what can we change at a population level, to make each individual encounter at the hospital the best possible," she says.
Ultimately, she says she's inspired by a quote she encountered while a student at Johns Hopkins. "There's an old expression," she says, "that we're 'saving lives, millions at a time.' That really is the crux of it."