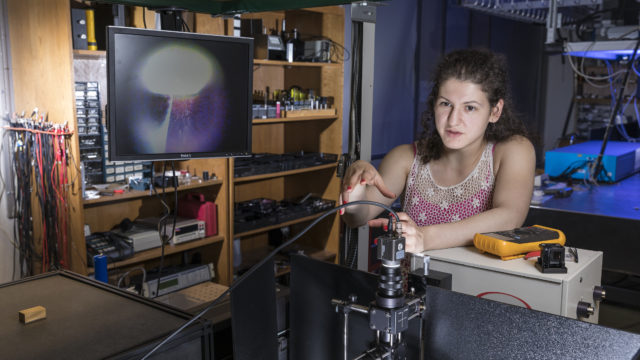 "My project was to design and set up a system that allows us to do photoluminescence measurements on GaN samples and analyze the results."
—Dona Pantova '19
Dona Pantova '19
Plovdiv, Bulgaria
Mathematics, Physics
The goal of my research in applied physics was to characterize the quality of Gallium Nitride samples for Lightwave Photonics, a St. Paul technology company that designs and manufactures novel materials and devices. Gallium Nitride is a semiconductor essential for the production of blue and white LEDs. GaN has properties that may make it a more efficient replacement for silicon. My project was to design and set up a system that allows us to do photoluminescence measurements on GaN samples and analyze the results.
I worked under the close supervision of physics professor James Heyman, who supported me throughout the process of learning and acquiring hands-on experience. This project requires a knowledge of solid state physics that extends beyond the scope of the physics courses I took during my first two years at Macalester, making it an excellent opportunity to understand the challenges a graduate program in physics might present.
I am considering the pursuit of a PhD in some branch of science and observing and contributing to the daily work of Professor Heyman has greatly increased my appreciation for applied science. I understand more about the skills needed to work in a lab, such as patience, attention to detail, creativity, and a deep understanding of the theory behind the experiments, and have begun to develop some of these skills myself.
My research experience at Macalester has provided guidance in choosing a career. I now have a much better idea of the kind of work a person with an advanced degree in physics can do, which has great significance for my decision about graduate school.
Dona Pantova's research was funded by a Beltmann Summer Research Natural Science Stipend.