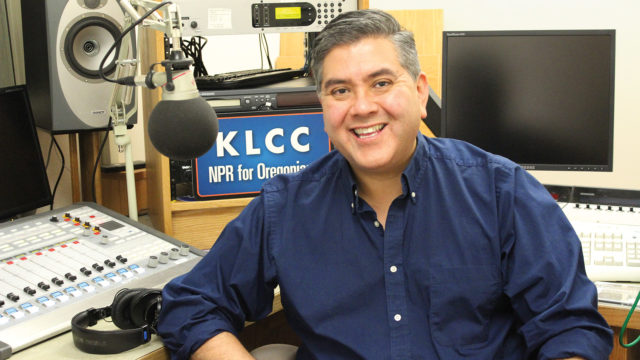 Native American journalist Brian Bull '91 reports on the stories others might miss.
BY JAN SHAW-FLAMM '76 / PHOTO COURTESY OF MARGARET BULL '96
Standing out can cut two ways. Broadcast journalist Brian Bull '91 stands out as the winner of three national Edward R. Murrow awards, the Ohio Associated Press's Best Reporter Award, and dozens of other accolades. His stories have appeared on, among other venues, National Public Radio, American Public Media, and the BBC.
But standing out can also be dangerous. When Bull walked along the road as a kid, people driving past in their pickups sometimes threw rocks and bottles at him. Though he lived more than 10 miles from the reservation, Bull stood out as a member of the Nez Perce Indian tribe in northern Idaho. Back then, expectations in school were generally lower for Native American students, regardless of their ability. "The attitude seemed to be, 'Skinny little Native kid, what's he going to be?'" says Bull. Racism from classmates manifested as verbal threats, vandalism, and theft.
Frustrated, at 16 he told his father he planned to drop out of school. Fortunately, his father talked him out of it. As a senior, Bull shocked his high school counselors when he was accepted at Macalester, where he majored in psychology. After graduation he worked in the college's Admissions office before launching his journalism career as a freelancer with MPR, then as news director at South Dakota Public Radio.
Bull began by covering Hmong funerals in St. Paul, rituals the Hmong people carried over from their homeland in Laos and Cambodia. Soon he was doing stories on Indian tribal relations and American Indian activism in South Dakota, including profiling the late American Indian Movement cofounder Dennis Banks, as well as covering economic development and agricultural issues.
A warm, friendly guy, Bull combines dedication to accurate, compelling journalism with a highly listenable vocal style. But he knows how hard it can be to provide authentic Native voices for listeners and readers, when that world is so drastically underrepresented in the media. To address that lack, Bull has been active with the Native American Journalists Association for 16 years and has served as president and chair of Vision Maker Media (formerly Native American Public Telecommunications), which supports funding, production, and distribution of programming produced by and for Native American communities.
Bull also has twice served as a visiting faculty member at the nationally recognized Poynter Institute for Media Studies, and has worked with NPR's Next Generation Radio, a program aimed at diversifying the ranks of journalists by helping students gain the skills and opportunities to report and produce their own stories.
As for Bull's own stories, he has covered thousands, but a few stand out. One is a half-hour documentary, produced for Wisconsin Public Radio, that explored domestic violence in Hmong society: "I connected with a courageous woman who was routinely abused by her husband, and judged and criticized by her clan, before she left to start a new life."
Another is the Working Poor series he did for WCPN in Cleveland, which earned him a second national Murrow Award. "I wanted to give voice to this struggling demographic so listeners could see past the label and understand the circumstances—and aspirations—of those barely scraping by."
After working for public radio stations in Ohio, South Dakota, and Wisconsin, in 2016 Bull joined KLCC, NPR's station in Eugene, Oregon, as a reporter and announcer. He calls Eugene "what Macalester would be if it were made into its own city. It's huge on activism, social justice, and the arts." He was happy to bring his wife, Margaret Bull '96, and their children back to the Pacific Northwest, where they are closer to his family and the Nez Perce tribe.
Last summer, Bull was presented with yet another reporting prize, the 2017 Excellence in Consumer Financial Reporting Award, for his story showcasing the difficulties facing homebuyers in the increasingly expensive Eugene housing market. It was important to show that, even in the midst of a booming real estate market, people are struggling, Bull says.
Macalester prepared him well for working in public radio, says Bull, because the professors encouraged both insightful thinking and analysis, "being a healthy, skeptical inquirer, challenging authority, and questioning everyone's motives.
"It doesn't serve to celebrate free speech when you're only in favor of those views that mirror your own, and it doesn't build bridges to shut down or ignore contrary perspectives," he says. "It's vital to see beyond the rhetoric and appreciate where a person comes from … even if you may not agree."
Jan Shaw-Flamm '76 is a staff writer for Macalester Today.