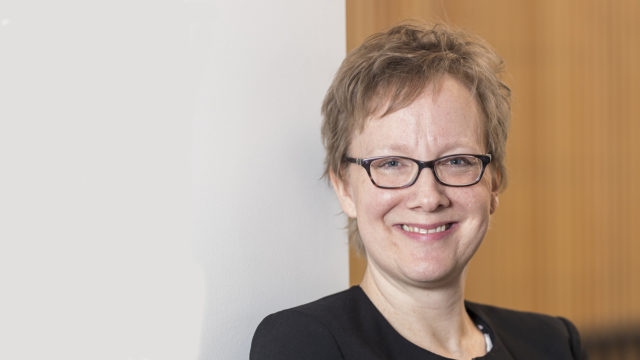 St. Paul, Minn. – Economics Professor Sarah E. West will speak about "Transformation by Train? What Light Rail Means for Minneapolis" when she gives her inaugural lecture as the G. Theodore Mitau Professor of Economics, 4:45 p.m., Thursday, March 8, in the John B. Davis Lecture Hall, Ruth Stricker Dayton Campus Center.
West's most recent work focuses on the effect of public transit on land use and property values. A public finance and environmental economist, she has also studied vehicle pollution policies, how car buyers factor fuel economy into their vehicle choices, and the value of open space in urban areas.
Her work has been published in the Journal of Environmental Economics and Management, Journal of Public Economics, Journal of Transport Economics and Policy, National Tax Journal, Regional Science and Urban Economics, and in the American Economic Review, Papers and Proceedings. She co-edited the book Environmental Issues in Latin America and the Caribbean (Springer Press, 2005). Her research has been supported by the Public Policy Institute of California, the National Institutes of Health, and the Robert Wood Johnson Foundation.
West is a member of the editorial council of the Journal of Environmental Economics and Management and serves as Secretary of the Association of Environmental and Resource Economists.
An award-winning teacher, she has supervised many prize-winning honors theses and has co-authored publications with Macalester undergraduates. She has taught at Macalester since 1999.
West holds a PhD in economics from the University of Texas at Austin, where she also earned an MA in Latin American Studies. Her BA is from Macalester College, where she majored in International Studies and Spanish.