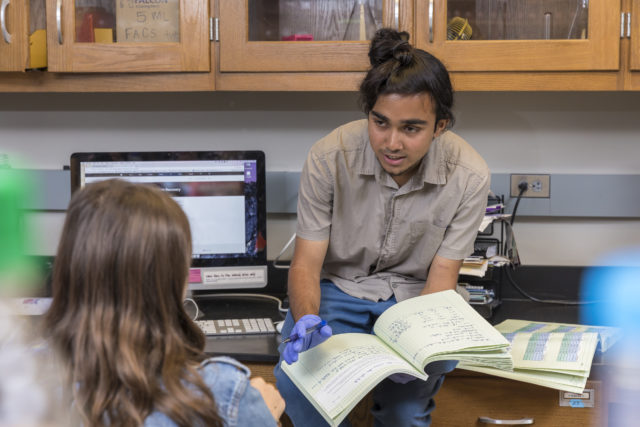 "This combination of personal benefits and research experience has become a key component of my college life, and I cannot imagine what my life would be like without it." —Rohit Kamath '18
Rohit Kamath '18
Bangalore, India
Biology, Psychology
At Macalester, I have taken an odd amalgamation of courses that have provided me with an even weirder collection of theoretical skills. In order to flesh out and appreciate the practicality of these skills, I returned to India over the past two summers to work in labs and schools in my home country. My work in these labs involved genetic sequencing, and while my work in this field was absolutely fascinating, it did not directly complement my academic interests.
This summer, with the help of the Jan Serie Research Fellowship, I stayed here at Macalester and worked in the immunology lab run by Professor Devavani Chatterjea. In this lab, I carried out research on the characteristic features of the immune response to a particular chemical allergen known as 1-Fluoro-2,4-dinitrobenzene, or DNFB for short, in the skin. This allergen helps us model the disease known as vulvodynia, which causes chronic, unexplained pain in the vulva. The physiological responses seen in this model include an increase in sensitivity in the skin, along with various other immunological responses. These cellular level responses include changes in the numbers of immune cells known as CD4+ T Cells and CD8+ T Cells. The information gathered from these experiments will help us understand the characteristic features of this poorly studied disease, and provide us with the strong foundation of knowledge needed to tackle its causes.
On a typical day, my work involved analyzing what types of immune cells were responding to the allergen, and in what numbers. My project also required me to carry out tests to understand what types of proteins are being produced by these immune cells and in what quantities.
My research has shown me what it is like to carry out a project over the course of many months and across multiple semesters. I work in Professor Chatterjea's lab during the school year as well, and my summer project was a continuation of the project I began in September 2016. This project will continue into my senior year, allowing me to, hopefully, see the project through from start to finish. Mimicking aspects of a professional research setting in this manner has helped me see what a possible future of mine could be like, and this has been the greatest benefit of my research at Macalester. Additionally, the tightly knit community formed by my lab has given me friends and coworkers that I admire and look to for help, something that they provide me with in abundance.
This combination of personal benefits and research experience has become a key component of my college life, and I cannot imagine what my life would be like without it.
Rohit's research was supported by the Professor Jan Serie Fund for Student-Faculty Research at Macalester.