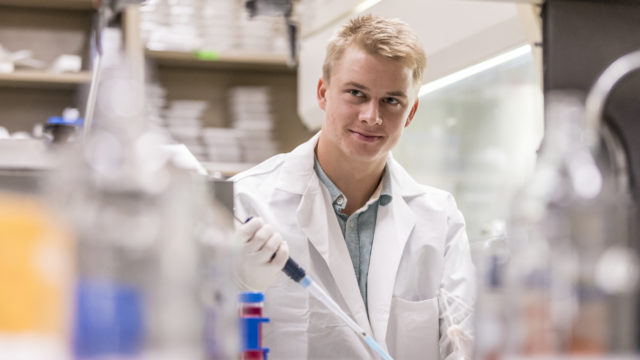 Aidan Tirpack '18
Mill Valley, California
Biology
"I treated fibroblasts cultured on plastic and collagen gels with HA. Our hypothesis is that HA could be a driving mechanism of IPF."
—Aidan Tirpack '18
Idiopathic Pulmonary Fibrosis (IPF) is a progressive and fatal lung-scarring disease of unknown cause with few treatment options. The scarring begins with an initial injury where cells called fibroblasts rush to the site to heal the wound. This is a normal process, however in IPF, the scarring continues in an uncontrolled fashion. My lab is trying to understand the basic mechanisms of IPF.
IPF is thought to result from an accumulation of extracellular matrix (ECM) components within the lung. Hyaluronan (HA), found naturally in many parts of the body, is involved in inflammation and wound healing within the extracellular matrix (ECM). To determine the effect of HA, I treated fibroblasts cultured on plastic and collagen gels with HA. Our hypothesis is that HA could be a driving mechanism of IPF.
Macalester courses and labs have prepared me for this experience by giving me a basic understanding of cellular processes and laboratory techniques. In the Cell Biology and Genetics laboratory, we learned how to properly pipette and do protein quantification among other techniques I used daily within lab. The cell biology course at Macalester also gave me a basic understanding of cellular processes so I could immediately start work in the lab.
There are many opportunities at Macalester and around the Twin Cities to do scientific research. At Mac, professors welcome new students into their lab for both the semester and summer. With no graduate students in the lab, students work directly with their professor. With Macalester being in the Twin Cities, there are many additional opportunities to do research such as at the University of Minnesota. Overall, being a science major at Mac gives you many opportunities to grow as a scientist.
Aidan's research was funded in part by a grant to Macalester College from the Howard Hughes Medical Institute through the Precollege and Undergraduate Science Education Program.