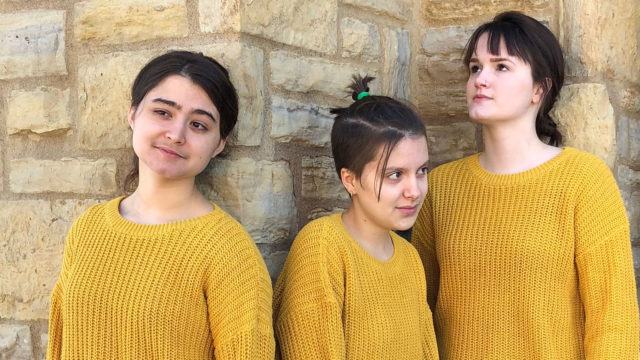 St. Paul, Minn. – The Macalester College Theatre and Dance Department presents Dirk (and others still with us), an original piece devised by Theatre & Dance student Anna Bruijn '18 (Ten Boer, The Netherlands) and the play's cast.
Dirk is about Bruijn's grandfather who died when she was a baby, over 22 years ago. But through stories told by her father, and through imagination, she has kept him close. She sees him every day in the picture on her wall, and in the candle on her desk (it was lit during his funeral, and it's lit every year on the anniversary of his death). Bruijn believes we all have Dirks in our lives. This performance is about her Dirk and his story, everyone else's Dirk, and the archiving of memories.
Cast members include: Jesse Claire '19 (Sacramento, Calif.), Marisa Peredo '20 (Lakewood, Wash.)​, and Elinor Jones '21 (Fort Collins, Colo.), with stage management by Trevor Zapiecki '19 (Grand Rapids, Ohio). Directed and researched by Bruijn. This is her capstone project as a Theatre & Dance major.
There are only two performances, Friday, March 23 and Saturday, March 24, both at 7:30 p.m. Performance is off campus at: Dreamland Arts LLC, 677 Hamline Ave. No., St. Paul, Minn. FREE. For more information, call 651-696-6359 or go to macalester.edu/boxoffice.
Learn more about Macalester College at macalester.edu.