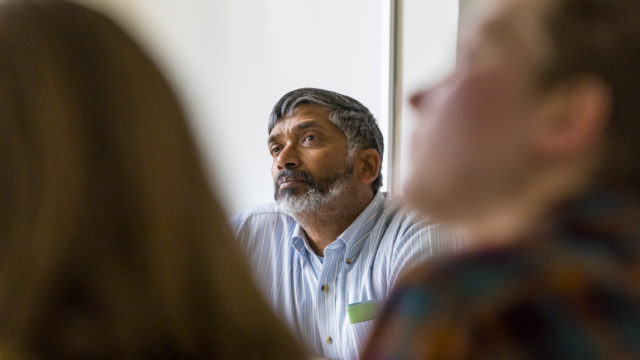 "Studying human foodways takes us to the heart of what it means to be human."
Professor Guneratne
For anthropology professor Arjun Guneratne, there's a whole lot more to food than just what's on the plate.
"It's a kind of language," he says, "through which we communicate our identity, our gender, our social class, our aspirations, the boundaries we set up to divide ourselves off from others, and so on. Studying human foodways takes us to the heart of what it means to be human."
That's why, for the last three years, he's been teaching a course called Food and Culture, which has now been incorporated into Macalester's new Food, Agriculture, and Society concentration. It's a Socratic-style seminar held in Carnegie Hall, where, on a recent Friday, he and seven students traded questions about the readings, discussing how cooking shows portray gender identities.
"Food plays a fundamental but often concealed role," Guneratne told them. "How do the articles develop the idea of gender as a construct? How is gender performed in the shows?"
Eventually the discussion turned to fitness magazines, to think through the ways those publications talk differently about food, and what they also have to say about gender.
Later, one of the students in the circle, Karin Davey '18 (Lake Crystal, Minn.), an environmental science major and the student representative for the new concentration, laughed when asked why she signed up for the course. It was partly just because she loves food, she acknowledged, but since joining, she had come to appreciate the classroom dialogues, and the way they encouraged her to consider the subject more critically. "These kinds of conversations are not something that I would normally think about," she said, "so it's really interesting to explore all the different things that food communicates."
Among her favorite discussion topics, she said, was University of Maryland scholar Psyche Williams-Forson's article "More Than Just the 'Big Piece of Chicken,'" which traces the history and stereotypes of chicken in African American culture—including during slave days in South Carolina, when enslaved women were reported to claim back some sense of power by selling chickens in local marketplaces, employing marketing strategies to charge whites exorbitant prices.
Besides reading and discussion, there was an extra component to this course to spice things up: hands-on research. Throughout the semester, each student chose a traditional cultural dish from somewhere in the world, and then researched and prepared it to share with the class. "I'm doing arancini, which are Sicilian fried balls of risotto, filled with cheese and sometimes ragu," said Davey. "I have family from Sicily, and so when I went there for the first time and visited them, they made me these—they're really good."
Students also completed a final project, which for most was a short research paper on a topic of their choice. Davey, however, was working toward something a little different. Coordinating with the pastor of a local church (and a Mac alum), she was helping him develop a network between area churches and food banks to improve food access in St. Paul.
"I think I'm going to do ethnographies," said Davey, "interviewing the people at the food shelters, and asking who comes, what is missing, what do they think would make it better—trying to figure out what makes a good food provider. And then I'll write about that."