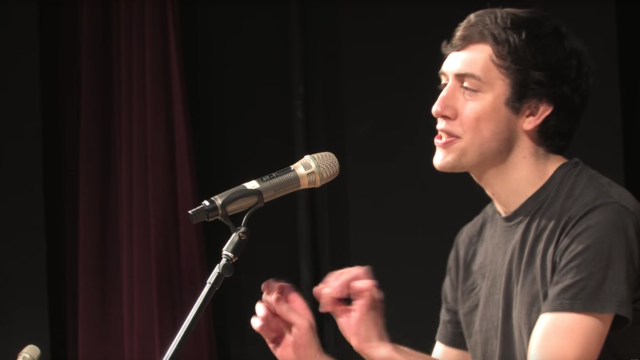 The following interview with Dylan Garity '12, assistant director of Button Poetry, was written by Spencer Brownstein '18 and first appeared in The Words, Mac's English student newsletter.
---
All of us reading The Words know that Macalester's English majors are great, intelligent students. Once we graduate, we scatter toward every corner of the world and every career imaginable, from professional writers to successful entrepreneurs like Dylan Garity '12, the assistant director of Twin Cities-based Button Poetry. The Words is excited to bring you an exclusive interview with Garity, who spoke about his experiences as an English major at Mac and as an entrepreneur at the multimedia publishing company.
The Words: What were some of your initial plans for and dreams about the company?
Dylan Garity: It all came out of us going to poetry shows and watching audiences be absolutely blown away by some of the performances, even folks who were just dragged there by their friends or had no previous interest in poetry. We figured if 50 out of 100 new people seeing great performance poetry walked away impressed and wanting to see more, then what if we could show it to a thousand folks? Ten thousand? A million?
TW: Did your time at Macalester influence those plans and dreams? If so, how?
DG: Absolutely. With advice and help from Sam Cook [Button's founder and president] and other local poets, I founded the Macalester Poetry Slam in 2009. We put on shows for the Macalester community, brought in poets from around the country so people could experience all kinds of great new art, and traveled to the College Unions Poetry Slam Invitational the next three years. Seeing so many incredible pieces of writing and performances made me really want to share them with as many new people as possible, which is exactly what we've ended up doing with Button.
TW: How does the company as it exists now compare to your initial plans?
DG: It's almost unrecognizable looking at where we are now versus where we began. The first project Button ever did, back in 2011, was putting out a mix CD of local poets. The goal was literally just for poets to have something to sell on tours. Over the next year we started filming performances. We'd noticed that there were a ton of amazing poetry videos online, but they were scattered all over. So we went to festivals and local shows, filmed everything, and curated the most impressive work to try to showcase the heights of the art form. Even when some of those videos started going viral, it was mostly still a part-time hobby project for Sam and me. That slowly morphed into a full-time job for a few folks, videographers and editors and such, but the biggest transformation has really just happened this last year, as we've shifted our focus to publishing. Now we think of video more as a way to get people reading poetry books again. We essentially use the videos as previews or trailers for the books. In 2017, we sold nearly 200,000 poetry books and the company went from a few people mostly working part-time to eleven full-time employees. We help support dozens of artists' careers, we run regular sell-out shows here in the Cities, and some of our biggest poets are starting to do major national and international tours for crowds of hundreds to thousands.
TW: What is your personal relationship to slam poetry?
DG: I've been writing for as long as I can remember, but I first performed at a poetry slam the summer before coming to Macalester. I'd done theater in high school, and realizing I could combine performance and my own writing felt pretty magical. I competed in the college and adult national poetry slams and went on a few tours with fellow Twin Cities poets Hieu Minh Nguyen and Neil Hilborn. Almost everyone who helped build Button, and most of the folks who work here now, are writers or artists of some sort. I don't perform very much anymore as I'm more interested in working to broadcast other folks' stories, but I do still write a lot, mostly fiction these days.
TW: What current aspects of the company excite you most?
DG: The fact that we're taking social media, video, all these new media tools that can so easily be used in negative/reductive/dumbing-things-down ways, and we're using them to do something we fundamentally believe in—putting great books in people's hands. I want buying and reading poetry books to be just a normal thing in the culture, and I like to think we're doing a small part of the work to get it there.
TW: Do you have any advice to current English majors who may also want to start a company after graduation?
DG: We got super lucky in lots of ways. We never could've planned for certain videos to go viral, or any number of other chance things that have catapulted the company forward. But that luck wouldn't have done anything for us if we weren't grinding constantly. Building Button Poetry meant us spending years volunteering 10, 15, 20 hours a week while working other jobs. It meant us having to let go of all kinds of visions of exactly what it would look like and embrace the opportunities that came up. If you're looking to start a company in an English- or literature-related field, don't be afraid to dream big, but also don't be afraid to let those dreams completely change. And think hard about your audience or customer base from the start. It doesn't matter how cool the thing your company does is, if you have no real plan to actually show that thing to people. I know tons of amazing books by small presses that folded after only a few years because they never planned for how to reach a broader audience.
Button has some great books set to be published in 2018, including The Future by Mac alum Neil Hilborn! If those of you in the Twin Cities want to experience what Button has to offer, they host a live show on the first Monday of each month at Camp Bar in downtown St. Paul.