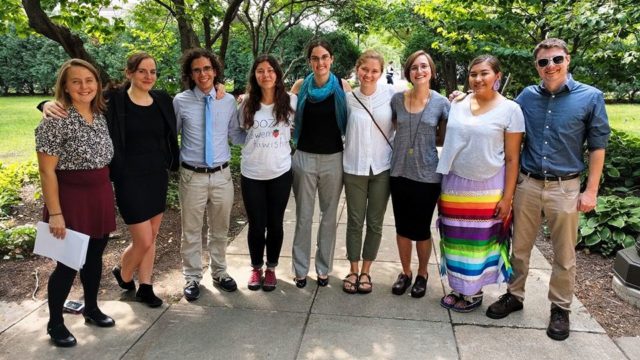 By Livvie Avrick '19
"That people were willing to donate their time and expertise to this cause was really powerful, and the fact that we were able to do it successfully without a lawyer was empowering."
—Margaret Breen '20
Thirteen Minnesota youth, including Margaret Breen '20 (Minneapolis, Minn.) and Akilah Sanders-Reed '16 (Sandia Park, N.M.), are legal interveners in opposition to Line 3, the proposed Enbridge Energy tar sands oil pipeline through northern Minnesota.
In a rare move, the Public Utilities Commision granted the Youth Climate Intervenors (YCI) party status last April after accepting the argument that the YCI's generation will be disproportionately affected by climate change and the alleged damage that Line 3 will cause.
Enbridge Energy's proposal is to replace and expand the existing Line 3 pipeline, allowing it to carry significantly more oil.
The YCI, founded by Sanders-Reed, is a diverse group of 16- to 24-year-olds from all over Minnesota. "There was an element of pressure in that we were attempting to represent Minnesota youth," says Breen. "We tried to include as many voices as possible in the process. We wanted to make sure we did it right because we knew it would impact more than just the 13 of us."
Earning party status meant that the YCI got a seat at the table during the permitting process for the proposed Enbridge Energy pipeline. Each intervening party had the opportunity to go in front of administrative law judge Ann O'Reilly to share why they support or oppose the pipeline.
Along with other intervening parties in opposition to the pipeline including five Native tribes, the Sierra Club, and Honor the Earth, the YCI brought forward expert witnesses, presented testimony, and had the opportunity to cross-examine experts speaking on behalf of Enbridge—all without a lawyer.
"It's an incredible group of talented young people—they stick together and support one another, and that seems to give them the strength to keep moving forward despite the demands of it and the obstacles," says Christie Manning, assistant professor of environmental studies and psychology at Macalester.
Manning was one of 10 expert witnesses the YCI brought forward, more than any other intervening party. The experts talked about many possible consequences to mental health, physical health, tribal rights, land rights, treaties, severe storms, and more.
"All of our expert witnesses were volunteers, which was also rather unprecedented," says Breen. "As we understand it, Enbridge, in similar cases, has paid their expert witnesses upwards of five hundred dollars an hour, so it was really powerful that we were able to get so many accomplished and wonderful people to volunteer for our case."
These evidentiary hearings took place in November, a busy time for high schoolers and college students. Yet through teamwork and their passion for climate justice, this daunting process became a point of pride for the YCI. The 13 youth divided the tasks, splitting up into research groups to develop their arguments and recruit expert witnesses. Some were active questioners at the hearings; others, including Breen, consolidated the many pages of testimony into two-page briefs.
"I did not miss classes until the last day of the of evidentiary hearings, but then it was just too exciting, so I had to be there," says Breen.
Running parallel to the evidentiary hearings is the Environmental Impact Statement (EIS), which the Department of Commerce is responsible for writing. It must be re-written until it is deemed adequate by the Public Utilities Commission for the permitting process to move forward.
At this writing, the fate of the Line 3 pipeline is still undetermined. Judge O'Reilly has until March 30 to review all of the material from the evidentiary hearings and read the public comments before making her final recommendation on whether or not to grant the Certificate of Need—akin to a permit—to Enbridge. From there, the Public Utilities Commision has until April 23 to accept or deny O'Reilly's recommendation.
In a Think Progress article, author Natasha Geiling says the YCI are joined by a larger group of millennials—some not even old enough to vote—who are using the legal system to fight climate policies and energy companies in various court cases across the nation.
"The process was scary, but also exciting," says Breen. "That people were willing to donate their time and expertise to this cause was really powerful, and the fact that we were able to do it successfully without a lawyer was empowering."
If the Youth Climate Intervenors are able to affect this decision, it will be a victory for opponents of the pipeline, and moreover, a testament to the ability of determined and talented young citizens to affect the outcome of critical debates.