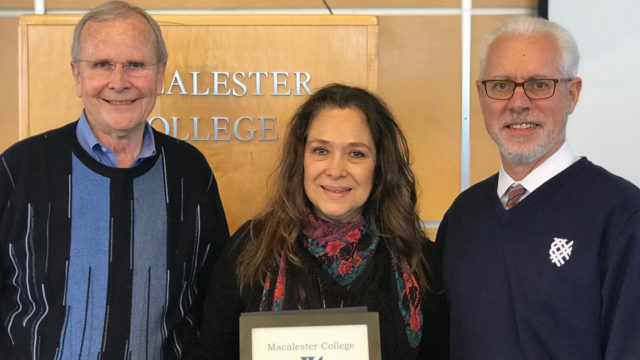 St. Paul, Minn. – Olga González, a professor in the Anthropology Department, has been awarded the 2018 Jack and Marty Rossmann Excellence in Teaching Award that recognizes "a faculty member who has been identified by colleagues and students as exemplifying the teaching goals of Macalester College."
Macalester President Brian Rosenberg announced the award and read from this citation:
We are grateful and proud to present you with the 2018 Jack and Marty Rossmann Excellence in Teaching Award. The outpouring of praise from students, alumni, and faculty in support of your nomination evokes an image of an ideal educator, one who is intelligent, creative, and thoughtful, and one who devotes herself wholeheartedly to her scholarship and her students.
Your colleagues in the Anthropology department note that not only have you contributed to that major, but that your teaching contributes across the academy to Latin American Studies, Psychology, Classics, Human Rights and Humanitarianism, and Critical Studies. In 11 years at Macalester, they estimate that the 10 courses you've developed have helped shape the minds of some 650 students—many of whom become repeat students, as your nominators proudly point out, along with the fact that in the last three years alone, four of the students whose work you supervised garnered national awards.
Your knowledge of your field, passion, and creativity inspire your current and former students, who universally described you as committed, caring, innovative, and rigorous. They wrote that you "treat [your] students like intellectual adults who are fully capable of critical and profound thought," and that you "operate from the perspective that education should not only help you achieve your personal academic goals but set you up to be a changemaker." Your intellect and meticulousness challenge our students to achieve their best, and often leave a lasting impression on their academic careers—including one alumnus who wrote that he still refers to notes from your class as he works toward his Anthropology PhD.
You are also deeply appreciated by Macalester's international students, students of color, first-generation students, and others who begin their college journey "nervous, shy and intimidated," but who find confidence in themselves through your example and mentorship. These students call you foundational to their success on campus. One wrote that "Olga's mentorship has extended far beyond my grades…[she] has facilitated my ability to thrive as a minority at this institution"; another summed it up by describing you as "a person who would change the trajectory of my academic experience and, as a result, my life."
Across campus, your colleagues on the faculty describe you as "exquisite and exceptional," and "a stupendous representative of what the Rossmann Teaching Award stands for." Junior faculty value your wisdom and mentorship, and senior faculty admire your passion and dedication. "She is a key figure in the recruitment of new majors," writes one, "and central to the delivery of our curriculum." Many colleagues also noted your dedication to your students, such as one who wrote that your "deep concern for [your] charges is obvious and enviable," or another who described you as "rigorous and demands the best of her students, but I could see that she approached her courses with a genuine joy and caring." In your cross-disciplinary work, you've also shared your pedagogy with fellow professors—one faculty member wrote that they now incorporate teaching techniques learned from you into their own classroom. Your nominators managed to distill all this into two simple words: "master teacher."
Admired by your colleagues, cherished by students, and fondly remembered by alumni, your presence at Macalester has been transformative in the Anthropology department and in the lives of those around you, embodying the highest standards of what a teacher can be. Or, as one of your current students put it: "More than simply 'exemplifying the teaching goals of Macalester,' Olga González is constantly challenging and reimagining such goals for the better."