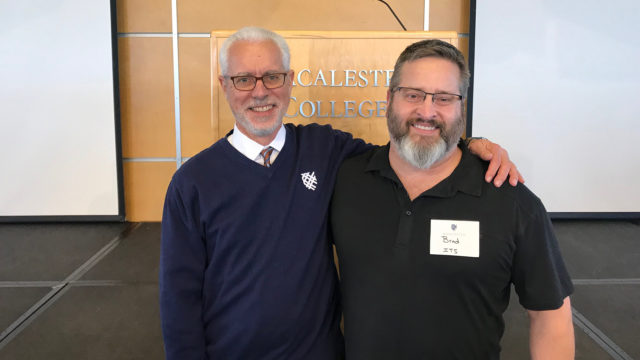 St. Paul, Minn. – Brad Belbas, Academic Information Associate for Social Sciences, has been awarded the 2018 Staff Outstanding Service Award.
Macalester President Brian Rosenberg announced the award and read from this citation:
In celebration of the ways your work has shaped Macalester's classrooms and supported departments, faculty members, and students across campus, we are proud to offer you the 2018 Staff Outstanding Service Award.
You have been working in the academic technology field for more than 25 years now, with more than a decade of that here at Macalester, which means you have a wealth of experience and an extraordinary depth of knowledge that you share across campus. Within Information Technology Services, you serve as an Academic Information Associate, supporting the technology needs of the departments in Carnegie Hall; your ITS colleagues describe you as a "cornerstone of the AIA team," whose expertise they've come to rely on.
An educator yourself, you have designed and taught a course of your own for students in the Education Studies department, titled "Education and Emerging Technologies." Through this course, you encourage future educators to incorporate technology into their classrooms and better serve students from a wide variety of backgrounds. Your experience leading your own course has also granted you invaluable first-hand experience when it comes to using videos, websites, and other technology in a classroom setting, which you gladly share with the faculty you support. Those colleagues write that you're "an example of the college's mission and a peer to all of us in the field of education," and that your "background in education and pedagogical insights are invaluable and enable us to become better teachers."
In addition to your expertise, the faculty you support in Carnegie say that you have "provided the highest caliber of service," citing the one-on-one attention you devote to them. They use a variety of metaphors to describe you, from a "Moodle guardian angel," to a "miracle worker," to a "firefighter—there in a heartbeat for every moment that our technology goes wrong." Your patience and knowledge have been invaluable to major projects, including the effort to put the Social Science IRB process online, and have helped assuage the minor dramas of everyday classroom use, such as assisting professors with bringing guest speakers into the class via Skype. Colleagues call you the key difference between them simply having a room full of devices and having a 21st-century classroom that enhances student learning. They are also quick to add that you "[do] all this with a smile and always ask if there's anything else [you] can do."
According to your ITS colleagues, your "deep understanding of both the needs of the students and the experience of faculty makes the physical and digital campus easier to navigate for all in the community." Where you're most visibly committed to that mission, and what your peers most admire you for, is your work as "a dedicated, vocal advocate for students with different abilities." Faculty members credit you as being "central to figuring new ways to support Disability Services and those seeking classroom adaptations," and laud you for going well beyond the basic expectations. As with the faculty you support, you're known to devote time to developing personal relationships with the students you serve, checking back in with them even a year after the fact to ensure they still have all they need to be successful.
All these reasons—your deep expertise in academic technology, your efforts to shape the educators of tomorrow, your commitment to personal service for the faculty you support, and your empathetic drive to make Macalester more accessible to everyone—make you and your service to the college truly outstanding.