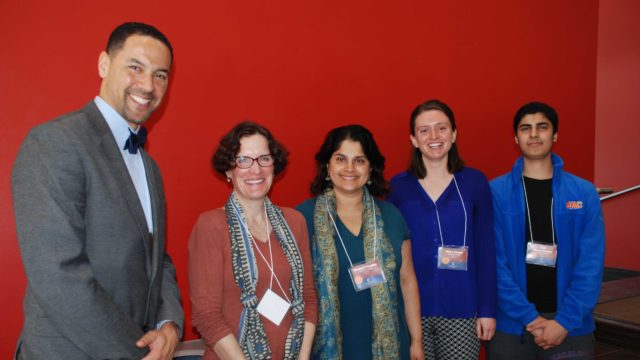 St. Paul, Minn. – Members of the Macalester community have received three Presidents' Awards from Minnesota Campus Compact. Each president or chancellor from a Minnesota Campus Compact member institution may recognize one honoree in each of the following three award categories:
The Presidents' Student Leadership Award is given to an individual student or a student organization that models a deep commitment to civic responsibility and leadership, evidenced by initiative, innovative and collaborative approaches to addressing public issues, effective community building, and integration of civic engagement into the college experience. This year the award went to Maya Swope '18, from Harrisville, NH.  Maya is a campus leader who promotes awareness and advocacy on environmental issues.  She creatively and graciously engages others to work together for the good of the environment.
Presidents' Civic Engagement Steward Award is given to a member of the faculty, administration, or staff or for a group (e.g., advisory committee, task force, project team) that has significantly advanced their campus' distinctive civic mission by forming strong partnerships, supporting others' civic engagement, and working to institutionalize a culture and practice of engagement. This year the award went to Environmental Studies Professors Roopali Phadke and Christina Manning, who inspire hope around the urgent issues of climate change and sustainability. Their courses collaborate with nonprofits to solve environmental issues and engage public policy. Their community-based research to bring together citizens, government leaders, and students to support resilience and sustainable development in the Twin Cities.
Presidents' Community Partner Award is given to a community-based organization that has enhanced the quality of life in the community in meaningful and measurable ways and has engaged in the development of sustained, reciprocal partnerships with the college or university, thus enriching educational as well as community outcomes. This year the award went to Linwood Monroe Arts Plus (LMAP) – a St. Paul Public School with Principal Bryan Bass and Assistant Principal Al Levin. Macalester's partnership with Linwood Monroe Arts Plus School has grown to involve almost 400 Macalester students over the past 19 years.  Macalester students work as tutors, classroom assistants, and mentors at this arts-based, prek-8 school. This multifaceted partnership (including Bonner students, student employees and courses) also includes annual Macalester College campus visits for LMAP students.
Newman Civic Fellowship from Campus Compact
Avik Herur-Raman '20, from Portland, Ore., was awarded the Newman Civic Fellowship from Campus Compact, which recognizes and supports community-committed students who have demonstrated an investment in finding solutions for challenges facing communities throughout the country. Avik is a civic engagement leader on campus, in the community, and in student higher education networks. He is passionate about helping young people engage in the political process and affect public policy.