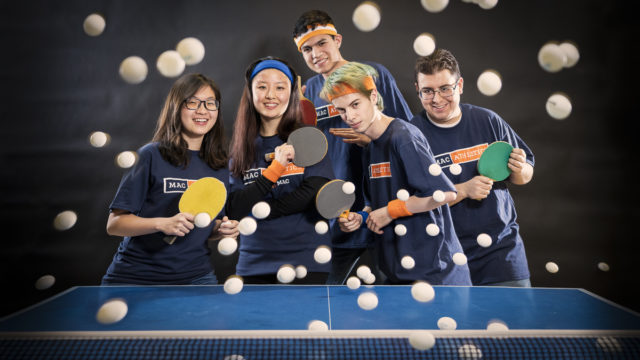 There are more than 120 student organizations on Macalester's campus, with an offering for nearly every interest. Here are just a few of the many from which students can choose. 
Ping-Pong
Until recently, there was no club for Ping-Pong at Macalester, which seems odd for a school that graduated Ping-Pong champion Kofi Annan '61, former United Nations Secretary-General and Nobel Peace Prize Laureate.
"I was kind of shocked that there wasn't one," says Ryan Perez '20 (Chicago), the club's co-founder and current co-chair. Now in its second year, the group meets most weeks at tables around campus for friendly games, mini-tournaments, and camaraderie.
"I'm really happy Ryan started it when he did," says Yoonjin Shu '21 (Bayonne, NJ), another of the co-chairs. "It's an easy way to get to know people."
Thea Nguyen '21 (Ho Chi Minh City, Vietnam), also a co-chair, agrees: "In many Asian cultures they play a lot of Ping-Pong, so it's really important to international students. It really helped ease the transition to Mac."
"Yeah," says Perez, "I'd say that's the chief reason we started it."
Student Government
"Every Tuesday, from seven to nine, if you look at my Google Calendar, since 2014 you'd see that time slot booked," says Suveer Daswani '18 (Mumbai, India). That's because since his first semester on campus, Daswani has served as a member of Macalester College Student Government (MCSG).
As democratically-elected student representatives, the MCSG "class reps" meet weekly to debate and govern over student life issues, manage the student activity fee, and shepherd new student organizations through the chartering process, the latter of which Daswani headed his sophomore year when he was elected chair of the student orgs committee.
This year, as president of MCSG, he's taken on a larger responsibility as both the public face of the organization and the person responsible for charting its general course. "One of the big conversations this year has been improving accessibility to health and wellness resources outside of office hours," he says. "Then another we worked on was a GSAT bill." Recently approved by the council, the bill provides funding for select students to help offset the costs of applying to graduate schools after Mac. "The application was opened, about sixty-five students applied, we got fifty grants available and I think fifty students have been notified that they have received a grant. That was a really, really cool project."
Physics & Astronomy
As one of Macalester's academic clubs, Physics and Astronomy Club (or PandA, as it's known) actively encourages nerding-out over all things science.
Sometimes, according to club president Alex Gordon '18 (Chicago), that's getting together for group discussions. "We talk about recent publications, but in a low-key environment," he says, so people can "learn how to read a scientific journal and talk about it without worrying about being wrong or not understanding."
He stresses it's not always so academic, though. "We also watch documentaries or movies together—space movies, Martians, stuff like that. Just to get people together to share their love of science."
His favorite way to share the love, however, is through Public Observing Nights. Though unofficially sponsored by the club, they're active in promoting and staffing these nights when anyone from the community can come look through the powerful telescope on the roof of Olin-Rice.
"I think that as budding scientists, we have a responsibility to share science with the world," says Gordon. "Especially for something like astronomy, where we're looking at stars through a telescope—it's so accessible, and it gets people so excited."