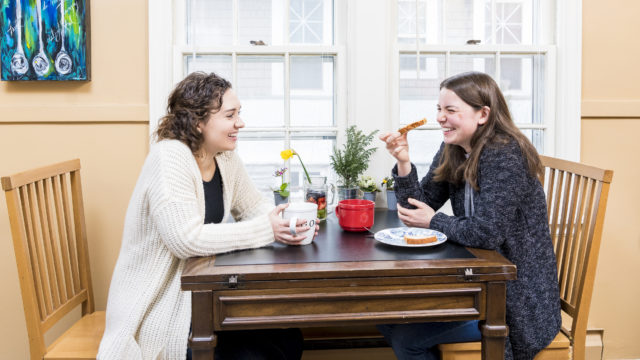 By Alexandra McLaughlin '16
Roommates since their first year at Macalester, Morgan Malatesta '18 (Brookfield, Wis.) and Caroline Gabrielle Peters '18 (Weston, Mass.) have established routines: they attend Zumba classes, watch Jane the Virgin on Friday nights, go to Trader Joe's on Sundays, and recap funny stories or awkward interactions from their days. "One of my favorite things about living together is having someone with whom to share those things, big or small," says Peters.
When Macalester paired them as roommates four years ago, both felt anxious about the transition to college.
"We're both the oldest siblings, so it was the first time our parents dropped their kids at college," says Malatesta. "I told some lame white lie about blaming overpacking on my parents, when it was really me who was overpacking and the most stressed about moving to Mac."
They got to know each other through the pre-orientation program Lives of Commitment and soon clicked.  
"The best thing about Morgan is how thoughtful she is," says Peters. "She puts a lot of care into everything she does."
Initially quiet around each other, Malatesta recounts the turning point in their friendship: "I remember distinctly Caroline getting this Snapchat from a boy who liked her our first year. In my mind, that moment solidified our friendship."
Kyle Jason '19 (Montclair, N.J.) and Roland Munsil '19 (Kirkland, Wash.), also matched as first-year roommates, grew close through Mario Kart. Munsil brought a GameCube and the two played a lot. "We're both competitive," says Munsil. "We got very emotional."
One night soon after college started, the two stayed up late talking. "It was like an elementary school sleepover," says Jason.
They bonded in their residential first-year course, German Cinema Studies: The Nazi in Cinema. The class formed a close-knit community on Turck 3, hanging out in each other's rooms and eating dinner together.
Peters and Malatesta also had a residential first-year course together: Introduction to Hispanic Studies: Oral and Written Expression. They lived in Turck 304. "We lucked out with the room," says Malatesta. "It was pretty spacious, and we had a sink! Other fun features were that we were right by the back staircase for easy exit and entrance to the building, and we could see right into our friend's room on Turck 2 and wave hello."
The roommates spend time together, but also keep busy with their own interests: Malatesta, a double major in International Studies and English, works as a Spanish tutor, volunteers at the English Learning Center, and has taught a creative writing class for adults with developmental disabilities. Peters, a Hispanic Studies major, guides campus tours and works at the Mattos Law Office and the Minnesota Council on Latino Affairs.
"Caroline goes after what she wants, which is something I really admire," says Malatesta. "She doesn't let people or obstacles get in her way. I'm glad that I've gotten to see her grow into that throughout college."
Munsil and Jason also have their own circles. Jason, a linguistics major, volunteers for Big Brothers Big Sisters of the Greater Twin Cities and tutors chemistry, while Munsil, a computer science major, participates in jazz and pop combos.
"Roland has a very interesting music taste," says Jason. "He exposes me to music I've never heard before, like 90s rap."
Munsil and Jason were briefly separated when Munsil studied abroad in Singapore. Munsil sent pictures of the food he was trying. They were happy to reunite in Minnesota and continue to live together. "It was never even a question," says Munsil. "We work so well together."
The women studied abroad in neighboring countries: Chile and Argentina. "The coolest part about being separated was that we got to visit each other!" says Malatesta. "I came to Santiago and stayed with Caroline and her host mom in their apartment, and Caroline came to Mendoza and stayed in my room."
In September, they ran a half marathon. "But we didn't run it next to each other and finished like a minute apart," says Malatesta. "That speaks to our ability to be independent, but also speaks to how we value support and company, even if it's not direct company."
Both sets of roommates expressed confidence in their friendship lasting a lifetime.
"In a lot of my relationships, it would be hard if I didn't see someone for a while to jump back into the swing of things," says Jason. "With Roland, we would pick right back up. We're both people who would put effort into staying friends."
They text each other memes throughout the day and have a similar sense of humor. "Last night we were having discussion about what would happen if I turned into a duck woman," says Jason. "We were arguing about which half of me would be duck and which half would be human."
They talk about goofy things, but also have "deep, interesting conversations" about things like privilege, says Munsil.
"You're such a kind, genuine person," Munsil told Jason.
One of the biggest things they have in common? "We both love to eat," says Jason. "We're going out to dinner tonight at this pizza place we've never been to before."
Peters and Malatesta joke about living together forever and have already agreed to be each other's bridesmaids.
"I'm definitely going to speak at her wedding," says Malatesta. "She's not even getting married and I've already planned parts of it. I think that says a lot."