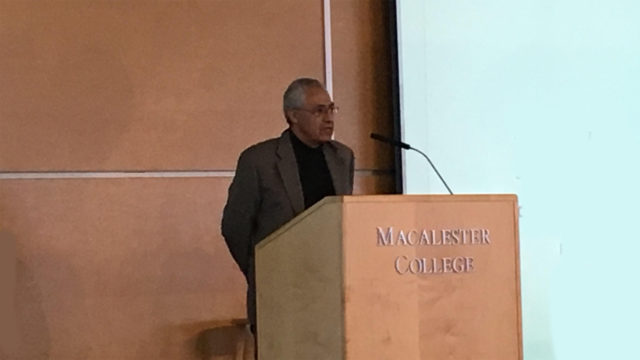 St. Paul, Minn. – Galo F. González, professor in the Spanish & Portuguese Department, has been awarded the 2018 Thomas Jefferson Award. The award was established in 1961 by the Robert Earll McConnell Foundation to honor faculty members who exemplify the principles and ideals of Thomas Jefferson. González was selected by a committee of past Jefferson Award winners.
Macalester president Brian Rosenberg announced the award at the April faculty meeting and read from this citation:
Galo F. González: You are a scholar of Latin American literatures and cultures, and you exemplify Macalester's commitment to internationalism, multiculturalism, and service to society through your teaching, scholarship, and service.
Originally from Quito, Ecuador, you received your BA from the University of California–Berkeley in 1975, and received a master's degree in Spanish Literature from UCLA in 1977. You completed a PhD in Spanish Literature at Berkeley in 1985 and joined Macalester the following year, where you have taught ever since.
The author of more than a dozen scholarly articles, your research studies the literature of social protest movements in Latin America, and race relations and Mestizo cultures in Latin American narrative. You have taught courses in the Department of Spanish and Portuguese as well as the Latin American Studies program, and are the Faculty Advisor for Macalester's Sigma Delta Pi Spanish and Portuguese honors society. Seeing the vital connection between language and human understanding, you were a member of the Committee for the Second Language Proficiency Requirement, and a two-time Board Member of HECUA Study Abroad Programs. As an academic, your colleagues say that, "Galo is an intellectual in the real sense of the word, one who is constantly striving to find new ways of understanding the world, instead of merely accumulating knowledge."
You have served on search committees in every division of the college, and have chaired your department numerous times, through reorganizations and name changes reflecting shifting values and emphases in academia. You were a member of the American Studies Steering Committee, the Advisory Committee on International Studies and Internationalism, and were even Acting Chair of the Department of French and Francophone Studies for a year, reflecting true internationalism and the best in collegiality at Macalester. You have also been an exemplary leader and a tireless advocate for inclusion and diversity, serving for more than a decade on the Affirmative Action Committee, chairing the Office of Multicultural Affairs Evaluation Task Force, and have been a mentor for the Mellon Minority Undergraduate Fellowship Program multiple times. That sense of service and inclusion makes a clear difference in the lives of your students, including one who wrote, "Every student feels welcome and valued with Galo."
Using both your scholarship and personal experience, you have worked tirelessly to make your department, the college, and society into more just and equitable places. That service has extended far beyond the classroom, including when you volunteered on a mission in San Salvador as a medical interpreter for the organization IMAHelps, an NGO that organizes all-volunteer surgical missions each year to serve thousands of underprivileged patients around the world. Inspired by your selfless example, one of your students wrote that "based on the values he helped instill in me, I have decided to become a medical interpreter."
You have lent your shoulder to turning the wheels of justice your entire time at Macalester, embodying the Jeffersonian principles of human dignity, liberty, and justice for all through your humane and intelligent application of your scholarly knowledge, and your compassionate advocacy for change in the classroom and beyond. Galo González, it is our honor to bestow upon you today the 2018 Thomas Jefferson Award.