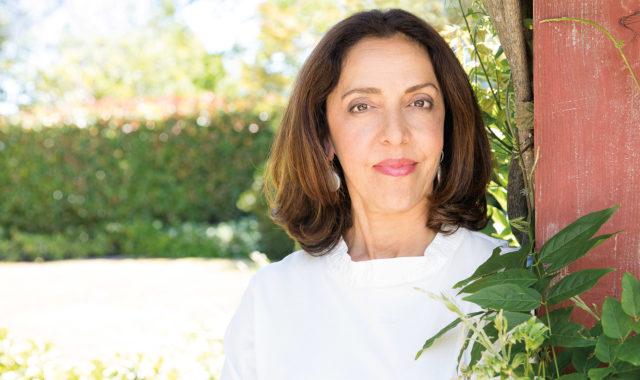 By Lynette Lamb
Roya Ansari hates to shop. So, like many of us, she took to ordering clothes online. The problem is, Ansari is petite—just 5 foot 3 inches and 120 pounds—so when the lovely knee-length skirt she ordered arrived, its hem usually was grazing the floor.
This conundrum gave her the idea for her first direct-to-consumer company: Trendage, a fashion app that allows users to build their own lifelike bodies (height, weight, hairstyle, etc.) and "try clothes on" their online avatars. A slide of the thumb allows customers to mix and match clothes among brands, but to do so on their own realistically shaped bodies.
"We wanted to make it entertaining, fun, and engaging," she says. "The user's attention span is short and you have to create a compelling experience online. We've found a great partner in Facebook and just launched globally on the Facebook Messenger platform, along with a limited group of gaming companies."
Ansari, a Silicon Valley veteran, has spent most of her career on the business-to-business side. Both of her previous startups were acquired within five days. The first was Mozaik Multimedia, founded in 2007, a pioneer in providing interactive content across any digital screen, which was acquired by Rambus. Her second was a supply chain software and services company called Silicon- Expert Technologies, which she began in 2000 during the dotcom bust.
When SiliconExpert was acquired in 2012 by Arrow Electronics, it had more than 400 employees and 1,000 global customers. Once the sale was complete, Ansari opted to leave and start Trendage with a team she had worked with for over 10 years. "Chemistry and working with a team you know is one of the most important elements in creating and building a business," she says. "We knew each other's synergies, strengths, and weaknesses."
Ansari, a true entrepreneur, adds, "I like working with small teams, creating, building something, and making it grow. Startups are a lot of work. You have to put in a lot of sweat and have immense stamina—but I love it."
Ansari started Trendage with angel investors, mostly family and friends. She is now working to raise money from institutional venture capitalists. Those potential investors have some impressive statistics to consider: Trendage has over a million registered users, and is growing by 12 percent a month. "But it's the team," says Ansari, "that is the number one element behind any creation, with passion running a close second. Without people and passion the product will not succeed."
Ansari is finding talent not just in the Silicon Valley, where Trendage is based, but also in Brazil, Egypt, India, and other countries where skilled programmers, app developers, and data professionals can be found. "It's interesting to find such impressive talent across the globe," she says. "I've enjoyed working with teams from different cultures."
Cross-cultural communication is second nature to Ansari, who grew up in Iran and later attended boarding school in Switzerland. "That's where my understanding of multiculturalism really started," she says. "In our dorm's dining area, we'd be at a dinner table for eight, each one of us from a different country."
Her comfort with diverse cultures is what led Ansari to choose Macalester, even then a globally aware college. She started in 1979, the year of the Iranian revolution. Because her father had been a member of Iran's overthrown government, he moved his family to Richmond, Virginia, starting their lives over again. Ansari was 17, her brother 12. With the loss of their life in Iran, her father told them that only four things truly mattered: pride, faith, gut instinct, and education. "He told us if you have these four you will always be moving up in life."
The education piece was key, of course, and Ansari cannot say enough good things about the one she received at Mac. "Those were the best years of my life," she says. "I met so many people and made many friends that I'm still in touch with today. The education I received and the impact it made on me—Mac is a jewel."
Determined to give back to the college in any way she can, Ansari has three times served as a Macathon innovation contest judge and hosts MacConnect students in her California home each January, introducing them to other alumni and area parents working in the tech business. "Sitting with people who have built successful careers and are sharing their experiences and openly offering help" is an amazing opportunity, Ansari says, adding with a laugh, "Now kids from other colleges are asking to come!"
Ansari is especially eager to help young women in the tech field, who still don't enjoy the same network of support that men do. She was particularly impressed with the three young women, each a second-generation American, who led the 2016 Macathon team Polyglot—a language learning platform for endangered and underrepresented languages. Ansari helped them build their presentation and held frequent Skype meetings with them to guide and foster their progress.
"I feel obligated to help young women, especially those coming into the technology sector, so they do not have to face the same challenges I did," says Ansari. "I want to share with them the lessons I've learned."
One of those lessons, acquired early on, is the importance of sheer grit. When Ansari graduated from Macalester, her father wanted her to attend law school. She begged for a year off. He offered her a one-way ticket to San Francisco and told her that if she found a job within a month, she could stay the year. Two weeks into her stay, she overheard two women talking about a job opening for a tech company marketing assistant. After finding out where the company was located, she ran 12 blocks to its headquarters and told the receptionist she was there to apply for the job. She was hired on the spot.
A few weeks later she asked her manager why he had hired her, an unknown from off the street. He mentioned honesty and assertiveness, but mostly he said he was impressed that she'd made such a herculean effort.
It's the kind of effort she is still putting forth today, with impressive results—both for her own businesses and for the Mac students she mentors.
Lynette Lamb is a Minneapolis writer and editor.