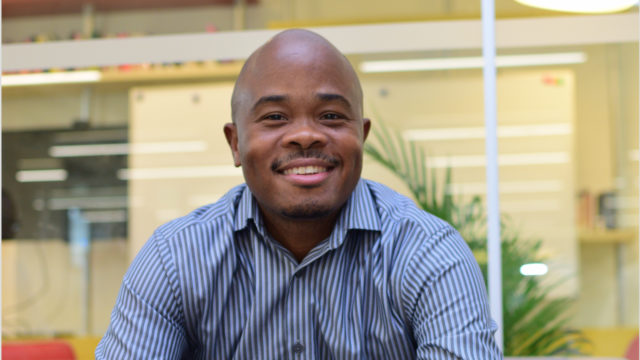 St. Paul, Minn. – Fred Swaniker, Founder and CEO of African Leadership University, will be the 2018 commencement speaker at the Macalester College graduation ceremony. Swaniker graduated from Macalester in 1999.
Commencement will be held at 1:30 p.m., Saturday, May 12, at the college.
"There's a phrase that describes the African Leadership University – a catalyst for the transformation of Africa," said President Brian Rosenberg. "And that's what Fred Swaniker is. He's is an entrepreneur, and a creative and thoughtful leader who felt so passionate about his native Africa that he founded the African Leadership University and its predecessor, the African Leadership Academy. Put simply, Fred's life mirrors Macalester's mission."
When he graduated from Macalester in 1999, Swaniker joined the consulting firm McKinsey & Company in South Africa, later earning an MBA from Stanford.  It was there he was named an Arjay Miller Scholar, a distinction awarded to the top 10% of each graduating class.
He decided to leave McKinsey and devote his talents to educating Africa's next generation of leaders and entrepreneurs. Through the institutions he is building across Africa, Swaniker hopes to develop 3 million bold innovators and problem-solvers by 2060 to address Africa's greatest challenges and capture its greatest opportunities.
Because of his work, Swaniker was one of 115 young leaders selected to meet former President Obama at the first-ever President's Forum for Young African Leaders held at the White House in 2010. He has been named a World Economic Forum Young Global Leader, one of Africa's top 10 young "power men" by Forbes, a TED Fellow, a Fellow of the Aspen Institute's Global Leadership Network, and recognized by Echoing Green as one of 15 "best emerging social entrepreneurs in the world." He was born in Ghana but has lived and worked in about 10 different African countries.
Swaniker received the Macalester Young Alumni Award in 2009 which recognizes an alumnus or alumna who has graduated within the past 15 years and demonstrated outstanding involvement and achievement in their post-graduate education, community contributions, career advancement and their service to Macalester.
Commencement ceremonies will include an academic procession led by the Macalester Pipe Band, flag bearers representing 32 countries of the 71 graduating international seniors plus the U.S. and U.N. flags, faculty in academic robes, and the 519 seniors.
Learn more about Macalester College at macalester.edu.