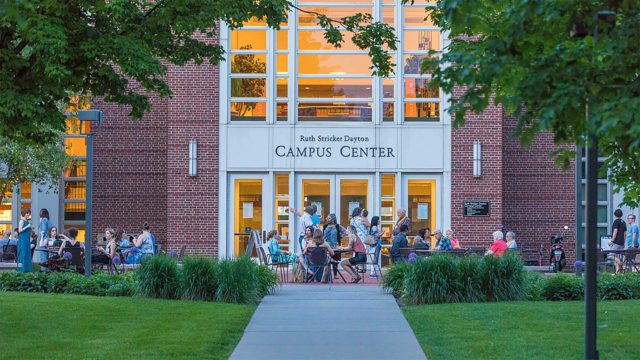 St. Paul, Minn. – Ten Macalester alumni will be honored during Reunion 2018, June 8-10. They all represent the best of Macalester's ideals and principles and have lived their lives giving back to their communities. The awards they are receiving reflect their service and leadership which was nurtured at Macalester and which they have carried with them ever since.
"The Macalester Alumni Awards showcase the incredible work of our alumni," said Katie Ladas, Executive Director of Alumni Engagement.  "Each of the award winners embody the Macalester values as they dedicate their lives to building a stronger world. We are extremely proud to recognize these individuals at our upcoming Reunion."
Here are the ten awardees and award descriptions:
Eleanor Darden-Thompson '71, Oklahoma City, Okla.
Catharine Lealtad '15 Service to Society Award is given to an alumnus or alumna of color who has used his or her education to distinguish themselves in service to community.
The story varies some with the telling. In one version, Eleanor Darden-Thompson's first-grade teacher was musing aloud about the limited opportunities for women back when she was young. In another version, it was an aunt, a juvenile court judge in Philadelphia, who inspired her. Either way, one fact is certain: "I set about in the first grade, that my career was going to be a lawyer," said Eleanor, Class of '71. "I never changed my mind." As a student at Macalester, Eleanor studied political science, taking classes from Hubert Humphrey and spending a semester at Spelman College in Atlanta, where she interned with civil rights leader Julian Bond. After graduation, she earned a law degree at Howard University and went on to become the Assistant U.S. Attorney in Tulsa, Oklahoma—the first woman ever to hold that position. "For 25 years I represented Native American tribes," she says, helping them transition to sovereign nations after the passage of the Indian Self-Determination Act. "I also prosecuted bank frauds during the financial collapse. And for the last three years, I did nothing but write immigration appeals in courts across the United States." After her retirement from the U.S. Attorney's office, Eleanor followed another early interest, in mathematics. Using the teaching certificate she earned at Mac, she tutors schoolchildren at a nearby community center and works as a substitute teacher in Oklahoma City public schools. "I only take long-term contracts. I'm always in for a month to six weeks," she said. Eleanor often fills the void when teachers quit mid-year. "Kids need that stability."
Thea Gelbspan '97, New York, N.Y.
Charles J. Turck Global Citizen Award honors the legacy of Charles J. Turck, president of Macalester College from 1939 to 1958. Lawyer, educator, social activist, internationalist, and churchman, President Turck championed internationalism throughout his tenure. This award recognizes an alumnus or alumna who has advanced the spirit of internationalism and lived up to the exhortation, "to be a worthy son or daughter of Macalester, you must listen to your hopes and not your fears." 
Even before she arrived at Macalester, Thea Gelbspan, Class of '97, had traveled abroad, doing community organizing in Ecuador and Brazil. That passion continued into college, where she became interested in international human rights law as a Latin American studies and International Studies major.  "I have always been haunted by the realization that, even though we live in a world of plenty, many people live hungry, and some are left homeless," she said. "This disconnect between our current reality and what is possible has inspired my work." After a semester at the University of Chile, Thea graduated from Macalester in 1997; shortly thereafter, she returned to Chile for several years of community organizing, before moving back to the U.S. for a job with Oxfam America, the international anti-poverty organization. Ten years later, having earned a master's degree in law and diplomacy, she joined the staff of ESCR-Net, The International Network for Economic, Social and Cultural Rights, based in New York, where she's the Membership and Solidarity Director. "I love my job," she said, "and feel very fortunate to work in something so closely aligned with my values." Over the years, Thea has been proudest of the work she has done in empowering people to advocate for their own rights—like the time she supported local organizers in Manila to resist the mass evictions of homeless people there. She summarized her mission like this: "In a small way I think I have helped people understand how to act collectively and strategically to bring about more humane, sustainable, and compassionate policies and practices."
Ariel Estrella '15, Woodhaven, N.Y., and Merita Bushi '14, Chicago, Ill.
Alumni Service Award is presented to an alumnus or alumna of Macalester whose significant service and consistent loyalty to the college has set an outstanding example of volunteerism.
This year's Alumni Service Award is being jointly presented to Ariel Estrella '15 and Merita Bushi '14 for their work in developing the 'zines Facing Forward and Honoring the Journey Ahead. Separately, they reached out to Mac's alumni office to express their desire to support recently graduated alumni of color and first generation alumni. They wanted to provide graduating seniors with advice and support and to create a reminder of the community to which they will always belong. Ariel created the Facing Forward  'zine as a sigil of hope for alumni and graduating seniors of color. "I believe in the importance of storytelling," they said, "because we cherish our narratives by sharing them with friends known to us and friends we have yet to meet." Ariel focuses their advocacy on fostering beloved communities in their work, volunteering, and writing. They have been published in several anthologies, and Ariel plans to further develop their scholarship through a career in academia. Bushi organized the inaugural Honoring the Journey graduation ceremony her senior year with friends and staff. Moved by the emotion and belonging felt at that event, Bushi was eager to help first-generation alumni stay connected with each other and support current first-generation students. While creating the Honoring the Journey Ahead  'zine, Bushi received an outpouring of support from first-generation alumni eager to give back. Two 'zines later, that community maintains its enthusiasm for finding new and creative ways to connect. Ariel Estrella and Merita Bushi observed a need for community and, in the midst of their own busy lives, stepped up to fill it.
Jake Levy-Pollans '09, Oakland, Calif.
Young Alumni Award recognizes alumni who have graduated in the past 15 years. This award pays tribute to those who are making an effective contribution to the community in which they live, or moving forward rapidly in their career, and living the kind of unselfish, caring life for which their Macalester education prepared them.
For Jake Levy-Pollans, a passion for political engagement started early in life and flourished at Macalester. Today he works as senior director of strategic services at Trilogy Interactive, a political digital organizing and messaging firm. At Trilogy, Levy-Pollans's work has included serving as the digital force behind several Democratic leaders and maintaining an undefeated record with ballot initiative campaigns. "Fighting for progress on a national scale feels empowering and exciting, especially at this moment in history," he said. It's the latest step in a career rooted in political leadership. With previous experience working for campaigns, Levy-Pollans served in 2012 as Obama for America's Minnesota digital director, managing social organizing and online content to support the presidential campaign narrative, mobilize voters, and engage volunteers. Before moving to California for his role at Trilogy, Levy-Pollans applied his strategic expertise at the St. Paul nonprofit Wellstone Action. As director of digital engagement, he built and implemented an annual digital media plan and developed online training resources. Although Levy-Pollans majored in political science at Macalester, those courses weren't the only formative part of his education. "My science and religious studies classes taught me to make complicated ideas understandable," says Levy-Pollans, who won Macalester's Presidential Leadership Award in his senior year. "Every day, I solve challenges for clients who are mobilizing a movement. Macalester taught me how to handle nuance and complexity with joy and excitement."  Levy-Pollans's enthusiasm—and his commitment to service—carry over into his work with Mac's alumni community. He serves as an Annual Fund Class Agent, interviews prospective students, and has volunteered on his 5-year Reunion committee.  His nominator calls him an inclusive, empathetic leader who inspires classmates, friends, and mentors, adding, "A ball of energy, Jake has led the way for recent Macalester grads both professionally and in terms of giving back to Macalester. He is a ray of sunshine. All who encounter him leave smiling."
The following will receive the Distinguished Citizen Award that recognizes alumni who have exercised leadership in civic, social, religious, and professional activities. It is given because the Alumni Association, the Board of Trustees, and the faculty of Macalester believe that a college education should be the training and inspiration for unselfish and effective service to the community, the nation, and the world. Recipients demonstrate a practical acceptance of these obligations in their lives and work.
Julian Keikilani Ako '65, Honolulu, Hawaii
While the Hawaiian phrase He ʻōpū aliʻi literally means "Having the stomach of a chief," in Hawaiian culture it refers to one who prioritizes the well-being of those he leads. For Julian Keikilani Ako, this phrase embodies the servant leadership he has tried to practice throughout his career. "Much of my career is tied to Mac, with its strong commitment to service and achieving social justice," he said.   An economics major at Macalester, Julian studied abroad in Poland and later received a master's degree in Slavic and Soviet area studies from the University of Kansas.  After teaching high school social studies in Kansas, he returned to his roots in Hawaii. For the next 36 years, he worked as an educator at the Kamehameha Schools, a private school system for students of Hawaiian ancestry where he had been a student. He retired as high school principal in 2015.  As principal, he led the school's efforts to 'indigenize' a Western education system, which had focused on assimilation—thus "alienating people from their language and culture, and devaluing them," says Julian. "I worked hard to bring back the valuing of indigenous language and knowledge, seeking to achieve a balance between a Hawaiian and a Western worldview." At 48, Julian began studying the Hawaiian language and composing Hawaiian music. He's twice been recognized by the Hawaii Academy of Recording Arts for his compositions. For students attending Kamehameha, Julian recently established a Global Studies Scholarship Fund for International Education. "Macalester taught me how international education broadens perspectives," he said. "At the high school, we embedded this into our mission and vision: endeavoring to develop globally minded servant leaders."
Kenneth R. Beitler '67, St. Paul, Minn.
Two years after graduating from Macalester with a history degree, Kenneth Beitler, Class of '67, tacked up a card in the West Bank neighborhood of Minneapolis. The card read, Need help? Call Ken, and included a telephone number. After that, the phone rarely stopped ringing.  Ken was working for Campus Ministry. His neighborhood, like much of the country at that time, was buffeted by social and political unrest. When people were in trouble—be it drugs, the draft, or depression—there were few places to turn. "Macalester taught me about service to society, and people helping people," Beitler said. "I saw a growing chasm between disenfranchised youth and 'the establishment' who might be able to help them." Thus was Youth Emergency Services—or YES—born, a program that connected troubled youth to professionals who offered assistance on an ability-to-pay basis. Ken recruited volunteers to help him answer phones each day from noon to 2 a.m.  YES grew rapidly to a 24/7 service. Ken developed a comprehensive volunteer training program and a speakers' bureau that raised funds and awareness. One of the first 'hotlines' in the country, the YES model remained a unique, effective, and enduring solution helping millions worldwide. Much of the YES work later grew into United Way 2-1-1, a statewide hotline that today provides some 500,000 referrals annually. Fifty years later, Ken continues to help others. As a planning analyst at Hennepin County Medical Center, he improved patient experiences. In retirement, he's been an active volunteer for the social justice causes at his church. But he remains proudest of the bridges he helped build in his community. "There was a real variety of people who volunteered at YES—suburban housewives, college kids, 'freaks'—and there was an opportunity for understanding a lot of different folks."
Ed Deutschlander '93, Austin, Texas
Two days after graduating from Macalester, Ed Deutschlander, Class of '93, started working as a North Star Financial Services advisor. Twenty-five years later, he's still there. Immediately connecting with North Star's mission, Ed took on increasing responsibility through the years and today leads the organization as its CEO. "We have 350 advisors and team members serving 140,000 clients around the country," he said. "It's an honor and an awesome responsibility to know I'm a steward of that effort." Ed is a true global citizen, writes his nominator, who calls him "one of the foremost business executives and thought leaders in the Twin Cities and within the financial services profession internationally." He was the youngest person to lead GAMA International—an association dedicated to promoting professional development in the financial industry—and has served on many boards. With his wife, Toni, and together with North Star's foundation, Ed started the Twin Cities chapter of Bikes for Kids. Over the years, the group has distributed 4,000 bicycles and helmets to children in the Big Brothers Big Sisters of the Greater Twin Cities program. A first-generation college student, Ed said Macalester's financial aid helped him afford higher education. During his junior year, he married Toni and became a father, often bringing his daughter to the dining hall. Mac's close-knit community, especially on his football and baseball teams, made a mark. "Macalester shaped me, and I feel compelled to give back," says Ed, who returns regularly to talk with students about leadership and to recruit interns and employees. His commitment to higher education has also led him to speak at more than 50 universities, motivated by a passion to mentor and connect with students launching their own careers.
Lisa Mattson '85, Plymouth, Minn.
Lisa Mattson, Class of '85, still remembers the quote she read at her Macalester graduation dinner: "…To leave the world a bit better, … to know even one life has breathed easier because you have lived—this is to have succeeded." Ever since, she has organized her life around this guiding principle: "Every day, I need to do something where I've made a difference." Lisa was already on that path at Mac, when she volunteered beginning in her first year on campus. That initial role was at United Hospital in St. Paul, where she volunteered in the emergency room and played with kids on the children's ward. That same spirit drove her through medical school, where she found a calling as an OB-GYN physician. Wanting to make a difference in women's health care, Lisa has devoted her career to the field by maintaining a private practice in the Twin Cities, volunteering with groups such as Planned Parenthood and the Phillips Neighborhood Clinic, and lobbying in Washington. She has also served as director of the University of Minnesota women's health clinic, where she introduced transgender services. "You can't leave Macalester without having some increased sense of social responsibility," she said. "We can't just complain about the world. We have to get involved, and look for solutions."
Ann Mann Millin '69, Silver Spring, Md.
Ann Millin is an educational historian for the U.S. Holocaust Memorial Museum. She says, "It's the perfect job for a Mac grad—I'm living out the ways in which Mac shaped me to be of service to the world." A speech and theater major in college, Ann later earned a PhD in Jewish history from the Hebrew Union College-Jewish Institute of Religion. In 2007, after years of tireless diplomatic efforts, she was part of a museum-led team that opened the International Tracing Service. The tracing service was the largest closed Holocaust archive in the world, containing more than 109 million digital images of captured documents. Because of a tremendous backlog, Holocaust survivors were dying without knowing the fate of their loved ones. The team cleared the backlog and created a searchable database for survivors and researchers. The research, says Ann, has fundamentally changed the way we think about genocide.  Ann also curated the website for the exhibit State of Deception: The Power of Nazi Propaganda, and was a key production team member on the film The Path to Nazi Genocide, which has been translated into 11 languages and distributed worldwide. Most recently, Ann did research for the museum's 25th anniversary exhibition, Americans and the Holocaust, which opened in April. Her nominator noted Ann's exceptional skill as an orator in educating thousands of teachers across the country about the history and continuing threat of anti-Semitism. "I use my theater training from Mac every single day to touch the audience and move them," said Millin. "You need to work with others to change things."