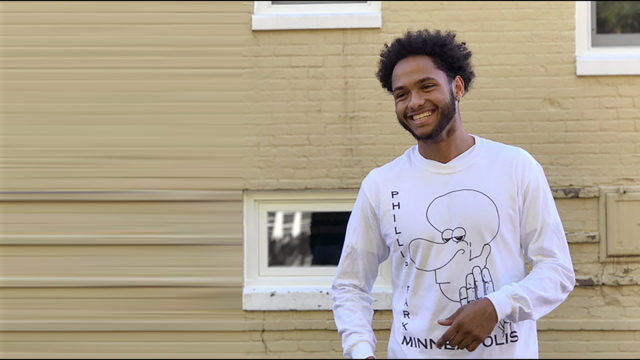 How does it feel to be going to school and doing all of these new things? Sam Fleming says "it's one hundred percent exciting."
Dip into @samueljayart, the Instagram account of Samuel Fleming '19 (Minneapolis, Minn.), on any given day and you see the artist at work, as close as if you were looking over his shoulder.
In one recent drawing, an elegant, oval face, stares directly at you, the crown of the head floating just out of the frame. Below, part of a hand, with an airy wrapping tied neatly around the first finger, seems poised to move or gesture. The space between the hand and head is disembodied, huge and blank. Scroll backwards, and you see the drawing as it came to life: three-quarters of the face; before that, the first dense, inky cross-hatchings of the eyes and nose.
Fleming, an economics major, says he began drawing when he was two years old. For years, he was fascinated by the human face and the ways art can help express emotions that many struggle to communicate through words. "A big part of my artwork is expression-based, especially revolving around African American culture, themes, and subject matter," says Fleming. "It transcends culture and languages because general expressions like extreme anger or happiness with grotesque imagery are universally understood."
Fleming's distinctive faces can also be found on apparel like T-shirts and hoodies. He launched his Phillip Park clothing line in September 2016 after his mother suggested that putting his work on clothing might reach a larger audience. "She was right," says Fleming, who named the brand by combining his mother's maiden name with the name of a park in the Northside Minneapolis neighborhood where she grew up. 
At Macalester, Fleming's academics have focused more on the business side of his future. "My goal since before I got here was to be in economics," he says. "It seems like a logical path to take to expand someday, and hopefully make my living with art." He also has a keen interest in history, especially as it pertains to race, and revolutionary politics. Fleming cites American studies professor Duchess Harris as a mentor "who allowed me to grow and come to conclusions—the correct conclusions, I now see—on my own."  He took his first college-level art class in art history this spring while studying abroad in Tokyo.
But no matter what he's studying, Fleming is always drawing, "all over the place," with a sketchpad and ink, finding inspiration in Picasso, the expressive masks and statues of West African artists, and the contemporary artist Kehinde Wiley, whose portrait of former President Obama was recently unveiled at the Smithsonian National Portrait Gallery.
As far as the future, Fleming says he's open to "anything the brand can take me to"—which now includes publishing. Later this year, This Land is My Land, a children's book with illustrations by Fleming and a story by Dubie Toa-Kwapong '16 (Oslo, Norway) and Adom Mills-Robertson '18 (Accra, Ghana) will be published with funds raised through a Kickstarter campaign. How does it feel to be going to school and doing all of these new things? Fleming says "it's one hundred percent exciting."