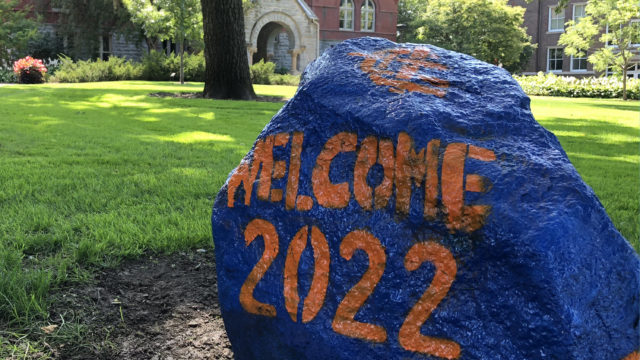 Your first year of college is a time of major transition—there's so much to learn, even before you get to the books. But at Mac, you're likely to find a helpful hand nearly anywhere you turn. That's why our current students submitted their best tips to help you get off to a great start.
Your New Campus Home
MAKE THE MOST OF WELCOME WEEK
Get out there for icebreakers and social events during orientation and Welcome Week. They may seem silly, but they really do help you find a starting place in a totally new social environment.
CONNECT WITH STUDENT MENTORS
Residence assistants (RAs), orientation leaders (OLs), and international student mentors are here to help with everything at Mac—connect with them those first few weeks, and keep in touch throughout the year!
BUILD RELATIONSHIPS WITH YOUR PROFESSORS
Be friendly and go to office hours. When professors ask about your life, ask them about theirs. Get to know them as people. They're here to help you learn in school, but they can be mentors long after, too.
READ (THE) DAILY
There's a lot of campus info that gets sent through email, so be sure to check it regularly. And read the Mac Daily—daily! The weekday newsletter is always stuffed full of fun events and opportunities.
LEONARD IS YOUR FRIEND
It can be hard to exercise when you're busy with school, but even 30 minutes of working out makes you happier and more motivated. And the Leonard Center has equipment and classes for tons of different activities to get you active. Consider joining an intramural sports team, too—they're a great way to expand your friend circle and relieve stress.
TAKE ADVANTAGE OF CAMPUS EVENTS
Events not to miss:
Winter Ball
Founders Day
Pushball
Springfest
A cappella concerts
Cultural celebrations
Mac@Nite events
On-campus speakers
Movies
Poetry slams
Athletic events
GET INVOLVED
Student organizations are a great way to meet new people and expand your life at Mac! Don't feel like you have to join them all, though—do the things that excite and interest you and delve deeply into them. And don't worry about doing as much as the person in the dorm, or room, next to you.
The School Part of School
PLAN AHEAD!
You won't remember everything you want and need to do. Write it down or put it in Google Calendar so you don't miss events or deadlines. And don't start assignments the day before they're due. Spread your work out, and study in advance so you have time to ask your professor questions before a test.
AVOID DISTRACTIONS
Do homework on public computers. You'll be too embarrassed to stalk your crush's Facebook on such a big computer screen. Also try apps like SelfControl that prevent you from visiting specific websites for a certain amount of time. Block Facebook, Twitter, and YouTube whenever you're doing work.
IT'S OK TO ASK FOR HELP
There might have been a stigma about tutoring at your high school, but in college, it's really common to visit preceptors' or professors' office hours. The MAX (Macalester Academic Excellence) Center is also helpful if you want someone to look over your paper or help you with math and science problems.
GROUP STUDY
Create or join a study group with your friends or people in your major or academic interest area. Teaching and helping each other can be a great way to learn new material.
MIX IT UP
Even if you have lots of studying to do, you don't have to hole up in your room! There are lots of great places around campus where people study together:
DeWitt Wallace Library
Olin-Rice
Janet Wallace
Markim Hall
Campus Center
Fourth floor of Old Main
Residence hall study rooms and lounges
The Loch
Life as a College Student
BE ADVENTUROUS
Plan ahead, but don't let your to-do list hold you back. College is the time to try new things and gain new experiences, whether it's taking a Zumba class, seeing a band, joining a club, studying abroad, or asking someone out.
SLEEP
You do have enough time for sleep. All-nighters can usually be avoided if you plan your time well.
GIVE YOURSELF A BREAK!
You will work hard and may not do as well as in high school, and that's okay. It takes time to adjust to the expectations and the self-regulation of college. Getting a B is not the end of the world.
CALL YOUR FAMILY AND FRIENDS
Being away at college doesn't mean you have to do it all on your own—making time to stay connected to the people you love at home will help keep you happier and healthier at school.
WASH YOUR SHEETS MORE THAN ONCE A YEAR
Just trust us on this one.