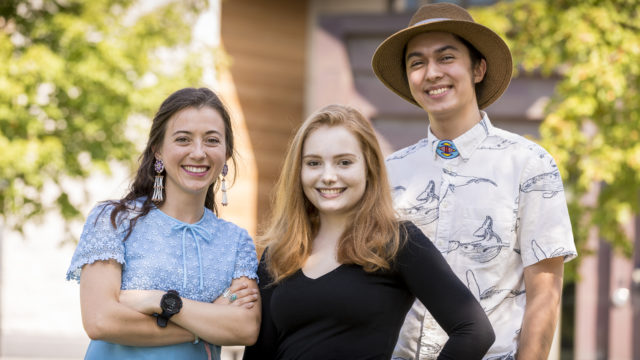 "We still see a lot of stereotypes of Native people, and when we don't fit those stereotypes, we're presumed not to be Native." —Samantha Manz
When people think of race, they usually think of things like skin color or hair type. The reality, however, goes much deeper than that, as Samantha Manz '19 (Lubbock, Tex.), Claire Menard '21 (Fairfield, Conn.), and Jennings Mergenthal '21 (Tacoma, Wash.) well know. That's why the three—each of whom have Native heritage—are leading a panel at this year's International Roundtable, presented by the Kofi Annan Institute for Global Citizenship. The theme of this year's Roundtable, the 25th annual edition, is "Beyond Blood and Skin: The Global Production and Consequences of Race and Racisms."
Inspired by their heritage and involvement with Proud Indigenous People for Education (PIPE)—Macalester's student organization to discuss and raise awareness around Native issues—Manz, Menard, and Mergenthal organized a panel titled "Blood Quantum and Identity Politics: What does it mean to be Native in 2018?"
"Blood quantum was originally developed by the Bureau of Indian Affairs," Manz says, explaining the set of rules that codified by percentage who was and was not considered Native in the eyes of the law. "It's still a really contentious issue," she adds, causing a rift in the Native community both because it excludes people with an insufficient percentage of "Indian blood" who might otherwise identify with a tribe, and because it has major implications for things like the distribution of tribal resources. And because the rules are now determined by individual tribes, the standards vary widely: while the Cherokee Nation only requires a person to prove a direct line of Cherokee ancestry to enroll with the tribe, the Navajo Nation requires a person be at least one-quarter Navajo.
But this level of technicality is not the way most people experience race on a daily basis, and the same is true for Manz, Menard, and Mergenthal. In addition to the added challenges of navigating life as a Native person, Menard explains that she sometimes struggles to find her place in the Native community, since outwardly, she appears like she could be purely Irish: "I've got red hair, freckles, the whole nine yards," she says. For Manz, too, not appearing like a stereotypically Indigenous person has caused people to assume she's white, which can lead them to treat her like an outsider when she attends events for people of color. "I also had the experience of not growing up on a reservation, and when I got to Mac, I'd go to PIPE events and not feel very comfortable because of that," she says. "We still see a lot of stereotypes of Native people, and when we don't fit those stereotypes, we're presumed not to be Native."
These are the sort of issues they already discuss together in PIPE, but the three agree that those conversations need to happen with a larger audience. They hope their stories and panel will spread awareness—especially among students, faculty, and visitors who don't spend most of their days discussing and studying race and identity—about how modern Native people relate to their heritage and their unique relationship with the term "people of color." And that sharing their stories will remind the wider community that Native people and the issues they face still exist.
But their goals go beyond generating awareness. "Involvement is a big issue," says Mergenthal. "People display an interest in listening, but many aren't physically present when we do events." The three hope their panel will change that—spurring wider participation first in regular PIPE events, and with community-wide events like the Macalester Pow-wow.
Manz agrees. "People may know about things like the protests at Standing Rock," she says. "But that doesn't mean that the work is done yet."