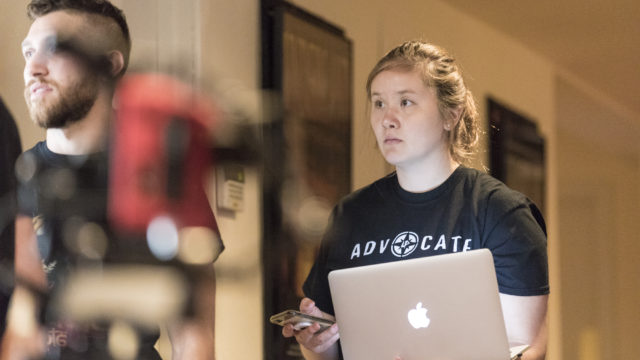 It's 6:30 on a Monday morning in the second-floor screening room of St. Paul's Grandview Theater. A small group of actors and extras are getting direction from Gabe Steinberg of The Underland Project for the scene they will be filming. The theater has loaned them the space, and many of the extras are volunteers, so they have to work quickly. Lights, camera, audio, and actors are ready. Now they just need popcorn. "Courtney's on it," says Steinberg, gesturing to Courtney Overland '19 (Honolulu, Hawaii). She hands over a large bucket of popcorn to one of the actors. A crew member shouts "Action," snaps a clapboard, and the scene begins.
Overland, a double major in computer science and visual storytelling in the cinematic arts, is one of 13 MacNest interns embedded across the Twin Cities at early stage companies and nonprofits. Interns receive $5,000 stipends to work 35 hours per week for 10 weeks at unpaid summer internships where they build their entrepreneurial toolkits at start-ups, and attend weekly career development workshops facilitated by the Entrepreneurship Program, the Internship Office, and the Career Development Center (CDC).
The Underland Project creates educational content both for and starring people with mental disabilities to help them live more independently. One of Overland's biggest projects has been working on a five-episode series about healthy relationships. She's prepared cue cards and call sheets, locked in locations, and assisted at shoots, but her experience has been much broader. "At the place we work, there are a bunch of other creators, so I've gotten to meet producers, I've gone on a casting shoot," she says. "Just getting to know the creative community in the Twin Cities has been amazing—having those connections so that I can hopefully find work when I graduate and hopefully be an independent filmmaker."
Steinberg attributes these connections to entrepreneurship itself. "I would never ask Courtney to do something that I wouldn't do," he says. "It's not like I'd say, 'Go clean that sink.' It's more like, 'I'm cleaning this sink here. Can you get the other one?' It's a real shoulder-to-shoulder, as opposed to face-to-face, thing that happens. We're equals in entrepreneurship. You have to rely on your team, and I expect her to be involved in all of it."
***
"I'm sort of an entrepreneur myself back home," says Zain Ijaz '21 (Lahore, Pakistan). "I started this initiative where I made biofilters that were five times cheaper than conventional biofilters, for people who didn't really have access to more expensive biofilters and the water quality was poor." When Ijaz, an economics, political science, and statistics major, heard about MacNest, he was eager to learn more about how a start-up functions. While a few MacNest interns had already identified the start-ups where they wanted to work, most, like Ijaz, took part in a meet-up event in Mac's Idea Lab—with a twist. The start-ups pitched themselves to the interns, and the interns chose a first and second option.
Ijaz chose Social Impact Strategies Group (SISG), a B-corp certified social enterprise that aims to power wealth creation through ownership for underserved entrepreneurs. "I talked to Stephannie [Lewis], who is now my site supervisor," said Ijaz. "She told me about all the projects they were involved in, and they were actually focused on helping people who didn't really have the capital to start their own ideas. That resonated with me because back home I focused on working with people who didn't really have capital to afford a conventional water filter."
"What hasn't he done?" exclaims Lewis, strategic partnerships manager at SISG, when asked what Ijaz has brought to the team. "We definitely create an environment where his feedback is necessary—not optional," she says. "I need to know what you think about these kinds of things." At SISG, Ijaz has learned and trained the team on HubSpot software, done budget and risk-management projects, and designed infographics that Lewis said they will use long after his tenure.
With no bricks-and-mortar location, Ijaz and Lewis have collaborated in the Idea Lab, and Ijaz has also learned how to work on his own, including when to call it a day, which can be a tough lesson for hungry entrepreneurs to apply. "I have a clearer understanding of what I want to pursue as a career," he says. " I knew I wanted to do something in finance, but after working on this risk-management plan, I think that's something I would be interested in in the future."  
***
"Liberal arts students are kind of uniquely positioned to be entrepreneurs," says Lloyd Vogel '11. "You're thrown a million different problems that you don't actually know the answer to and are forced to think creatively about how to solve them." Vogel, a sociology and educational studies major, worked as a teacher for three years before starting an outdoor business. Today, he's CEO of Garage Grown Gear, a start-up he runs out of his St. Paul basement (complete with Post-it notes of ideas and to-dos stuck to the water heater in his tiny office) that retails and promotes small outdoor brands.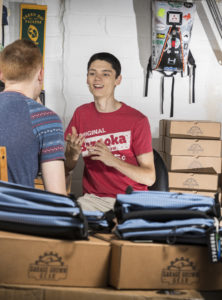 This summer, Vogel's had major help from MacNest intern Ben LeBlanc '20 (Kohler, Wis.), an English (creative writing) major. LeBlanc writes for the company's website and manages their social channels, while also helping Vogel with essential but less-than-glamorous tasks such as physically packaging and mailing out gear. When LeBlanc started his internship, the company had a retail focus, but it has since begun to focus more on outdoor brand promotion. LeBlanc was a part of those conversations, and got to experience firsthand the often-rapid evolution of start-up life.
LeBlanc says he applied to MacNest to gain the foundational knowledge needed to put an idea into motion and start his own business. "Macalester is giving me opportunities like MacNest that I wouldn't be able to get anywhere else," he says. "Being able to work an internship that is extremely formative, challenging, and offering new experiences every single day while getting paid is a dream come true."
***
Blair (Hyejeong) Cha '20 (Seoul) says she's always the first one in the office at Monicat Data, which provides data management and tech assistance to businesses in the creative economy. Each day of her MacNest internship, she's been up at 5 a.m. to make the 1.5-hour bus commute (often sweetened with a Starbucks Frappuccino) from St. Paul to the office in northeast Minneapolis.
When Cha chose Monicat, she was impressed by the detail of their application, which clearly defined her role and the company's goals. When she arrived, her boss, founder and CEO Jasmine Russell, had made a nine-week spreadsheet of assignments. "She gives me tasks, but she doesn't give me her full direction," says Cha. "She wants to see my style." Cha, an applied math and statistics, and economics major, has led company meetings and embraced what she describes as some of the more "grungy" aspects of start-ups. "A lot of new companies need to get done the most basic tasks, like research, or going through old contact books," she said. "Being okay with those types of tasks and getting your hands dirty is important."
Developing soft skills has been a meaningful component of Cha's MacNest experience. Every Thursday, Cha and the other interns meet in the Idea Lab to check in and attend career development workshops. "Taking time for a couple of hours to really process, get some tools, and then go back and apply it to your internship—that's just awesome," Russell says. With fall recruitment and job fairs on her horizon, Cha has done mock interviews with CDC staff members, enhanced her LinkedIn page, and rewritten her cover letters. "I completely changed all of them because I see myself in a different way," she says. "And I want [companies] to view me in a different way." 
Thanks to the Richard M. Schulze Family Foundation for their support of MacNest.