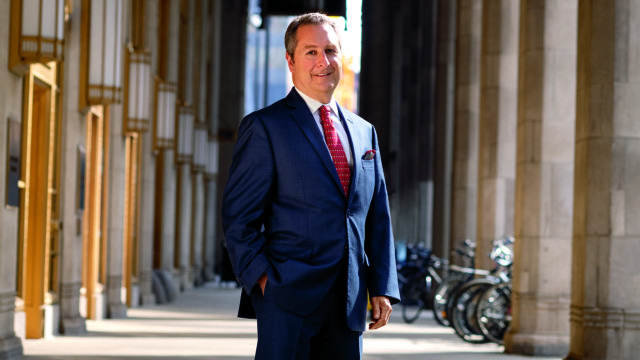 A new exchange created by a Mac alum aims to build bridges in Congress.
BY JAN SHAW-FLAMM '76 / PHOTO BY MARIAH KARSON
In January, U.S. Rep. Jack Bergman (R-MI) paid a visit to the Orlando-area district of U.S. Rep. Stephanie Murphy (D-FL). There they spent 48 hours learning about each other's districts and policy interests as they toured a farmers market, a veterans medical center, and a simulation and training company. They were brought together by the American Congressional Exchange, which takes a systematic approach to building bipartisanship in Congress.
ACE is the creation of public affairs consultant Jonathan Perman '83 P'16. Congress was designed for bipartisan collaboration, says Perman, citing bipartisan efforts that led to policy landmarks such as the Social Security Act (1935), Federal Highway Act (1956), and the Civil Rights Act (1964).
But he notes that the way Congress operates has changed dramatically. "Forty or fifty years ago, legislators lived in Washington," he says. "They got to know each other, their spouses, their children. Now the constant pressure to raise money for reelection forces them to return to their districts nearly every weekend. They don't get to know people from the other side of the aisle anymore."
A history and political science major, Perman interned during college with the Northeast-Midwest Institute, a Washington-based nonpartisan policy organization that promotes economic vitality, environmental quality, and regional equity for 18 states. That experience led to a position as a staffer for three years on the U.S. Senate Governmental Affairs Subcommittee on Energy, Nuclear Proliferation, and Government Processes. After earning a master's in public policy from the University of Michigan and working for more than 20 years in the Chambers of Commerce of New Haven, Conn., and Evanston, Ill., he started his own public policy and public affairs practice, The Perman Group, 12 years ago in Chicago.
Perman remembers the spirit of collaboration across party lines that flourished during his experience on Capitol Hill—and while many now bemoan the deterioration of bipartisanship, he wanted to take action. Influenced by his mentor, political science professor emeritus Chuck Green, Perman believed he had a responsibility to work for positive change. "As a student, I never envisioned doing something like ACE," Perman says, "but my time at Mac was transformative and informed my view that the relationships we create and the coalitions we build are critical to societal change and advancement. What I am doing now comes directly out of my time at Macalester."
In summer 2016, Perman started thinking more seriously about how he could help fix Congress from Chicago. His plan: bring together pairs of House members from opposing parties to see one another's districts and to get to know each other as colleagues, not solely in the interest of civility, but to increase productivity in Congress.
But he wasn't naïve. Perman first shopped the concept around: "I needed to vet the idea, so I spent the last half of 2016 meeting with former and current members of Congress, political thought leaders, and Hill staffers, all of whom encouraged me to advance the concept."
Perman knew it made sense to attach ACE to a like-minded existing organization, and the Bipartisan Policy Center (BPC) in Washington was a perfect fit. ACE is now a project of the BPC's Commission on Political Reform, co-chaired by former Senate Majority Leaders Tom Daschle (D) and Trent Lott (R), former Agriculture Secretary and Representative Dan Glickman (D), and former Senator Olympia Snowe (R).
ACE is co-directed by Perman and John Richter of BPC, who plan and staff the weekend visits by House members. The highly active itineraries keep participants on the move but include time for them to talk informally over dinner.
"That first visit [in January] far exceeded our expectations," says Perman. "Early on, Representatives Murphy and Bergman discovered a common connection to Vietnam."
Bergman, a retired U.S. Marine Corps three-star general, had flown helicopters during the Vietnam War, including flying back the wounded. Murphy's family escaped Vietnam after the fall of Saigon, when Murphy was an infant. As boat people adrift at sea, they were saved by a U.S. Navy vessel that helped them reach a refugee camp.
"We were pinching ourselves," Perman says. "From that first trip, we knew we were on to something."
With seven trips already complete, he's aiming to coordinate three more this year (including Rep. Murphy's visit to Rep. Bergman's home district in Michigan) and 20 next year. Thirty-five additional House members are eager to participate. "We thought at first the congressional participants would be mostly moderates, but we were wrong," Perman says. "We're getting interest from across the political spectrum—that's encouraging. If we can involve 10 to 15 percent of Congress, then we are beginning to impact how Congress works."
Perman hopes to expand ACE to include U.S. senators, then perhaps look at some state legislatures, which have similar challenges. He looks forward to seeing participants working together on legislation, a process that is already beginning. After that first ACE trip, Reps. Bergman and Murphy co-sponsored recently approved legislation to support military servicemembers as they transition back to civilian life—something they said never would have happened but for their participation in ACE.
---
On the Personal Side
While a Capitol Hill staffer in Washington, Perman also wrote and acted in the famed political musical satire group, the Capitol Steps. He met his wife, Melissa Hilton, while performing with the Steps in a Senate committee hearing room. Their daughter, Jacqueline Perman '16, is now in the music business in Chicago.
Jan Shaw-Flamm '76 is a freelance writer and editor and frequent contributor to Macalester Today.