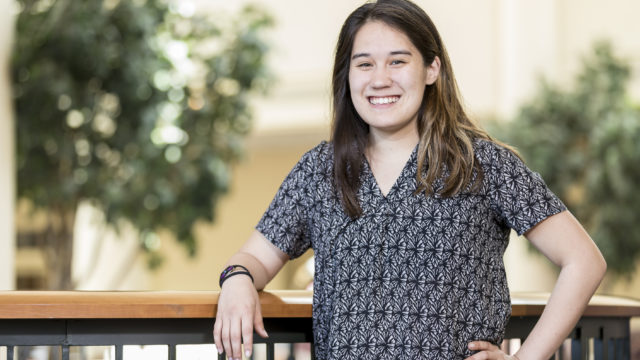 "That was the cool thing about it being a virtual internship. Since I was working remotely, I could do my work around my class schedule." –Kaitlyn Lindaman
Kaitlyn Lindaman '18 (Winona, Minn.) remembers seeing signs for the U.S. Agency for International Development (USAID) while she studied abroad, staked around various parts of the countryside in Tanzania. At the time, she wondered why the signs were there, and what the U.S. government had to do with terrace farming in sub-Saharan Africa.
A few months later, she was back stateside and looking for an internship for the school year, when she noticed a posting on Handshake, Mac's internal job and internship board, for something called the Virtual Student Federal Service (VSFS). She applied, and "next thing I knew, I was interviewing for a position with USAID."
An environmental studies major with an emphasis in economics and a data science minor, Lindaman joined the agency's land tenure policy program. "Land tenure has to do with what it means to have secure rights (or not secure rights) to land in these developing countries," Lindaman says, "and how that affects farmers' livelihoods. Our office would then work with local governments to secure land rights." In areas where farmers have more defined rights, that can allow them to focus more on the actual work of farming, rather than distractions like constantly proving their use of the land. "So in Tanzania for example, in order to own land, people need to prove they're being productive on it," she says. "They'll build half a house to show they're using the land, so they don't lose it in a land grab." But the more time they have to spend on those activities, the less they have for farming, ultimately hurting their ability to provide for themselves and their families.
For her internship, Lindaman spent the year researching and writing an exhaustive report on the history of USAID's approach to land tenure—how they approach it in different countries around the world, and how they can help local governments provide better resources for farmers. And even though her work had global reach, she got to do it all from the convenience of St. Paul. "That was the cool thing about it being a virtual internship. Since I was working remotely, I didn't have to follow regular office hours and could do my work around my class schedule."
Then, toward the end of her time with USAID, Lindaman got another call, this time from the State Department. Since her profile was still up in the VSFS portal, they reached out about a position with the Advisory Commission on Public Diplomacy. They were looking for someone with an unconventional skillset—both data analysis and graphic design. "These weren't skills I knew before I came to Macalester, but I was able to say, 'Oh, I just took an entire class on databases last semester,'" says Lindaman. "Then they also needed help with layout work in Illustrator or InDesign, which I learned how to do at The Mac Weekly. I'm the associate sports editor, so it was pretty funny, I ended up sending the State Department all these spreads about Macalester athletics." Evidently impressed, the department offered her a virtual internship for the summer, where she analyzed data from international diplomacy spending and helped the department prepare its comprehensive annual report.
Between the two, Lindaman got to work on several major projects while developing a network throughout the federal government. And even though she was remote, Lindaman says she still got the benefits of a traditional internship, getting help and career mentorship from her boss and co-workers throughout the year. "It was a great opportunity, and really complemented my time at Mac."