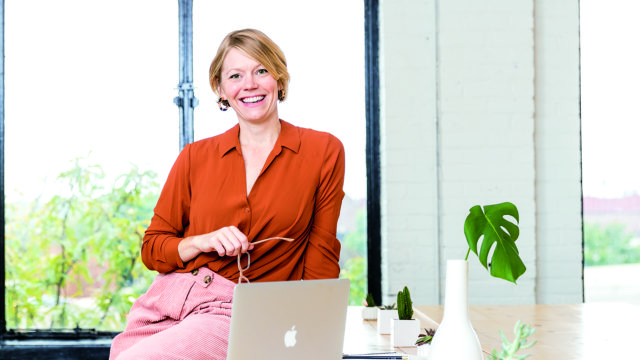 Entrepreneur Mollie Windmiller '03 is driven by a passion for design and connection.
BY MIKE VANGEL / PHOTO BY DAVID J. TURNER
If you spotted Mollie Windmiller '03 around Minneapolis, you might see her in a café working on her laptop, with her Apple Watch and the trendy clear glasses she sometimes sports. You'd probably peg her as a creative type—maybe a graphic designer or an entrepreneur. And in fact, you'd be right: she's both.
Those double titles keep her busy roving around the Twin Cities to meet with clients and collaborators. When she's not out and about, you're likely to find her in one of her postindustrial workspaces in the North Loop and Loring Park neighborhoods of Minneapolis, where she manages her branding agency and creative workshop studio. If this life looks effortless, however, with the artsy Instagram posts practically snapping themselves, she insists it's anything but: Windmiller has to work to foster that spirit. "To be honest, I'm in a new chapter of life and trying to figure out how to channel my inner creativity," she says. "I'm now a mom of two amazing girls and running two businesses I'm very passionate about. I'm incredibly sleep deprived."
Still, she says, there are ways of rejuvenating, such as visiting new shops and restaurants to look for inspiration: "That brings me joy and creative energy—and also so much pride for this community. There is so much talent here."
Windmiller grew up in a creative household thanks to her mother, an art teacher, and she began dreaming of a marketing and advertising career well before college. She transferred to Mac in her sophomore year, where she quickly found a home with both the women's soccer team and the art department.
"I really leveraged sculpture professor Stan Sears and his team," she says. "I basically just said, 'Can I learn from you?' I'd stay after class, and they'd teach me how to weld and solder." As she learned the basics, she also took on her first client project: a custom-designed copper sign for a business in her Stillwater, Minn., hometown. Soon another business owner asked her to make him one, too—but twice as big. "That was my summer job, to build this huge copper sign," she says. So huge, in fact, that transporting it required its own creative solution: "When we started preseason for soccer, I asked the entire team if we could all just meet quickly at the art department and throw this huge metal sign into a U-Haul."
Supplementing her studio art major with graphic design classes at partner schools in the Twin Cities, Windmiller graduated with a robust portfolio and an offer to join her first advertising agency, in Minneapolis. She worked as an assistant art director for about a year until she caught the travel bug and packed her bags for Boulder, Colo., hopscotching across the country for the next few years: first exploring Colorado's mountains, then working in a Laramie, Wyo., print shop before moving to Sarasota, Fla., where she joined a former client's boutique realty group, which had recently been acquired by Sotheby's. After a year as their marketing director, she says, the team was so successful that Sotheby's awarded them its Minnesota market. That brought her back to her home state, where she's been ever since.
It wasn't long, however, until she got the itch to try something new again, so in 2008, she founded her own firm, Windmiller Design Group. She took on clients and projects across the Twin Cities (including the launch of Artful Living magazine with Sotheby's, as the magazine's creative director), building a network with like-minded small business owners, and assisting them with projects that include brand-building, print and email advertising, and even designing aspects of their stores. "Honestly, what I love goes back to listening to somebody's story and bringing that vision to life," she says. "While working with a client, I'm figuring out how that client can connect with other businesses, and how these businesses can elevate each other."
Those twin passions—design and connection—led to her most recent venture, LAB. Local client Jessica Moriarty told Windmiller about a workshop she was attending, a traveling series that taught Photoshop to aspiring business bloggers. That sparked an idea: what if they built a venue to bring creative people together and teach them new skills in a fun, collaborative environment? The two partnered in 2014, setting up a table in the common area outside Windmiller's office for a trial run of weeknight workshops. A year in, they realized they had enough demand to exceed the space—20 people per session at the time—and suspected they were onto something.
"We asked the building management if they had anything else," she says, and moved LAB into the only spot available, a few vacant offices "with green walls and weird carpeting." They also got permission to rip down walls, paint everything white, and transform it to match their vision.
Today, LAB hosts local experts several times a month to teach classes on calligraphy, leatherwork, weaving, and other skills. Windmiller and Moriarty also offer sessions on business skills, including one they teach on using Instagram for business. The response has been enthusiastic, and it's not just small companies taking note: people from large corporations like 3M, Target, and the Minnesota Vikings are enrolling in LAB's workshops, too, or partnering with the founders to style custom events for their own clients.
It's now been a decade since Windmiller moved back to Minnesota and became her own boss—eons in the context of her former wanderlust, which she's tried to rein in. "I always have another idea for a business, but then I'll tell my employees and they'll be like, 'Mollie, stop it!'" she says, laughing. So for now, she's trying to focus on what she's already built. And, as always, keep creative.