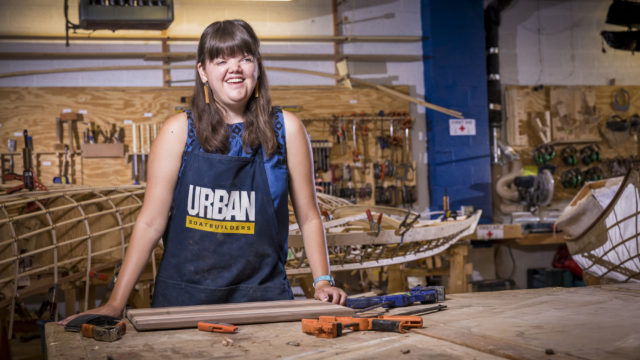 "The fellowship has been a unique opportunity to put theory into action. It's one of the highlights of my Macalester experience."

—Suzanna Jack
Every summer, a new cohort of 12 sophomore and junior Chuck Green Fellows receive a stipend to study democratic civic engagement and partner with local organizations on self-led projects. In their own words, they describe their work.
Suzanna Jack '19
This summer I partnered with Urban Boatbuilders, a youth empowerment organization in southwest St. Paul. Urban Boatbuilders' mission is to empower youth through woodworking and experiential learning. I spent my summer working to increase engagement with Urban Boatbuilders' Women, Trans, Femme (WTF) open shop volunteer night.
My main project consisted of communications and outreach, with the goal being new engagement from volunteers and local nonprofits. This involved developing contact lists, cultivating a social media presence for the event, and establishing relationships with nonprofits and local businesses that share similar missions. I also interviewed staff members of Urban Boatbuilders to better understand how they envisioned WTF fitting in with their overall mission. My 10 weeks culminated in an event I helped organize called "Bagels and Bandsaws, a WTF Power Tools Training and Orientation," which served as a jumping-off point for people to get involved with volunteer opportunities at Urban Boatbuilders.
The fellowship has been a unique opportunity to put theory into action. It's one of the highlights of my Macalester experience. Urban Boatbuilders challenged me to work ambitiously and unapologetically towards establishing an equitable space for all. I hold a new understanding of the impact locally based civic engagement has, and I look forward to continuing to work with them in the future. Plus, learning how to use power tools and basic woodworking skills was a pretty great added bonus!
Ellie Hohulin '19
Art, urban spaces, and community engagement are major interests of mine. I see my study of art history as a way to use my passion for these subjects to make creative work more accessible to the public and as a way to share stories and build community. Forecast Public Art—a nonprofit in St. Paul working to make public art happen in the state of Minnesota and throughout the country through grants, consulting, workshops, and publishing a public art magazine—was a perfect fit.  
Throughout the summer, I assisted with a wide variety of projects, including working with the Mall of America on a new commission, assisting with workshops for artists, and conducting research on how various communities are confronting problematic or controversial monuments. And, because performance art is typically underrepresented in the field of public art, I created a resource list of artists, projects, books, online resources, historical topics and big questions to consider when thinking about performance art in public.
I am excited to continue thinking about public art this year, and to re-conceptualize my art history major and the direction it will take me.
Henry Aoki '19
I partnered with Asian American Organizing Project, a non-partisan nonprofit that focuses on civically engaging Asian Americans in democracy. My work this summer involved organizational logistics, direct civic engagement, and issue-oriented movement-building to engage Asian American communities in a politically active conversation around healthcare. I worked to facilitate conversations around healthcare where communities identify and overcome their own healthcare disparities.  
Yuren "Rock" Pang '20
This summer I partnered with the US-China Peoples Friendship Association–Minnesota Chapter (USCPFA–MN). Founded in 1974, five years prior to the establishment of the U.S.-China diplomatic relations, its original mission was to facilitate communication between the peoples of two different states. For my project, I helped USCPFA–MN revamp its mission and update its website, which included using coding skills (HTML, CSS, and PHP) to add new features. I also helped USCPFA–MN expand its presence in the Twin Cities by connecting with similar cultural and historical organizations, laying the groundwork for a future information-sharing platform. This summer was full of brainstorming, interviews, and personal growth.
Flora Fouladi '20
RECLAIM provides mental health services for queer and trans youth in the Twin Cities. My project was to create a curriculum and a facilitator's handbook for their new peer education program. Additionally, I created a social media guide on the various online communities and platforms where youth may be seeking support. During my summer, I was able to involve myself fully in work I was passionate about and be in a space dedicated to the community I care for.
Additional 2018 Chuck Green Community Partners
Comunidades Latinas Unidas En Servicio (CLUES)

House of Charity (HOC)

Jewish Community Action

Restorative Justice Community Action (RJCA)

TakeAction MN

The Center for Urban and Regional Affairs (CURA)

The Minnesota Budget Project

Union Park District Council (UPDC)
To learn more about all of the 2018 Chuck Green Fellows, visit here.