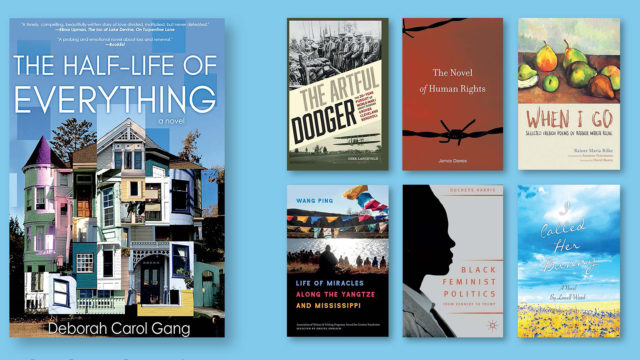 Each issue of the Macalester Today alumni magazine highlights books recently published by Mac students, alumni, and faculty. This fall's collection includes The Half-Life of Everything (Bancroft Press, 2018) by Deborah Carol Gang '72, excerpted below:
"David, why did we stop keeping cats?"
David struggled to sound calm as he answered, "I don't know. The last cat died and Dylan arrived. We just never got back to cats, I guess."
"I love these cats," she said emphatically.
There was a crispness here, faint and missing for so long, but detectable. He didn't trust his legs and wanted to sit but couldn't imagine navigating his body even a few inches.
"But I could probably learn to love a new one."
"Oh, Katie, I'm sure you could."
He looked at the ceiling, hoping for control. Kate held out her arms and after he covered the short distance to sit beside her, he began to cry and then sob. She held him and, after a long while, she tried to dry his face with tissues. Then he reached for the box so he could dry where he'd drenched her. They both blew their noses, the pile of wet tissues growing in their laps. Kate studied him and said, "Poor David."
"Well, you haven't exactly been at your best either, you know," and they smiled at each other and then laughed,or perhaps he was crying again, he couldn't tell.
---
Recently published titles from alumni and faculty:
James Dawes, professor of English, The Novel of Human Rights (Harvard University Press, 2018)
Deborah Carol Gang '72, The Half-Life of Everything (Bancroft Press, 2018)
Duchess Harris, professor of American studies, Black Feminist Politics from Kennedy to Trump (Palgrave Macmillan, 2018)
Dirk Langeveld '06, The Artful Dodger: The 20-Year Pursuit of World War I Draft Dodger Grover Cleveland Bergdoll (CreateSpace, 2018)
Wang Ping, professor of English, Life of Miracles Along the Yangtze and Mississippi (University of Georgia Press, 2018)
Susanne Petermann '79, When I Go: Selected French Poems of Rainer Maria Rilke (Cascade Books, 2017)
Lowell Ward '64, I Called Her Bunny (Sea Hill Press Inc., 2018)
---
Email book publication news to mactoday@macalester.edu.