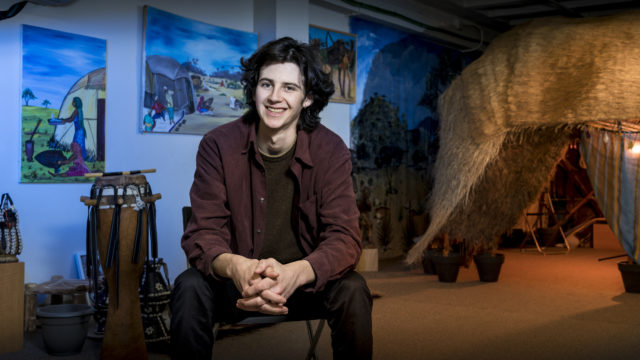 BEN ROLLAND '20
Port Townsend, Washington
Classics, Geology
"I WANT TO WORK IN ARCHAEOLOGY, MUSEUMS, OR PUBLIC HISTORY. I WILL USE THE SKILLS I GAINED AT THIS INTERNSHIP AND MACALESTER."
As a classics major focused on archaeology, I am interested in the ways material artifacts from the past are displayed to represent cultures and phenomena and to inform and educate viewers. Someday I want to work in archaeology, museums or public history. I will use the skills I gained at this internship and Macalester to help better present history in ways that are accessible and engaging to all viewers.
The Somali Museum of Minnesota curates exhibits on traditional Somali nomadic cultures, and preserves aspects of those cultures through a traditional dance troupe and weaving classes.
After contacting the museum, I met with the collections department head and was trained in artifact preservation and collections management. Most of my work focused on renovating the catalog system, including creating an interactive "floor-plan" that will allow staff and guests to explore the catalog, exhibits and other media through a digital interface.
The museum's small size and young age allowed me to take a bigger role as an intern than would have been possible at a larger museum. I was able to work with more creativity in problem-solving than if I had been at an institution with established procedures.