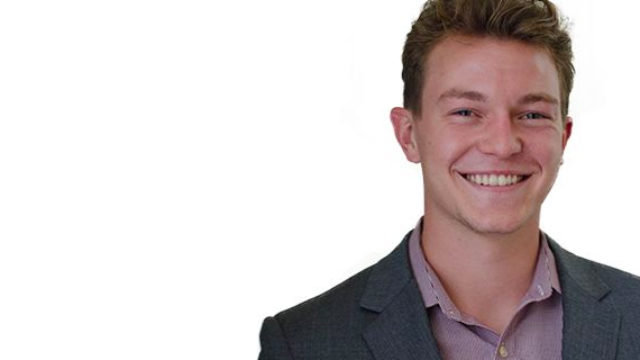 Emmet Hollingshead
Program Assistant for Militarism and Human Rights
Friends Committee on National Legislation
Landing the job
I was born and raised Quaker, so I've always been familiar with FCNL and the work they do. When I was a sophomore, Hannah Graf Evans '14, the current FCNL senior lobbyist for immigration, came to campus. That was how I learned about the position I'm in now. The MacConnect trip to DC was really helpful because it showed me how engaged FCNL is in terms of outreach. That trip influenced me to take the position because I saw what a great organization FCNL was from the inside.
It sort of gets repeated ad nauseum that the Macalester network wants to help out Mac students and recent grads, but I'm going to add to that chorus anyway. If I get a call or email from a Mac student asking about FCNL or life in DC, it shows me that that person is engaged and energetic about what they're doing. It's exciting to be on the other side of that dynamic after having spent four years on the student side, and I want to help Mac students however I can.
Daily tasks
First, I read the news so that I can keep my finger on the pulse of all the things I lobby on, and so that I can keep learning. A big part of my job is simply being one of the experts in the organization on a few particular topics and taking that knowledge into meetings on Capitol Hill. I lobby on repealing the 2001 and 2002 authorizations for use of military force, reining in the expansion of our drone warfare program, ensuring humane conditions and fair legal standards for detainees at Guantanamo Bay, and seeking a peaceful resolution to the conflict in Afghanistan.
For lobby meetings, I conduct background research on the member of Congress we're meeting with and compile that into a memo for my boss. I also update our website so that our grassroots advocates know what we've been up to and what the word on the Hill is.
Mac takeaways
My time at Mac taught me how to take a deep dive into a certain issue area, work out the underlying problems, and coherently explain them. More important than the facts that I picked up at Mac was an ability to think about those facts and make sense of them. Small class size was also very helpful. I got the chance to participate in discussions with intelligent and well-informed peers, and the professors always respected students' opinions. In any capacity after college, you will need good oral communication skills as well as written ones, and class discussions at Mac helped prepare me for that.
Spare time
DC is a lot of fun. It's definitely a young person's city and there are endless things to do, which is complemented by a pretty extensive and mostly functional metro. Tons of great bars, restaurants, markets, etc. The Wizards are terrible this year, so tickets are cheap. The Mall has been a great place to hang out on weekend afternoons when it's sunny. One of the things that seems particular to DC is the amount of events you can go to just to learn. If I'm interested in any given topic, I can find an event which will host experts and discussion (and usually free food). I've met some of my favorite authors and scholars and gotten the chance to talk to them about their subjects because DC is full of free events like those.
Advice for current seniors
Two pieces of advice: First, something I was really glad I did my senior year was take charge of my own education. Classes at Mac are wonderful, and if you have classes that you really want to take, then you should absolutely go for it. But for me, my second semester senior year I took a tutorial, an Honors project, and an internship for credit. I also picked up readings from professors on random things I wanted to learn about. All of my learning that semester was self-directed, so I was always engaged in things that I was really passionate about. That drove me to learn more and it also taught me how to learn with guidance, but not necessarily direction, from professors. That initiative has served me well in my job, where sometimes I have to figure out not just how to do something, but what I should be oriented towards in the first place.
The other piece of advice I would give to seniors is to keep in mind how long your career is going to be. I think that for a lot of college seniors, there's this feeling that you'll graduate college, get to the workforce, and then you'll have arrived and that'll be that, you work now. That's not the case. Once you graduate, you have to think of yourself kind of like a freshman again, except now you're a big-time freshman. You have to stay learning because there's so much more to learn and explore and figure out, and graduating college simply means that you're now qualified to start on this whole new project.