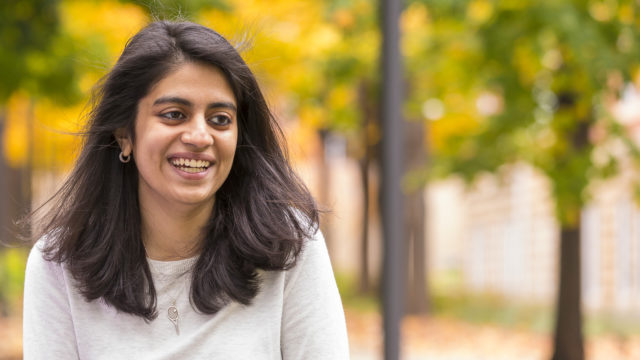 Saakshi Daswani
Clinical Research Assistant II
Boston Children's Hospital
Landing the job
Throughout senior year, I struggled to find clinical research-based positions. Late in the spring semester, I was sitting with a friend in Olin-Rice when I ran into biology professor Liz Jansen. She recommended some research-based teaching hospitals in Boston that had the kind of positions I was looking for. It turned out that the brother of the friend I was sitting with worked in exactly one of those roles. I reached out to my friend's brother, who then connected me with a recruiter. I eventually met my current supervisor Dr. Yee-Ming Chan. Dr. Chan is a pediatric endocrinologist at Boston Children's Hospital. I'm now working with his team in a field that I never expected to enter! We're studying rare conditions that affect individuals' genital development; these conditions are sometimes called intersex conditions or disorders/differences of sex development.
Daily tasks
I coordinate clinical studies surrounding differences of sex development for Dr. Chan's team: a genetic study to identify genetic causes of these conditions, a psychosocial study that looks at psychological outcomes in young adults with these conditions, and a study assessing the impact that sharing genetic information with affected families has on them. I spend time with working providers from various disciplines (endocrinology, urology, social work, psychology) and interact with individuals and families affected by these conditions. I'm responsible for identifying potentially eligible subjects for our studies, obtaining informed consent, and following up with families on study tasks.
Mac takeaways
Macalester taught me to be sensitive, open minded, and to think across disciplines. This has been key for me every minute of every day.
Advice for current seniors
While planning for what you'll do after graduation is an important aspect of senior year, don't stress about it or make it your primary focus. Enjoy your classes and cherish the time you have with your friends. Senior year only comes once; figuring life out never stops.