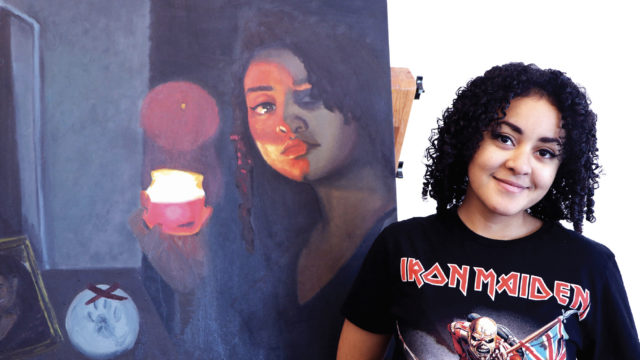 AROURA BRUINS '18
Hesperia, California
Art
"I love sitting at home with a notebook and a pencil, sketching. It's calming to me."
I've been drawing as long as I can remember—my family even tells me I could draw before I could walk. For a long time, it was mostly a solitary thing: just me, a notebook and a No. 2 pencil.
At Mac, I've done a lot of exploring. I've been fascinated with drawing people for a long time, especially people in motion, so I branched out with classes to learn how to replicate that in everything from ceramics to animation to Photoshop.
I also challenged myself with a new subject matter: trying to depict my own body. It started in a painting class. I modeled my portrait after Caravaggio's work, trying to bring in those same dark colors and shadows. It was a big moment for me, and made me wonder why I'd resisted self-portraits so much before. Maybe I didn't want hubris to get to me; or maybe I was afraid of portraying myself in a way that was realistic; or maybe I didn't think I could do myself justice.
In the end, I was really happy with the piece. It inspired the direction of my senior showcase, where I tried to represent my body through some of the mediums I'd learned at Mac—painting, ceramics and animation in particular—as well as pencil. That's still my favorite, all these years later. I love sitting at home with a notebook and a pencil, sketching. It's calming to me.