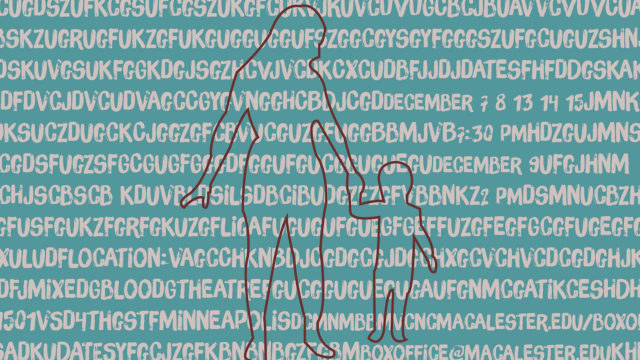 St. Paul, Minn. – The Macalester Theater and Dance Department presents Distracted, by Lisa Loomer, December 7-9 and 13-15. Sunday, December 9, at 2pm; and all other shows begin at 7:30pm. As Macalester awaits the opening of its new state-of-the-art facility, performances of Distracted take place at Mixed Blood Theatre, 1501 S. 4th St., Minneapolis, Minn. 55454. Admission is free for Macalester students, faculty, and staff members as well as ACTC community members. General admission is $5. For tickets, visit macalester.edu/boxoffice, or call 651-696-6359. For general information email thda@macalester.edu.
In the comedy Distracted, the mother of a moody, foul-mouthed, easily distracted nine-year-old boy seeks relief from her son's tirades. When her son is diagnosed with ADHD, she visits a number of specialists and gathers opinions from neighbors, teachers, and her spouse, in hopes of gaining a better understanding of her son's diagnosis. Her search leads to several issues that are controversial in the medical community and academia: do genetics, living in a world of sensory overload, vaccinations, diet, and the environment contribute to ADHD? Do the powerful drugs often prescribed for treatment have a ripple effect, causing as many issues as they solve? Why is ADHD disproportionately diagnosed in communities of color?
Playwright Lisa Loomer grew up in New York City and Mexico. She began her career as an off-Broadway actor, but after being frustrated by the lack of roles for Latina women, she started writing her own material. When Loomer's first child enrolled in school, she noticed what she described as "an increasing number of children being diagnosed with ADHD, with bipolar disorder, with anxiety disorder, with depression." She wrote Distracted in order to address what she sees as the overdiagnosis of ADHD and its aggressive treatments.
The Theater and Dance Department's production of Distracted is led by two Macalester alumni: Director Jack Reuler '75, Artistic Director of Mixed Blood Theatre, and Assistant Director Isabel Nelson '04.
"The Twin Cities vibrant theater community is populated disproportionately by Macalester alumni, reflective of generations of great Mac training," Reuler says. "Distracted, with its comic and tragic challenges, its empathic tale, breakneck pace, and contemporary content, is a gift to artists and audiences alike, and the opportunity to direct Macalester students on Mixed Blood's stage, is a win-win-win-win."
Students in the cast and crew are: Chesare Cipriano '20 (Cottage Grove, Minn.), Jesse Claire '20 (Sacramento, Calif.), Talia Cohen '19 (Santa Barbara, Calif.), Ayana Ito '22 (Minneapolis, Minn.), Elinor Jones '19 (Fort Collins, Colo.), Ndunzi Kunsunga '22 (St. Louis Park, Minn.), Ethan Moskal '20 (Chicago, Ill.), Dominic Rodgers '19 (Amherst, Mass.), Malaika Rosenfeld '19 (Shoreline, Wash.), Kavya Shetty '19 (Kennett Square, Penn.), Alexandra Whitman '20 (Brandenburg, Ky.), Jessica Yates '22 (Red Wing, Minn.), and Trevor Zapiecki '19 (Grand Rapids, Ohio).
Learn more about Macalester College at macalester.edu.