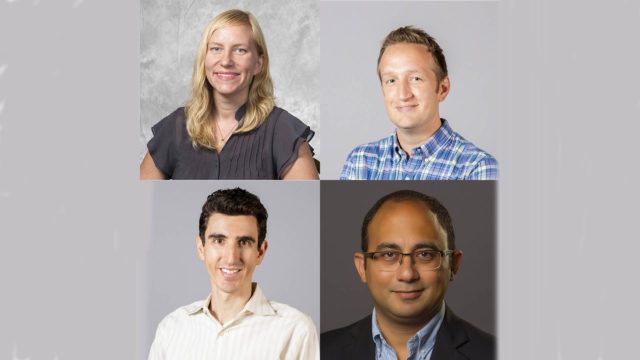 St. Paul, Minn. – Macalester College has granted tenure status to the following four faculty members: Morgan Adamson, Media and Cultural Studies; Peter Bognanni, English; David Shuman, Mathematics, Statistics, and Computer Science; and Mario Solis-Garcia, Economics.
Adamson is a scholar-practitioner who teaches at the intersections of film and digital media, critical theory, and cultural studies. Her latest book, Enduring Images: A Future History of New Left Cinema (University of Minnesota Press, 2018), examines how cinema became a form of collective resistance within international New Left social movements during the 1960s and 1970s. She has also published on the relationship between culture and finance capitalism, along with related topics. She is currently working on a documentary essay film that addresses the promise and pitfalls of architectural utopianism in Minneapolis during the 1960s and 1970s. Before joining the Macalester faculty in 2013, she was an American Council of Learned Societies New Faculty Fellow at Duke University. She received her PhD from the University of Minnesota and her BA from the University of California, Santa Cruz.
Bognanni's first novel, The House of Tomorrow (Penguin Random House 2010), won the L.A. Times Book Award for First Fiction, The Emerging Author Prize at the Iowa Author Awards, and an American Library Association Alex Award. It was a finalist for the Minnesota Book Award and a semi-finalist for the Virginia Commonwealth University Cabell First Novelist Award. It was also a Barnes & Noble Discover Great New Writers pick and an Indiebound Next selection. In 2017, the book was made into a feature film starring Ellen Burstyn, Nick Offerman, and Asa Butterfield. His second novel, Things I'm Seeing Without You (Dial Press 2017), was a finalist for the Minnesota Book Award and has been optioned for television. Bognanni was the winner of the 2013 American Academy of Arts and Letters Rome Prize, which sent him to Rome on a writing fellowship for a year. He is also an occasional screenwriter. He was awarded a Film Independent Screenwriting Fellowship in 2013 and was a finalist in the American Zoetrope Screenplay Contest in 2017. Bognanni received his MFA from the University of Iowa Writers' Workshop and his BA from Macalester. He's been teaching at Macalester since 2006.
Shuman's research interests include signal processing and stochastic control. He is currently investigating new tools, theory, and algorithms for processing high‐dimensional data on graphs, which arise in application areas such as social networks, biological networks, machine learning, medical imaging, and astrophysics. His article on the emerging field of signal processing on graphs received the 2016 IEEE Signal Processing Magazine Best Paper Award. Shuman's interdisciplinary background in economics, computer science, operations research, electrical engineering, and applied mathematics informs his approach to both research and teaching. Shuman received his PhD and two MS degrees from the University of Michigan, and another MS and a BA from Stanford University. His post-doc work was at Ecole Polytechnique Fédérale de Lausanne (EPFL) in Switzerland. He came to Macalester in 2014.
Solis-Garcia's research agenda is centered on macroeconomics; in particular, he studies the connection between government policy and private sector reactions, analyzed through the lens of dynamic general equilibrium models. His current research considers the effect of military expenditure over the business cycle and the role of fiscal rules (automatic stabilizers) over medium – and long-run economic outcomes. His professional experience includes positions at the Ministry of Economy and the Ministry of Finance in Mexico. Solis-Garcia received his PhD and MA from the University of Minnesota, an earlier MA from El Colegio de Mexico, and his BA from ITESM Monterrey. He's been at Macalester since 2011.
Learn more about Macalester at macalester.edu.