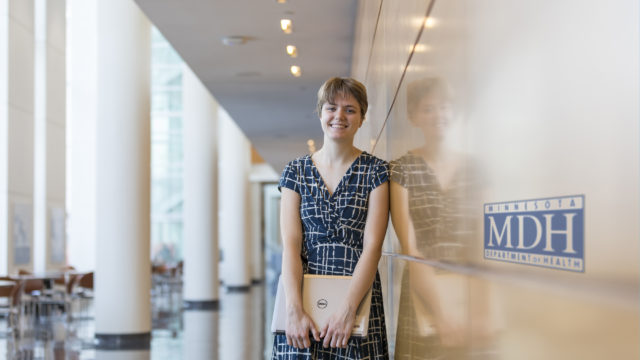 Rebecca Krasky '19 (Minneapolis)
"I want to do everything I can to build a society that is more just, equitable, and resilient to climate disruption."
I currently intern with the Minnesota Climate & Health Program at the Minnesota Department of Health (MDH). Our program works to understand how climate change is affecting the health of Minnesotans, and to communicate our findings to public health officials, emergency managers, and the broader public.
Through my double majors in geography and environmental studies and one of the courses I took last spring, "Environment, Health, and Society," I developed an interest in the interactions between climate change and human health. Last summer while volunteering, I connected with Mac grad Kara Dennis '12, a hydrologist in the Environmental Health division at MDH, who helped me get this internship with the Minnesota Climate & Health Program.
My main project is doing research to prepare for a climate and health story project that our program will be starting in 2019. I'm investigating what other organizations have done in similar story projects and putting together a list of recommendations for what our project should incorporate. I'm also using social media to communicate climate and health information to the public.
After I graduate from Macalester, I hope to work in the nonprofit or government sector, advocating for equitable solutions to climate change and other intersectional issues. This internship has given me another angle with which to understand the impacts of climate change on human communities, and even more certainty that either in my personal activism or career, quite possibly both, I want to do everything I can to build a society that is more just, equitable, and resilient to climate disruption.