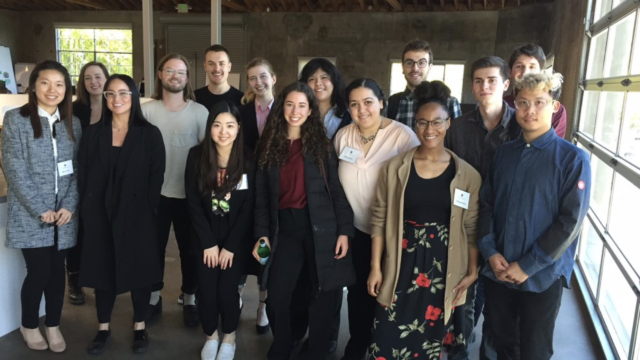 Every year, the Career Development Center's MacConnect program flies select students to meet with alumni across the country. These trips helps students gain an inside perspective on life after graduation in fields including politics, tech, and entertainment, and help the students jumpstart their professional networking. Here are two stories from the Los Angeles trip last spring.
Sean McDonald '18
As someone interested in entertainment, I've often heard the adage "It's all about who you know." While Macalester has helped prepare me for the writing portion of work as a screenwriter, the job has always seemed more a pipe dream than a possibility precisely because of the simple fact that I do not, in fact, know people.
But as it turns out, knowing people doesn't have to mean your dad is the president of NBC; it can just mean putting yourself out there and meeting someone willing to help you. This was the gift that MacConnect Los Angeles gave me. I had no previous experience networking—just hearing the word made my palms clammy—but the CDC made it far less stress-inducing than I'd imagined.
We eased into the trip with a panel of young alumni, mostly in entertainment, and mostly around our age, before embarking on two full days of site visits to film studios like Warner Brothers and Universal, as well as publications like People. Each night we had a panel of alumni from various fields in media and entertainment, including my favorite event of the trip: the writers panel.
On our last night, we were joined by six writers in television, features, and short films. Five minutes in, I felt more strongly than I ever had that this job was not a pipe dream. If all of these people made it—people who went to the same college as me, and had a sum total of zero NBC president fathers—so could I. I was excited, nervous, and full of dumb questions that I was sure they wouldn't have time for. But each one of them stayed for more than an hour after the panel ended, joining some of us at the hotel bar to chat about their jobs, their lives, and their time as Mac students. I didn't know what to expect from the trip before I left, but I never imagined I'd get lucky enough to do that.
Shortly after the trip, I interned with the Radmin Company, a boutique management company in Beverly Hills. One of our writer panelists referred me, confirming that it's not just about who you know, it's about who you meet.
Isabel Beck-Roe '18
The MacConnect Los Angeles trip provided me a unique and valuable opportunity to ease my transition out of college. For three days, a small group of us traveled throughout the city, touring different workplaces and meeting alumni who gave us information and advice tailored to our interests and ambitions. By the time I flew back to St. Paul, I had compiled a powerful arsenal of industry knowledge and supportive alumni that I'm sure will benefit me for years to come.
Despite being such a simple and fundamental part of the trip, I found the site visits incredibly useful. It's easy to dig through a company's website and concoct an image in my head, but when it comes time to envision myself working a job every day, having been in the actual space makes all the difference. We were able to explore everything from sitcom sets to rows of cubicles; even the drives between visits allowed me to familiarize myself with the city a bit. Thanks to this trip, I was able to narrow my job search and develop a clearer sense of my ideal work environment.
Of course, the primary purpose of the trip was to connect us students with alumni in our fields of interest. These alumni came from a wide array of professions and class years; some were set designers with decades of experience, and some were writers who were just finding their footing in Hollywood.
I was grateful to be exposed to so many different stories. Each alum presented a unique perspective on the entertainment industry and job hunting, which helped me find what rang true for me. This constant flow of advice, while momentarily overwhelming, will be the advice I rely upon most as I enter the workforce. I found their generosity especially welcome since the entertainment industry is a notoriously connection-dependent, sink-or-swim realm. They were honest that it might be tough, but this dose of reality was not delivered on its own. It was accompanied by smiles and email addresses, encouraging me to get in touch if I needed anything else. I had heard about the strength of the Mac network, but I had not anticipated the speed and warmth with which I would be welcomed into it.
In the fall after my graduation from Mac, I moved to Los Angeles—a leap for me, but one I could make with confidence, knowing I had the strong network of Mac alumni to support me.
Upcoming Mac Connect Trips
Careers at the Nexus of Science and Policy: Washington, D.C.
Trip Dates: January 13-16, 2019
Careers in Social Science Research: Washington, D.C.
Trip Dates: January 13-16, 2019
Investment Banking and Finance Careers: New York
Trip Dates: March 19-22, 2019
Careers in Technology (Data Analysis, Software, UX, Design): San Francisco
Trip Dates: March 17-20, 2019

Creative Careers in Media and Communications: New York
Trip Dates: March 17-20, 2019